3 Reasons Yu Won't See Darvish in a Rangers Jersey Come 2012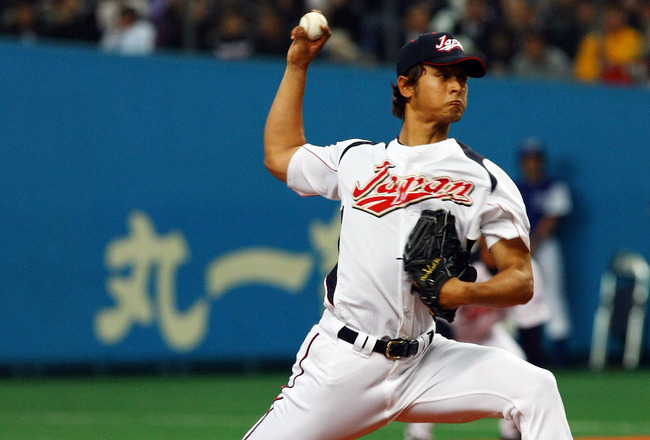 Junko Kimura/Getty Images
Merry Christmas to everyone! It's 4:00 a.m. and I can't sleep. Santa's already visited my house, just a short three-minute sleigh ride away from Rangers Ballpark in Arlington, so I went to the stadium, found some half-eaten cookies from Mr. Claus and carrots that had been nibbled on for the eight-horsepower engine that brings joy to so many today.
But, did he leave anything for the Rangers?
It's a nice thought that we would wake up in the near future to headlines of "Rangers come to agreement with Darvish" or "Fielder goes south this winter."
But it won't happen.
Why? Did I also find coal at the ballpark on my visit?
No, not at all.
I found scrooges. Unfortunately, Nolan Ryan is the biggest one of all.
Nolan Ryan Has Been a Scrooge so Far This Offseason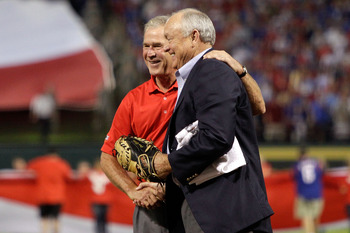 Pool/Getty Images
Reason 1: Nolan Ryan
The Texas Legend knows a thing or two about pitching. He also is a huge, very successful businessman.
However, he has been trying to combine the two while owning the Rangers, so far, obviously doing a great job as he has seen two World Series appearances in the 16 months of ownership.
I found it odd that the Rangers put up the winning bid. Jon Daniels and Co. are so very silent in this poker game that is free agency. I'm not sure if many saw it coming, but what it means is that they are very serious about signing him.
How serious? Serious enough to place a $51.7 million investment into him, knowing that if it happens, it's going to at least double.
Or will it?
Nolan Ryan stopped offers on CJ Wilson at around $65 million. He said he wouldn't go any higher.
The Rangers also offered Mark Buehrle a contract as high as $50 million, and when news came that Miami offered $57 million, Ryan wouldn't go any higher.
Hello! That's the second and third best pitchers (including Darvish) on the market this offseason that you could have had for the same price as what it will take to get Darvish!
Say CJ signs with the Rangers at $80 million and Buehrle for $60 million. That is $140 million and your rotation is Wilson, Buehrle, Lewis, Holland, Feliz and you can package Ogando or Harrison into a really nice deal for another position player, say a center fielder or first baseman.
All of this for about $10 million or less than what it will take to get Darvish. Rumor has it he wants more than what Wilson got.
So are they really going to sign Darvish? Or did they bid on him and hoped for a Christmas miracle?
Darvish Is Still a Young Pup

Darvish throwing what appears to be a wiffle ball.

Darvish, 25, is a young man who is being treated as a rock star in Japan.
He is living the life over there. The fame and everything that goes along with it has got to be on his mind when this decision comes, and he is probably thinking that it had better be a pretty penny that lures him away from what he has in his native country.
I don't know how he'll be treated in Texas, but what it could be similar to is the same way Chan Ho Park was treated.
There was a huge attendance every time Park pitched, mostly because of the Korean population in the Dallas/Fort Worth area would go watch Park pitch every five days.
That should be enticing; however, Park left a very bad taste in everyone's mouth. He was not good, at all.
There have been so many pitchers who came over to the majors and just have not panned out. Ryan knows this as well.
There are just too many factors that go against Darvish, and I just don't see how the Rangers could make a serious offer of more than $50 million.
That's as high as I see the Rangers going, and I think that anything else would be an insult.
I also don't see the Rangers signing him away from Japan. He only has to wait two more years and he can come over as an unrestricted free agent, and the money just won't be enough to come to a foreign land at 25.
He has got to feel some type of anxiety. He has to be nervous, and the only thing to calm those nerves is a huge paycheck.
If he waits two years, that is $51.7 million more in his pocket. Then he will get the $120 million all to himself, and let's face it, it's a good time to be a free agent.
Someone will always do something stupid and cave in to what the player demands. A good example is CJ Wilson. Pujols signing with the Angels put them $5 million over-budget every year for the next 10 years BEFORE Wilson signed. They're now over budget roughly $20 million for the next five years.
If Darvish waits, someone will pay him.
The Prince Awaits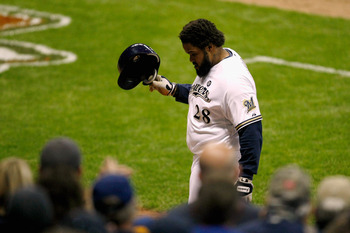 Scott Boehm/Getty Images
I forget who, but someone affiliated with ESPN put odds on where Fielder will end up, and they had the Rangers in the lead at 3:1.
I think they would rather invest money into Fielder, and solidify an already amazing infield with Fielder coming into the four spot in the lineup. That will strike fear into a lot if it looks like this.
1. Kinsler 2B
2. Young DH
3. Hamilton LF
4. Fielder 1B
5. Beltre 3B
6. Cruz RF
7. Napoli C
8. Insert CF here (Gentry, maybe? Sounds good.)
9. Andrus SS
Wow. Are you salivating too?
That's on my Christmas wish list.
Don't play games with us, Fielder; we know you like that, too. We all know you won't sign until the whole Darvish thing is cleared up, and we come knocking at your door.
The fact is this: Darvish is overpriced for the production you would get from him, which is a mystery. As stated, we could have had Wilson and Buehrle for about the same as what it would take to sign him.
The Rangers pitching staff would be just fine without him: Lewis, Holland, Harrison, Ogando, Feliz. You can't look at that and not like it.
Also, I think Fielder is much more appeasing to the eyes of Daniels.
Or, why not sign both?
Keep Reading

Texas Rangers: Like this team?