NFL Playoff Picture: Why Steelers Must Now Take a New Path to Super Bowl XLVI
December 24, 2011
Ezra Shaw/Getty Images
When I did my season preview of the Pittsburgh Steelers, I wrote that it was integral for them to secure a first-round bye in order to get back to the Super Bowl. We all knew they were old. We did not know that the injury bug would ravage this roster. So now it is time for Plan B: Create your own bye weeks. 
The Steelers blew their best chance for a first-round bye on Monday night. It would take an upset loss by the Baltimore Ravens to get back on top of the AFC North. If they play it right, the Steelers are still in an advantageous position. They clinched a playoff spot early, and can do no worse than the sixth seed in the AFC playoffs, which if you remember is the position they were in when they won the Super Bowl in 2006. 
The Steelers are all-but guaranteed the fifth seed in the playoffs. Even if they lose their last two games, there is a minimal difference between the fifth and sixth spots. So it is time to sit each and every key player with any aches and pains.
I know the cons to this strategy. We go through this every year when an elite team locks up a top seed early. If you bench your key players, they could come out rusty in the playoffs and get you eliminated in the first round. I do not see that happening with these Steelers. They are too experienced and too hungry after letting Super Bowl XLV slip away. If they get beat, it will be because the other team is better on that Sunday. 
Ben Roethlisberger should rest for the remainder of the regular season along with Maurkice Pouncey. Troy Polamalu is dealing with his typical late-season nagging injuries, so stash him on the bench, too. If Lamarr Woodley's hamstring is bothering him, hold him out. If he is truly 100 percent, I would play him because he needs the reps after missing the latter half of this season. Unless his back is bothering him, James Harrison should play as well, since his season has been start and stop.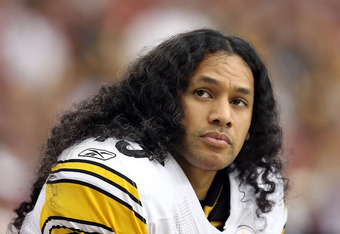 Christian Petersen/Getty Images
If anyone else is spending significant time in the trainers' room, bench him. This is likely the last run for this core of Pittsburgh Steelers, especially on defense. The team has already started the overhaul on the defensive line, which will soon belong to Cam Heyward and Ziggy Hood. Defensive tackle Casey Hampton will be the next to be replaced, possibly by Steve Mclendon. Troy Polamalu's concussions are a ticking time bomb toward an early retirement, and Ryan Clark is 32 years old. 
So Coach Tomliln, give these old warriors their best chance at glory. You lost home-field advantage, so give them a health advantage over the rest of the AFC. The Steelers certainly are not going to limp to the Super Bowl, so sit the old guys for two weeks, go kick butt on the the road for three, and then take your bye before the Super Bowl. It is just crazy enough it may work.
Alexander is a featured columnist for Bleacher Report. You can follow Alexander on twitter @thesportsdude7 or become a fan on his bleacher report profile.