FC Barcelona: 10 Reasons They Should Fight to Keep David Villa
Jasper Juinen/Getty Images
David Villa suffered a sportsperson's worst nightmare against Al-Sadd during the Club World Cup semifinal. He broke his tibia in an unfortunate incident which ruled him out for five months.
This horrific injury means Villa will miss the first half of 2012 and will be a major doubt for Spain's Euro 2012 campaign.
Despite his not-so-stellar form for Barcelona this season, this injury should not be considered the end of Villa's Barcelona career. Villa continuing at Barcelona will be of mutual benefit to both parties.
Here are 10 reasons why David Villa should remain at Barcelona despite his long-term injury.
Villa's Goalscoring Record Is Immaculate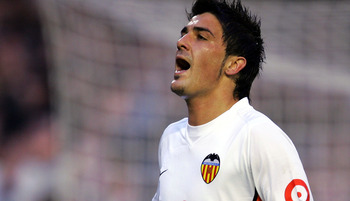 Even at Valencia, Villa was a goal scorer par excellence
Denis Doyle/Getty Images
From the start of David Villa's career, he has never had a season where he has scored less than 20 goals in all competitions.
Even when he was at Sporting Gijon and Real Zaragoza—teams not famed for their attacking support—Villa was able to score goals with alacrity.
He has also been frighteningly consistent for the Spanish national team, having scored a total of 50 goals in 80 games so far.
With such a goalscoring record, it is only logical that Barcelona look to hold onto El Guaje despite his injury. They will be hard-pressed to find such consistency elsewhere.
Villa Slots Perfectly into Pep Guardiola's Tactical Setup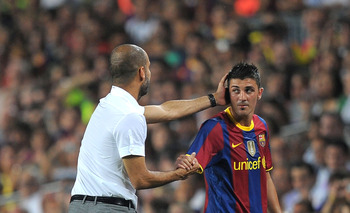 Denis Doyle/Getty Images
Pep Guardiola plays Lionel Messi as a central player, with David Villa and Pedro Rodriguez pushed out onto either flank. Villa's predecessor, Zlatan Ibrahimovic, was completely incapable of playing this role. Villa, however, has taken to it like a fish being taught to swim.
Villa has managed to keep scoring goals as consistently as he always has in his career. In addition, he has been able to create superb link-up play with Messi and Pedro time and again.
To top this off, he also switches flanks with Pedro time after time in accordance with Guardiola's tactical instructions.
With Villa fitting into the setup as if he was made for it, it makes sense to keep him at the club.
The Team Respects Him Immensely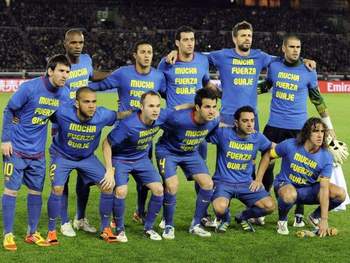 "Much Strength, Kid"
At the start of the Club World Cup final against Santos, the Barcelona starting XI posed in shirts which bore the legend "Mucha Fuerza Guaje." This translates to "Much Strength Kid," which was the team's way of showing their support for Villa, who is affectionately known as "El Guaje."
This message that the team solemnly bore was ample proof of the respect that they have for their teammate.
Not only did the team unite in their show of solidarity for Villa, but they also used social networks to pass their message across.
Finally, Carles Puyol also dedicated the Club World Cup win to Villa.
Developing Isaac Cuenca and Gerard Deulofeu
Isaac Cuenca has shone when called on this season
David Ramos/Getty Images
If Barcelona keep David Villa, they can continue to monitor the progress of their younger charges, Cuenca and Deulofeu, more patiently.
If a new player is brought into the side, there would be a window during which he would have to start more often for the first team, in order to gel more comfortably with the side. This will lead to fewer opportunities for the youngsters to show their mettle.
Keeping Villa at the club and not signing a replacement means that Barcelona will start young Cuenca and Deulofeu more often. This will really help to develop them into accomplished players. Giving youngsters the chance to start with the best footballers of the age will also do wonders for their confidence.
Villa Is a Very Hard-Working Player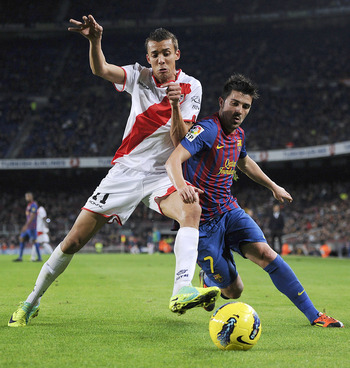 David Ramos/Getty Images
Unlike your average target man who spends most of his time waiting for the ball before doing anything, Villa presses from the front for Barcelona.
When not scoring goals or passing the opposition to shreds, Villa moonlights as Barcelona's first line of defense, attempting to win back any balls lost in the final third of the pitch.
With the emphasis that Barcelona places on defending from the front, a player like Villa who plays this role willingly is very important indeed.
Villa Is a Big-Match Performer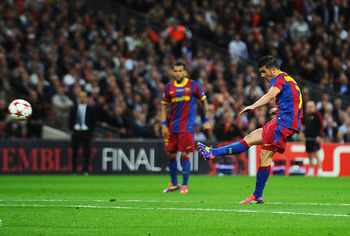 Villa scored a stunner to seal the Champions League final against Man United
Clive Mason/Getty Images
David Villa has, time after time, scored some crucial goals to pull Barcelona out of uneasy situations.
Against Manchester United in the Champions League Final of 2011, Villa scored a beautiful curling goal from outside the area to give Barcelona a 3-1 lead, which helped them close out the match in comfortable fashion.
Against Real Madrid in November 2010, he scored a brace during the famous Clasico encounter that finished 5-0 in Barcelona's favour.
In the Spanish Super Cup, Villa silenced the Santiago Bernabeu stadium by scoring an absolutely unexpected goal which went against the run of play. This goal gave Barcelona parity over Real Madrid, and they went on to draw the match and later win the tie at home.
Barcelona Will Not Be Able to Get a Reasonable Price for Him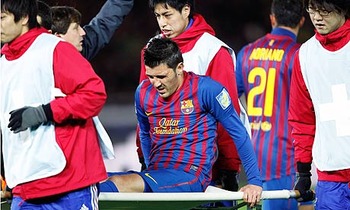 A little insensitive, perhaps, but the truth remains that it will be almost impossible for Barcelona to get a good price for David Villa. There are two reasons for this.
He recently hit 30, which means his age will now be a factor in any transfer dealings. Clubs might be reluctant to splash the cash for someone who might potentially not play for more than three or four seasons.
His injury also means that it will be almost impossible for Barcelona to attract potential suitors until Villa is fully recovered.
In such a situation, Villa will probably be of much more use to Barcelona when he returns from his injury, than if he is sold for a subpar price.
Probable Replacements Would Not Make Financial Sense
Neymar could be a potential signing that Barcelona might look at
Clive Rose/Getty Images
At the start of the 2011-12 season, Barcelona's vice president for economic affairs, Javier Faus, announced a transfer budget of no more than 45 million euros.
Having already spent this amount on the transfers of Cesc Fabregas and Alexis Sanchez, Barcelona can ill afford to splash on another lavish transfer. Which is, incidentally, what they would require to replace a player of Villa's caliber.
With losses of 83 million euros and 21 million euros announced in two consecutive seasons, it is imperative that Barcelona look to consolidate their finances rather than venture out into the market in search of an expensive replacement.
Villa's Qualities Are Very Hard to Replace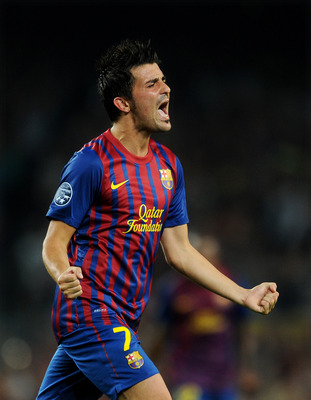 Jasper Juinen/Getty Images
The amount of qualities that Villa brings to the table make him almost irreplaceable.
He is absolutely lethal in front of goal. His passing and movement mean that he is not helpless without service. He has no qualms about playing out of position for the benefit of the team. He shares an amazing rapport with the rest of the team.
Barcelona will be hard pressed to find any player in the current market who can boast even some of these qualities. This makes Villa very hard to replace.
He Can Do This
When you have a player who can score a goal like that against your arch rivals in their home stadium, when your team is one goal down, you know you have a special player in your side.
Keep Reading

FC Barcelona: Like this team?