Chelsea FC: Should Andre Villas-Boas Continue to Use Frank Lampard as a Sub?
December 14, 2011
Michael Regan/Getty Images
Frank Lampard has not hidden his displeasure with his new substitute role under Andre Villas-Boas this season.
Following Chelsea's 2-1 victory over Manchester City, Lampard took the opportunity once again to comment on his situation and make his position clear:
I want to play, simple as that. I'm 33—I understand that—but I want to keep playing regularly because I've got a lot to give. I'm as fit as I've ever been. I've been in a good run of form and now I've not been playing. I haven't spoken [to Villas-Boas] so I don't know [why], simple as that.
To be fair to Villas-Boas, he does have a bit of a case for dropping Lampard. Lampard's form has been a tad erratic this season, and his performances early on in the season and recently against Newcastle and Liverpool have left much to be desired. 
Furthermore, although Raul Meireles is not as big of a scoring threat as Lampard, he is much more of a team player and allows Chelsea's two biggest creative forces, Juan Mata and Daniel Sturridge, to possess more of the ball.
But Lampard also has a very compelling case for deserving more playing time. Despite his limited playing time, Lampard already eight goals and five assists in 21 games and 16 starts. 
Unlike Meireles, Lampard has almost taken over and won a decent number of games for Chelsea this season as well.
After being dropped for Chelsea's 4-1 win over Swansea City, Lampard scored a hat trick in his return to the starting lineup with Bolton. He also scored the only goal in Chelsea's win over Blackburn Rovers early this season.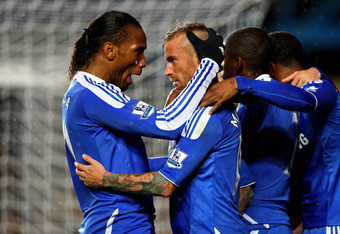 Julian Finney/Getty Images
Even in Chelsea's losses, Lampard has often been Chelsea's best player. Against QPR, Lampard was easily Chelsea's best player as he made run after run to try and grab an equalizer for his team. 
And against Arsenal, though not as flashy and impressive as Mata on offense, Lampard scored a goal and created the second Chelsea goal for John Terry.
It seems that Lampard has become Villas-Boas' scapegoat for when things go wrong. After the Manchester United loss, Lampard was dropped. After the Liverpool loss (in the league), Lampard was dropped.
And after Chelsea's loss to Bayer Levekusen in the Champions League, Lampard was dropped there too, and Meireles was preferred for the crucial final group game against Valencia.
It is hard to argue that Meireles is a better player than Lampard; the stats speak for themselves, and Meireles' ability does not outweigh the statistical output and intangibles that Lampard brings to the table. 
However, dropping Lampard has brought Chelsea results. The Manchester United loss was followed up with a convincing 4-1 win over Swansea.
The Liverpool loss in the league was followed up with a comfortable 3-0 win. And most importantly, the Bayer Leverkusen loss in the Champions League was followed up with a very impressive 3-0 win over Valencia.
As long as Villas-Boas' strategy is bringing in results and keeping Chelsea fans happy, does it matter if Lampard gets the games he thinks he deserves?
If Lampard truly understands that he is at the tail end of the career at the age of 33, as he claims he does, should AVB or anyone else care when he complains about his lack of starts, despite having started over 75 percent of Chelsea's matches this season?
In all likelihood, Villas-Boas will continue to rotate Meireles and Lampard as he sees fit.
Lampard has been very effective against the weaker midfields of the Premier League, so we could see AVB prefer Lampard to Meireles in the match against the minnows of the Premier League.
But the 40-plus starts of seasons past are likely gone for Lampard. And so long as Chelsea are bringing in the results, Lampard shouldn't really complain.
What do you think? Is Frank Lampard right to complain about his role as a substitute with Chelsea? Should he be restored as a regular starter for Chelsea, or rotated as he currently is by AVB?