Claude Giroux Out with Concussion: Trades Coming for Philadelphia Flyers?
December 13, 2011
Jeff Gross/Getty Images
Less than a week after the Philadelphia Flyers announced that captain Chris Pronger would be out indefinitely with a concussion, the team was forced to say the same regarding the NHL's leading scorer, Claude Giroux.
Giroux leads the NHL with 39 points in 28 games. Phil Kessel of the Toronto Maple Leafs is second with 36. He was injured after colliding with teammate Wayne Simmonds during Saturday's game against the Tampa Bay Lightning.
The Flyers lose the league's most dynamic scorer and player.
Giroux can do almost everything a hockey player is expected to do. He can score with both wrist shots and slap shots. He can deke by any goalie. He can find his way through any defense. He can set up plays that even his teammates might not see coming. And he kills penalties.
He can single-handedly win games for the Flyers.
Losing the NHL's current leading candidate for the Hart Trophy is one thing; losing him three days after losing their captain and former Hart winner Pronger is overwhelming.
Additionally, rookie prospect Brayden Schenn is out with a concussion.
Concussions are a frightening injury, particularly haunting for Flyers fans who have had to see the careers of Eric Lindros and Keith Primeau destroyed by head injuries.
Everyone can only hope for the best in the long-term, but looking at what happened with Sidney Crosby of the Pittsburgh Penguins over the past year is certainly not a comforting omen.
The Flyers need to plan on playing the rest of this season without Giroux and Pronger; their two best players.
CHANGES TO THE LINEUP
Regarding the changes to Philadelphia's lineup, it appears that Sean Couturier will take Giroux's spot between Scott Hartnell and Jaromir Jagr.
Couturier, the eighth-overall pick in the 2011 NHL entry draft, has eight points in 28 games, averaging 12:47 of ice time per game.
He previously centered a fourth line of rookies Harry Zolnierczyk and Zac Rinaldo.
With an open roster-spot on offense, Jody Shelley will be on the fourth line, with either Zolnierczyk or Rinaldo moving from the wing to center.
If Schenn (a center) recovers from his concussion, he could take Shelley's spot in the lineup and force additional changes among Giroux's line and the bottom two lines.
TRADES COMING?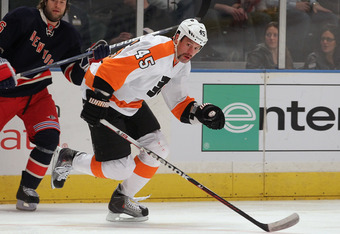 Bruce Bennett/Getty Images
If Giroux is out for an extended period of time, which it sounds as though he will be, the Flyers could benefit from putting him on the long-term injury reserve.
This would allow the Flyers to use replacement players with a salary cap hit equal to or less than Giroux's $3.75 million.
With all the Flyers injuries (Giroux, Pronger, Schenn, Blair Betts, Andreas Lilja, Erik Gustafsson) the team is running out of players to call up from the AHL's Adirondack Phantoms. They are already using rookies Couturier, Read, Zolnierczyk, Rinaldo, Marc-Andre Bourdon and Kevin Marshall.
The next player Philadelphia would probably look to call up is Adirondack captain Ben Holmstrom, who the Flyers used in a game earlier this season.
If they choose to use Holmstrom instead of Shelley, Philadelphia would be skating seven rookies on a team currently leading the Atlantic division in points.
If they choose to make a trade, the team could make a depth move that utilizes the $3.75 million in space from putting Giroux on the LTIR.
The Flyers's potent offense leads the league with 3.61 goals per game. Ranking second in that category are the Vancouver Canucks with 3.31. The 0.3 difference between the Flyers and Canucks is the largest gap between any two teams in that statistical category.
Even after losing their leading scorer, the Flyers may benefit the most by acquiring a defenseman to help replace the losses of Pronger, Lilja and Gustafsson.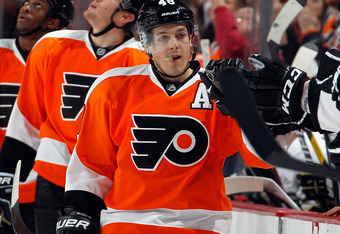 Paul Bereswill/Getty Images
Looking at defensemen who may be available, Philadelphia has some options.
Several quality defenseman are set to become free agents after this season. Teams often look to dump upcoming free agents with hopes of cashing in on players they will lose anyway.
Philadelphia could look to go after Cory Sarich of the Calgary Flames, a physical defenseman who will be a free agent after this season. His cap hit is $3.6 million.
Tim Gleason of the Carolina Hurricanes is a similar player who is also set to be a free agent, but he costs less at $2.75 million.
Johnny Oduya of the Winnipeg Jets could help replace Pronger on the penalty kill. He costs $3.5 million and will be a free agent after this season.
Finally, if the Nashville Predators choose to sell at some point this season, both Shea Weber and Ryan Suter are set to be free agents. Suter fits the cap hit at $3.5 million. Weber, at $7.5 million, would require the Flyers to move a player in order to create more cap space.
Coach Peter Laviolette was pressed hard by CSN Philly's Tim Panaccio on whether or not him and Paul Holmgren were considering a trade after Pronger's injury.
"I want to be clear, that team in there just beat the Penguins, just jumped up to first. And man, I sure would like to extend that lead tonight," said Laviolette.
"And I believe they can do that. That team in there tonight."
Are Laviolette and Holmgren as confident in that team without Pronger and Giroux?
The team's upcoming roster moves will tell that story.
-
Jason Sapunka is a Featured Columnist for the Philadelphia Flyers.
He is available on