Bowl Matchups 2011: Predicting the Fiesta Bowl, Other Pac-12 Bowl Games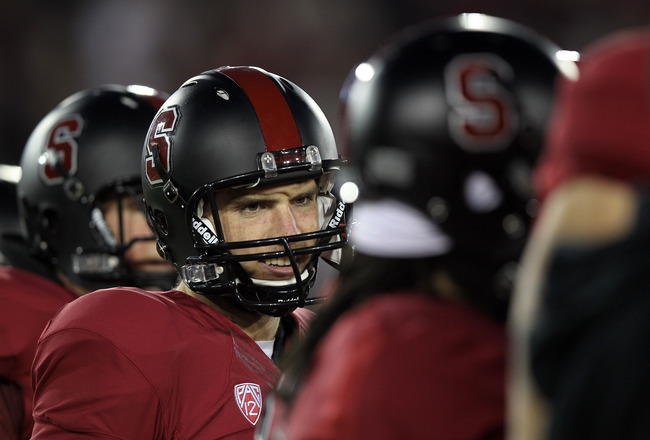 Ezra Shaw/Getty Images
The most wonderful time of the year is back, as bowl season starts in under a week.
Temple and Wyoming kick off the bowls in the New Mexico Bowl on December 17, giving college football fans the beginning of a wonderful three weeks.
Seven of the Pac-12's teams will be apart of the madness.
This article predicts the final score of each bowl game with a Pac-12 team in it.
Kraft Fight Hunger Bowl: UCLA vs. Illnois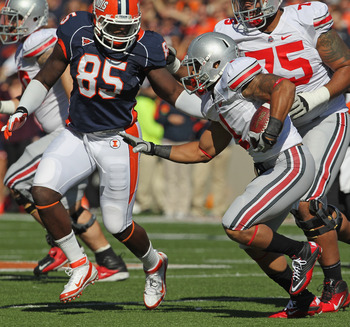 Jonathan Daniel/Getty Images
Both Illinois and UCLA will be with new head coaches this year after both Ron Zook and Rick Neuheisel under-performed in their stints at their respective university.
UCLA won the Pac-12 South Division this past year, due in most part to USC's postseason ban, and won six games.
After beginning the year 6-0, the Fighting Illini finished the year on a six-game losing streak, highlighted by an embarrassing loss at Minnesota.
I think Kevin Prince and the Bruins will play well for their old coach and will get their seventh win of the year.
Prediction: UCLA Wins 24-21
Las Vegas Bowl: Arizona State vs. Boise State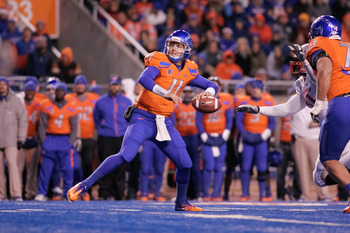 Otto Kitsinger III/Getty Images
Neither the Arizona State Sun Devils nor the Boise State Broncos reached their postseason expectations, failing to reach a BCS bowl.
Boise State's BCS National Championship aspirations were shot down after their stunning loss to TCU at home, where Broncos kicker Dan Goodale missed a makeable kick wide right.
Arizona State fired their coach Dennis Erickson after losing four straight games and their lead in the Pac-12 South.
I see Boise State easily winning this game, with Kellen Moore leaving college football in style.
Prediction: Boise State Wins 35-17
Sun Bowl: Utah vs. Georgia Tech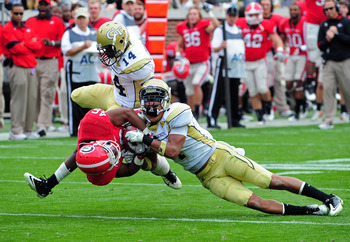 Scott Cunningham/Getty Images
Utah and Georgia Tech have shown flashes of brilliance at some points in the year, but were not able to win their respective divisions.
The Utes' first year in the Pac-12 proved to be successful in that they won seven games overall and four in their own conference.
Georgia Tech's famed triple option offense proved to be successful against some of ACC's elite, including a stunning home win against Clemson.
I see Georgia Tech's offense being too strong against the Utes with the Yellow Jackets pulling away late in a win.
Prediction: Georgia Tech Wins 38-28
Holiday Bowl: California vs. Texas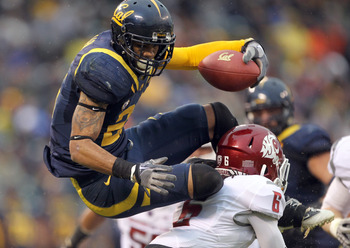 Ezra Shaw/Getty Images
California and Texas both had disappointing years even though neither team had BCS bowl or BCS National Championship aspirations.
The Texas Longhorns, despite sporting another top 10 recruiting class, stumbled to their second straight subpar year, winning only seven games.
On the other side, the California Golden Bears placed fourth in the Pac-12 North after winning four games in the conference and seven overall.
I see Cal pulling off the upset over No. 24 Texas with the Golden Bears shutting down either David Ash or Case McCoy easily.
Prediction: California Wins 17-7
Alamo Bowl: Washington vs. Baylor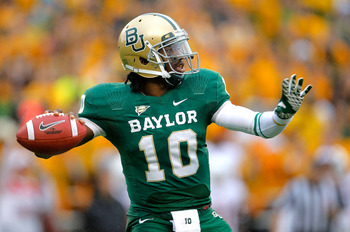 Sarah Glenn/Getty Images
The Alamo Bowl matches up two of the better offenses in the nation, as Baylor and Washington face off in one of the better non-BCS bowl games.
Fresh off his Heisman Trophy win, Robert Griffin III and the Bears come into the game with a 9-3 record, including wins against Oklahoma, TCU, and Texas.
The Washington Huskies had a solid season, as four of their five losses were against ranked teams. Chris Polk will likely try to run the ball against one of the worse defenses in the nation.
I see the Bears beating Washington, with RGIII putting the finishing touches on a first-round draft selection, possibly locking himself into the top five.
Prediction: Baylor Wins 48-35
Rose Bowl: Oregon vs. Wisconsin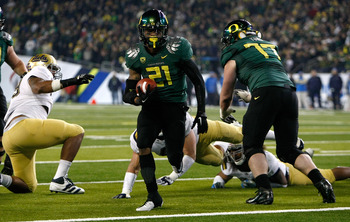 Jonathan Ferrey/Getty Images
Both the Ducks and the Badgers fended off two slow starts, winning their conference titles in impressive fashion. This is Oregon's third straight BCS bowl berth, along with Wisconsin's second straight Rose Bowl berth.
After losing an early contest to LSU, Oregon responded with a resounding nine-game win streak, culminating with a 53-30 thrashing at Stanford.
Wisconsin is two late-game situations away from being in the national championship, but did avenge one of those defeats in the Big Ten Championship Game, by beating Michigan State 42-39.
I think Oregon wins in a close contest as Wisconsin struggles against the Ducks' speed, much like the Stanford Cardinal.
Prediction: Oregon Wins 42-39
Fiesta Bowl: Stanford vs. Oklahoma State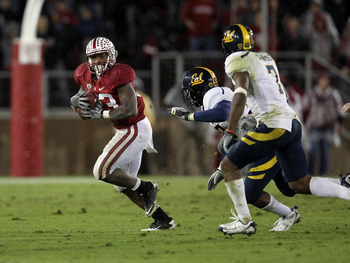 Ezra Shaw/Getty Images
Possibly the second best bowl game, the Fiesta Bowl matches up the No. 4 Stanford Cardinal with the No. 3 Oklahoma State Cowboys.
The Stanford Cardinal won 11 games this year, losing their Pac-12 and national championship aspirations in a stunning home loss to Oregon, 53-30. Andrew Luck played admirably all season long, including in a 56-48 triple overtime win at USC.
On the other side, Oklahoma State will likely feel snubbed for not getting their shot at the national championship against LSU, and rightfully so. Their only blemish on the year was a road loss at Iowa State in a double-overtime thriller.
I see Andrew Luck having his best game of the year, solidifying himself as one of the top quarterbacks in the history of college football. The key to this game will be Stepfan Taylor who needs to play big against Oklahoma State's weak run defense.
Prediction: Stanford Wins 38-35
Keep Reading

Stanford Football: Like this team?