San Francisco Giants: Winter Meetings Review According to TPR
December 9, 2011
Jeff Gross/Getty Images
I make no bones about the fact that I am not a Brian Sabean fan. Yes, the Giants won the World Series in 2010, but that has a lot more to do with player development than anything he has done at the big league level. He seems to survive on things like that a lot longer than anyone else in the business would have.
This time around, he made one major deal before the Winter Meetings and one major deal during the meetings. He arguably lost both of those deals by picking up players that probably won't help them a lot. Yet, we are getting ahead of ourselves.
Infield
The best news is that they are getting Buster Posey back. You always get nervous with catchers and knee/foot injuries, but Posey is young and can move to first if he has to.
Pablo Sandoval was the best defensive third baseman in the National League last year, but given his general appearance, most people discount that about him. He did lose some weight, and it showed at the plate as well.
First base could be a revolving door between Aubrey Huff, Brandon Belt and Brett Pill. Belt seems to be the long-term answer somewhere, but Huff has been good in the past. His 2011 season was awful, but he runs hot and cold like that. Pill is a dark horse candidate for those outside of San Francisco. Yet, he put up good numbers in limited time last year.
Freddy Sanchez seems ready to take his job back at second. A host of guys tried it while he was down in 2011, with no one really distinguishing themselves. If they keep Jeff Keppinger around, he will provide solid depth.
Thearon W. Henderson/Getty Images
Keppinger could play short if Brandon Crawford continues to struggle at the plate, but given Keppinger's lack of range and Crawford's impressive defense, it will only happen if Crawford can't hit.
There are always rumors that the Giants will target this shortstop or that shortstop, but Crawford should be able to handle the position. Sabean will be pressured to add someone that can hit somewhere on the diamond, but he is running out of spots to put them.
Outfield
It isn't hard to understand what Sabean was thinking. He needed offense in the worst possible way. So, he acquired Melky Cabrera from the Royals for Jonathan Sanchez. Sanchez was expendable and Cabrera looked good last season. Still, he was the worst regular centerfielder in terms of fielding according to TPR. Plus, his 2011 season screams career year.
Even if Cabrera hits like he did, Whatchmacallit Field is a hitter's nightmare, so his numbers will suffer even in the best of circumstances. If Cabrera can't cover the ground, Sabean managed to trade the only guy capable of moving him.
Angel Pagan comes in for Andres Torres and Ramon Ramirez. Torres was already better than Pagan last season, so I'm not sure why Sabean had to chip in a good middle reliever. I guess he was just feeling generous. Pagan was the second-worst defensive center fielder according to TPR.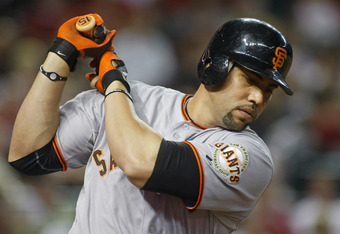 Ralph Freso/Getty Images
Pagan was solid in right field before moving to center field this past season, so I suppose he will fit there. That leaves Nate Schieholtz and Brandon Belt to handle left field. They could flip flop left field and right field since Schierholtz had a lot of time in right field. Color me unexcited.
Starting Rotation
Enter the Giants in the debate of great rotations. Both Matt Cain and Tim Lincecum are among the game's best. Madison Bumgarner staked his claim on the third starter's spot and hit it out of the park. Their threesome may not quite compare with the Phillies and Angels, but throw in Ryan Vogelsong, and you have a compelling argument for the best foursome in baseball.
The Giants also have the most expensive fifth starter in baseball in Barry Zito. That is another good reason to love Brian Sabean. That is the contract that just keeps on giving. The Zito nightmare will end soon enough, but hopefully, he can give them a decent performance before he rides out of town.
Bullpen
The bearded one went down late last season and the Giants didn't skip a beat. Sergio Romo is the unsung hero of this group, but Brian Wilson (AKA the Beard) is solid as a closer.
Santiago Casilla and Javier Lopez join Romo in middle relief, while Jeremy Affedlt is solid from the left hand side. Supposedly, they are close to bringing back Guillermo Mota as well.
Rest of the Offseason
The Giants may be out on Carlos Beltran, but is clear they could use a bat like his to score some runs. Nate Schierholtz and Angel Pagan are okay in the corners, but neither produces enough to really get your attention. Beltran may run out of options, so he may have to come back.