Philadelphia Phillies: Winter Meetings Review, According to Total Player Rating
December 8, 2011
Drew Hallowell/Getty Images
The Phillies had their share of issues even before the offseason officially began. Ryan Howard went down with a torn Achilles on the last day of the NLDS. He will likely miss the entire 2012 season to recuperate. So, the Phillies had an immediate hole to fill there. Then, they had Jimmy Rollins' impending free agency to deal with.
Before the meetings, the Phillies signed Jim Thome and acquired Ty Wigginton to cover that hole. Someone like Michael Cuddyer makes sense for them, but it will difficult to pay for him and Jimmy Rollins at the same time.
Infield
The Jim Thome acquisition is still a head scratcher. He hasn't even played full time as a DH the past few seasons, much less played in the field. He hasn't played any first base since the last time he was in Philadelphia. That was two managers and two general managers ago. Some depth charts have him penciled in at first. That seems patently ridiculous, but what is the alternative?
Chase Utley and Placido Polanco seem entrenched in their spots, and they are two of the best fielders at their position in baseball. Ruben Amaro, Jr. is playing a waiting game on Rollins to get him to come down on his demands. In particular, Rollins wants a three or four year deal. Considering the decline he has had in recent seasons, that would not be a smart venture. Luckily, the waiting seems to be working.
Thome will not be the regular first baseman. The smart money would be on Wigginton or John Mayberry, Jr. for the time being. After spending a ton of money on Jonathan Papelbon and the money they will spend on Rollins, it seems unlikely that there will be enough to attract a regular first baseman.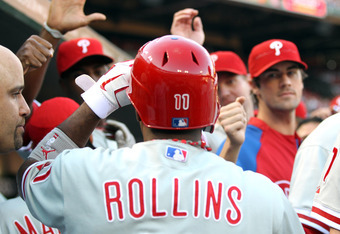 Jamie Squire/Getty Images
Outfield
The Phillies surrendered a ton to get Hunter Pence from the Astros last season, but he may have well been worth it. He is a crowd favorite there, and for good reason. He is one of those 100 percent effort guys that always seems to have a smile on his face. Pence isn't a star, but on this team, he doesn't have to be. All he needs is continue to hit .280 and 20-plus home runs and play good right field defense.
Shane Victorino might be one of my favorite players in all of baseball. He was a Rule V pick years ago by the Phillies, and he has worked himself into one of the best centerfielders in baseball. You'll look at his hitting numbers and defense and wonder what all the fuss is about. He is the perfect example of the cumulative effect of solid performance. He is above average or good at every facet of the game. Add it all up, and you get a very good player.
Left field is a hole after the Phillies let Raul Ibanez go. Mayberry could go there or Domonic Brown could fit in there. Ibanez was a defensive liability, and his hitting also slipped last season. It is likely that they will somehow get better production overall from that spot no matter who goes out there.
Starting Rotation
In this "what have you done for me lately" society, it will be fashionable to call the Angels top three of Jered Weaver, Dan Haren and C.J. Wilson the top three-man starting group in baseball. That's a nice group, but the combination of Roy Halladay, Cliff Lee and Cole Hamels is better. Really, it isn't even particularly close.
It would have been a foursome, but the departed Roy Oswalt struggled through with his back. Vance Worley took over midseason and put up the numbers Oswalt normally would have. It won't last. Worley is similar to J.A. Happ (now with the Astros) in that his rookie numbers are a mirage. For a fourth or fifth starter, he will do.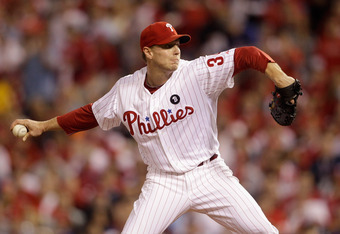 Rob Carr/Getty Images
The Phillies are hoping that either Joe Blanton or Kyle Kendrick step up to solidify the fifth starter's slot. The Phillies would like Blanton to be that guy because Kendrick has shown the ability to pitch in relief. Having Kendrick in the bullpen makes it that much deeper, and Blanton also makes a pretty penny. It's high time he earns it.
Bullpen
The Phillies shocked everyone when they traded up at the closer's spot. There were false rumors out there that they had agreed to bring Ryan Madson back, but they turned those on their ear when they agreed with Papelbon. According to TPR, Papelbon was the second best closer in baseball last season. Furthermore, he is used to pressure-packed pitching coming from Boston.
Antonio Bastardo is the only other pitcher in the bullpen that was significantly above average. This is the main reason why having Kendrick in the bullpen is so important. He was also above average. Mike Sturtes was exactly average, so they have a few solid relievers. If Jose Contreras can come back healthy they will be okay in the pen. Yet, this might be an area that Amaro Jr. addresses before they break for spring training.
Rest of the Offseason
The Phillies have a few questions they need to answer, but many of the answers are already in house. They will need to decide on a first baseman and left fielder. They also must answer the Jimmy Rollins question fairly soon. If he returns, they should easily hold off the Marlins for another division title. Once they get to the playoffs, it is anyone's ball game, as Phillies fans learned this October.