Erin Andrews: $10 Million Lawsuit For Peephole Incident Shows EA Means Business
December 8, 2011
Michael Buckner/Getty Images
ESPN reporter Erin Andrews is still not satisfied.
In 2008, Michael Barrett videotaped her nude through a peephole in a hotel room in Nashville Tennessee. He pleaded guilty to stalking Andrew and was sentenced to 2.5 years in federal prison.
She filed a lawsuit in 2010, and today has refilled the suit to ensure the statute of limitations would not run out according to Fox News.
She is looking to receive $6 million from the West End Marriot and another $4 million from Barrett. The suit alleges the hotel willingly told Barrett what room she was staying in and allowed him to book his room next to hers. The suit also says the hotel was negligent in failing to notice that the peephole of Andrews had been altered by Barrett.
Clearly Andrews is out for justice. She has admitted to feeling "great emotional distress and embarrassment" since the incident and from all accounts has really struggled to get over this.
It's hard to blame here considering how the video went viral and it ended up receiving millions of hits.The feeling of knowing that millions of people have seen you nude without your permission is spine-tingling.
She will never receive emotional justice for this crime, but $10 million is a great consolation prizes.
Despite how she feels, it's hard to deny that EA has only become more famous since the incident. She hosts ESPN's College GameDay, appeared on season 10 of Dancing With the Stars, works as a Good Morning America contributor all in addition to her duties as a sideline reporter a collegiate events. Her "brand" is bigger than ever and she certainly doesn't need the money at this point.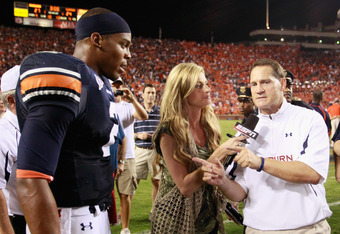 Kevin C. Cox/Getty Images
This isn't about the money, this is about getting justice. This is about punishing the people that allowed this to happen and force Andrews to reevaluate everything she has ever known about the profession she chose.
It will be interesting to see how this all plays out in court, but I think this has settlement written all over it. Andrews is sick of relieving this awful story and the Marriot doesn't want the bad press.
Regardless of what happens: Andrews is still not over this and this is the only way to get some sort of retribution for what she has felt for the last three years.