Top 10 Premier League Goalkeepers of All Time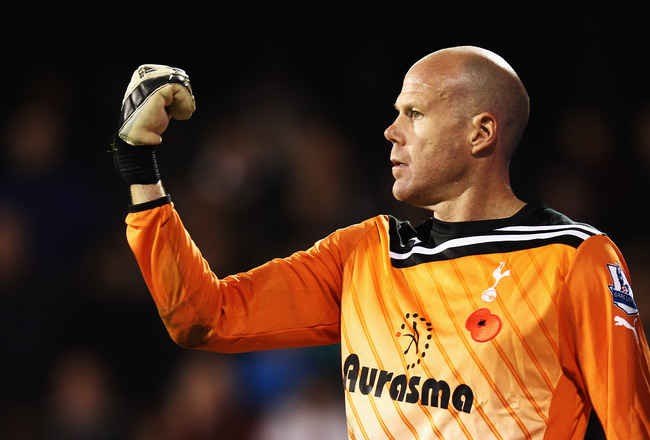 Bryn Lennon/Getty Images
The Premier League has seen a lot of good goalkeepers, but these guys really are the best of the best. These are the Top 10 Goalkeepers the Premier League has ever seen.
Frequently the focus of criticism from the media and fans alike when they make the slightest of mistakes, goalkeepers in the Premier League have it tough.
But these guys don't let it get to them.
Since the Premier League started 20 years ago, these men have proven themselves as the best goalkeepers ever to have played in the Premier League.
Honorable Mention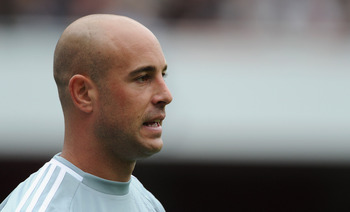 Michael Regan/Getty Images
Pepe Reina
Liverpool goalkeeper Pepe Reina has proven himself as a solid and consistent goalkeeper. Certainly one of the top goalkeepers currently playing in the Premier League, but just pushed out of the list by a few players who've been around a little longer.
Five years is not a long time for a goalkeeper in the Premier League; maybe in a few years' time, Reina will have earned a place in the top 10.
Joe Hart
Joe Hart has taken the Premier League by storm in the last couple of seasons. His performances when out on loan at Birmingham and now at Manchester City have earned him the England No. 1 jersey.
Hart will almost certainly become one of the best Premier League goalkeepers ever, but right now he's a little too young to earn a spot in the list.
With two goalkeepers of this quality not making the list, you know the top Premier League goalkeepers of all time will be incredible.
10. David James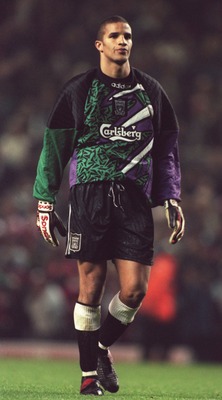 Clive Brunskill/Getty Images
David James was the first Liverpool goalkeeper in the Premier League, making his début for the club in their first-ever Premier League fixture.
His time at Liverpool saw him get a shaky reputation. He became known for his mistakes as much as his great shot-stopping.
After seven years at Liverpool, James was sold to Aston Villa. He then went on to represent West Ham United and Manchester City, before ending his days in the Premier League with Portsmouth.
James took a long time to shake off that early reputation as a mistake maker. Yet throughout his career he was still regarded as one of the best goalkeepers in the Premier League until he left Portsmouth in 2010.
It was during his time as a veteran in Portsmouth that James really moved up in class. He had an incredible record for Portsmouth, and was a key member of their team.
If there is any doubt about how talented he was a a goalkeeper, just look at his stats. He has played more Premier League games than any other goalkeeper. He's also kept more clean sheets than anyone else.
9. Shay Given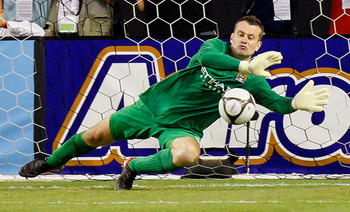 Kevin C. Cox/Getty Images
Shay Given is a hero in Newcastle.
The Irish goalkeeper spent most of his Premier League career at the club, helping them qualify for Europe on several occasions. In the season he left the club, Newcastle were relegated out of the Premier League.
A small man for a goalkeeper, Given tended to struggle a little with crosses in his early days. But his shot-stopping ability has never been in doubt. With experience his game improved greatly, especially with crosses.
Now at Aston Villa after a brief visit to Manchester City, Given is regarded as one of the best goalkeepers currently playing in the Premier League.
His character also means he is one of the most likeable.
8. Peter Cech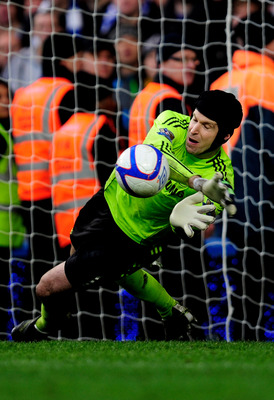 Jamie McDonald/Getty Images
Peter Cech was relatively unknown when he arrived in the Premier League. Signing for Chelsea from Rennes, Cech was to be a very expensive understudy to Carlo Cudicini.
An injury for Cudicini meant Cech was forced to justify his £7 million price tag early. He didn't disappoint, retaining his place in the Chelsea side even when Cudicini returned.
His outstanding performances in goal helped Chelsea win the Premier League, conceding just 15 goals in the process.
A serious head injury in 2006 not only threatened Cech's career, but his life. But after taking a year out of the game to recover from a fractured skull, Cech returned.
His performances have always been outstanding. It is no coincidence that the seasons Chelsea perform best are those in which Cech plays a full part.
The crowning moment for Cech's brilliance is an incredible run without conceding. Cech managed to spend over 1,000 Premier League minutes without conceding a goal in 2005.
7. Mark Schwarzer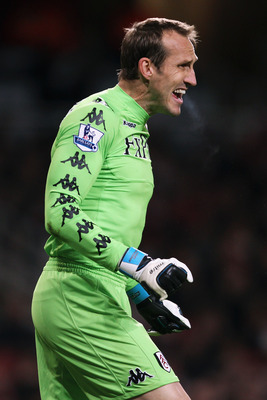 Scott Heavey/Getty Images
Mark Schwarzer of Fulham has built a solid reputation for himself as one of the top goalkeepers in Premier League history.
He came to the nation's attention with Middlesbrough, his incredible shot-stopping ability not only ensuring their safety in the Premier League, but eventually helping them qualify for Europe.
In fact it was a last-minute penalty save from Schwarzer that meant Middlesbrough qualified for the UEFA Cup.
Having played at Middlesbrough for 11 years, Schwarzer left and now plies his trade at Fulham.
Even at 39, Schwarzer is capable of keeping his team in games, with performances that defy logic.
His ability to stop shot after shot when his team are under pressure make him irreplaceable. Middlesbrough have already found this out, and one day Fulham will too.
6. Edwin Van Der Sar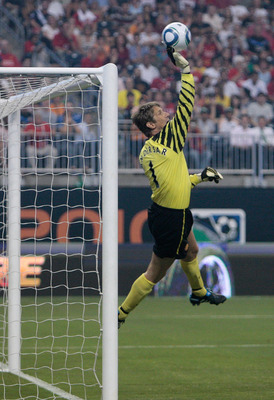 Bob Levey/Getty Images
Edwin van der Sar ended his career at Manchester United, having spent 10 years in the Premier League with Manchester United and Fulham.
Van der Sar was a major coup for Fulham, and made over 100 appearances for the club before the inevitable happened.
His performances were, as expected, strong enough to attract the attention of Manchester United. Van der Sar moved to Old Trafford in 2005, and was an instant hit at United.
Sir Alex Ferguson described van der Sar as the "the best goalkeeper we have had since Peter Schmeichel," high praise in itself.
Commanding performances and some incredible saves helped United win the Premier League in four of his six seasons he was at the club.
His performances with United proved van der Sar is a real great of the game, and one of the best goalkeepers ever.
5. Brad Friedel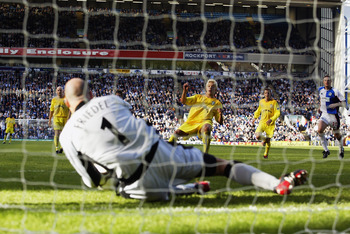 Gary M. Prior/Getty Images
Brad Friedel has become one of the most liked characters in the Premier League.
Having signed for Liverpool in 1997, Friedel made little impact. It was not until his move to Blackburn in 2000 that Friedel proved his worth.
After helping Blackburn return to the Premier League in his first season, Friedel quickly showed his class. His performances earned him praise from almost all in the game, and in 2003, he was named the Premier League player of the year after keeping 15 clean sheets.
Friedel left Blackburn for Aston Villa in 2008, where he continued to show he is one of the best goalkeepers ever to play in the Premier League.
Only this season, even as an ageing veteran, Friedel attracted the attention of Tottenham Hotspur. His experience and ability has seen Spurs finally fill their goalkeeper spot with a solid and consistent stopper.
4. Nigel Martyn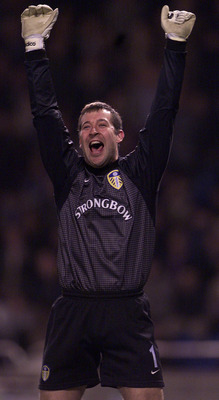 Laurence Griffiths/Getty Images
Nigel Martyn started life in the Premier League with Crystal Palace. He later joined Leeds United, and ended his career with Everton.
Martyn twice set records for the most expensive goalkeeper in England. He was the first goalkeeper to be sold for a million pounds when he moved to Crystal Palace in 1989, and broke the record again with his £2.5 million move to Leeds.
At Leeds, Martyn quickly became known as one of the best goalkeepers in the Premier League, enhancing a reputation that had already earned him an England call-up.
At both Everton and Leeds Martyn was a key member of a team that surpassed all expectations; Leeds reached the semifinals of the Champions League, and Everton recorded their highest-ever Premier League finish.
The real travesty for Martyn, on a personal level, was the timing of his career. In another generation, Martyn would have earned a lot more than 23 England caps. Yet for the bulk of his career he was kept out of the side by David Seaman.
3. Jussi Jaaskelainen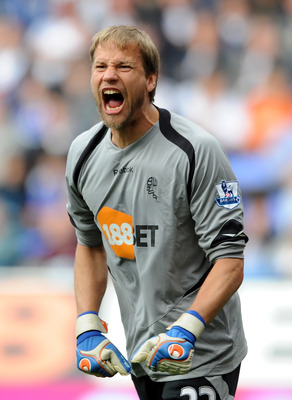 Chris Brunskill/Getty Images
Jussi Jaaskelainen has made almost 400 Premier League appearances for Bolton Wanderers. During their time in the Premier League, Jaaskelainen has been one of their most important players.
Often seen picking the ball out of his own net, Jaaskelainen is one of the hardest-working goalkeepers in the Premier League.
It would be easy to overlook him because of his situation, but like Mark Schwarzer, that is exactly why he deserves recognition.
His hard work and energy, combined with some incredible shot-stopping ability, has helped Bolton stay in the Premier League for over a decade.
In doing so, Jaaskelainen has proven himself as one of the best goalkeepers ever to have played in the Premier League.
2. David Seaman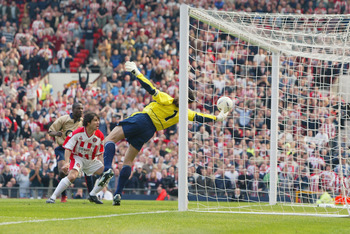 Laurence Griffiths/Getty Images
David Seaman is the most consistent English goalkeeper to have played in the Premier League. Working behind a top class back four at Arsenal helped a lot, but Seaman was always ready to produce brilliance.
Perhaps his most incredible save came in the FA Cup (pictured), when he somehow managed to save a certain goal.
His performances in the Premier League meant that Seaman spent the majority of his career as first choice England goalkeeper.
Arsenal fans will remember him as the man who helped the club win two Premier League and FA Cup doubles in the late '90s and early '00s.
Seaman played over 300 times in the Premier League for Arsenal, before a brief spell at Manchester City before retirement.
He truly is one of the best English goalkeepers ever.
1. Peter Schmeichel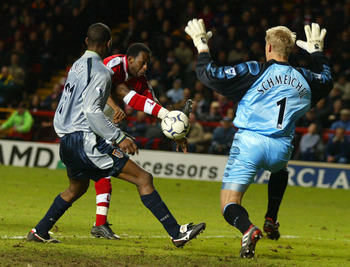 Mike Hewitt/Getty Images
Peter Schmeichel is the best goalkeeper the Premier League has ever had. His nine years at Manchester United earned Schmeichel several Premier League medals, including winning the famous treble in 1999.
Famous for his time at United, it was at Aston Villa where Schmeichel became the first goalkeeper to score in the Premier League.
But it wasn't his scoring that made him famous—it was his ability to stop people from scoring.
Schmeichel made countless incredible saves in his time at United, and is fully deserving of his place at the top of this list.
A leading goalkeeper, Schmeichel was constantly organising his defence. Much of the time he spent the immediate aftermath of a great save screaming at his defence for allowing the shot in the first place.
Peter Schmeichel is the greatest goalkeeper the Premier League has ever had.
Keep Reading