Nebraska Football: Bo Pelini Must Hire Mike Stoops as Defensive Coordinator
December 7, 2011
Otto Greule Jr/Getty Images
Ch-ch-ch-ch-Changes
(Turn and face the strain)
Ch-ch-Changes
Don't want to be a richer man
Ch-ch-ch-ch-Changes
(Turn and face the strain)
Just gonna have to be a different man
"Changes" – David Bowie
On Monday, Nebraska defensive coordinator Carl Pelini accepted a head coaching position at Florida Atlantic University. In taking the job, he announced that he would not be coaching Nebraska for its bowl game against South Carolina.
At this stage, most fans have accepted the fact that staff changes are simply a part of life in college football. Gone are the days of the Osborne era, where an entire coaching staff remained together for decades. The fact that members of Bo Pelini's staff are being poached by other schools is an indicator that Pelini is doing something right at Nebraska.
But this staff change is different than all of the rest. On paper, it's at the same level as the change last season, when offensive coordinator Shawn Watson was replaced by the promotion of then-running backs coach Tim Beck. But Watson was one of the last holdovers from the Bill Callahan era, and the departure of Watson and elevation of Beck felt far more like Bo Pelini taking full control of his team rather than having to change how he did things as a head coach.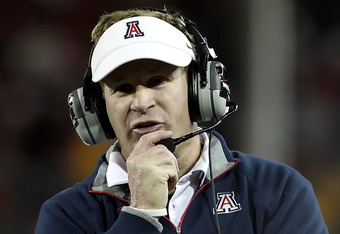 Christian Petersen/Getty Images
Carl Pelini's departure is different. Whoever comes in, no matter how much Bo may respect the person, won't be his brother. The dynamic will simply be different, and given the defensive struggles of 2011, that may be a positive.
But the bigger question to be answered is whether Bo decides to use this opportunity to fundamentally change how he does business as a head coach. Mike Stoops has expressed interest in the defensive coordinator position. If Bo were to go after Stoops, Nebraska would have to open the checkbook to pay him significantly more than what Carl was making.
More importantly, though, it is likely that Bo would have to give up some of the defensive play-calling duties that he currently holds, and that, ultimately, might be the best thing in the world for Nebraska.
Not that Bo does a poor job calling a defensive game. Far from it, actually. While Nebraska's defense didn't have a vintage year in 2011, there is no questioning Bo's superior defensive mind. He is one of the great defensive coordinators in the country.
But he's not the defensive coordinator at Nebraska. He's the head coach. And over the last few years, Nebraska feels like it has been a little stuck at its current level. When Bo told the world that "Nebraska's back, and we're here to stay" after the 2009 Holiday Bowl (ironically enough, after beating Mike Stoops' Arizona squad, 33-0), Nebraska has yet to win a conference title, be relevant in a national-championship discussion or make a BCS bowl. This year, Nebraska didn't even make the conference championship game. For most Nebraska fans, that's not having Nebraska be "back."
Further, Nebraska fans have had a real feeling of déjà vu a number of times, with inexplicable losses to average teams sprinkled in throughout the season (Iowa State in 2009, Texas in 2010, Northwestern in 2011).
Basically, Bo is faced with two choices: He can promote from within, make someone like John Papuchis the defensive coordinator and retain the defensive play-calling duties; or, he can hire an outsider like Stoops, turn the reins of the defense over to him and become more of a CEO of the entire team.
One definition of insanity is continuing to do the same thing and expecting a different result. 2012 will be Bo's fifth year as a head coach, and while it is fair to say that Pelini is still learning how to be a head coach, at this point it is fair to stop using his inexperience as an excuse for the inconsistency and lack of focus his teams have demonstrated over the course of his career.
That's why Carl's departure is such an opportunity for Nebraska. Stoops is, without question, a safe pair of hands to put the defense in. Bo could give up the defensive play-calling and use the extra time in his calendar to take further charge of the team as a whole. Maybe, just maybe, that broader focus would give Bo the opportunity to clean up some of the inconsistency that his teams have suffered from during his tenure.
There's no question that Bo is a great defensive coach, but this may be the opportunity for him to take another step towards becoming a great head coach.
Like what you read? Follow me on Twitter @patrickrunge to track my thoughts and observations about college football—and one or two other topics—throughout the year!
And if you would like to contact me directly to schedule an interview, ask a question or to get my recipe for a killer peach cobbler, you can send an e-mail to patrickrunge@gmail.com. (DISCLAIMER: Peach cobbler recipe might not be all that killer.)