Brett Favre: With Matt Forte Injury, Bears Will Stick with Hanie, Miss Playoffs
December 6, 2011
Ezra Shaw/Getty Images
It's over. Donovan McNabb rumors and Brett Favre alarms were sounded for no good reason, as neither will be coming to Chicago.
But with no time to learn an offense, and no talent left in their tanks, both former quarterbacks are as bad as (or worse than) Caleb Hanie anyway.
So there's no chance a new quarterback is under center for the Bears unless Hanie gets hurt.
And if that happens, you can pick between Josh McCown and Nathan Enderle blindfolded—they're both equally horrible scenarios ending in a Bears loss. 
Hey, credit the Bears for not getting suckered into paying top dollar for a terrible third option at QB. 
Because Jay Cutler could do better with four fingers and no thumb.
Admit it, you'd consider bringing him into the game if he could hand off. That's all the Bears want to do with Hanie, anyway.
Of course, who takes the hand off is Chicago's other problem. 
Matt Forte is expected to miss the next two to four games with a sprained medial collateral ligament (MCL). 
And that means Bears fans can expect more of Marion Barber, who has looked good as a backup and disappointing as a starter.
He had 44 yards on 14 carries last week. He also had a gift touchdown reception called back because he wasn't on the line of scrimmage. In a 10-3 loss, that hurts.
Kahlil Bell will get touches too, especially on screen passes. He's fast enough to cause mischief against defenses, but he's third-string for many reasons (little strength, limited pass blocking ability, questionable hands, and a nickel's worth of knowledge about the playbook).
So here's your scenario, Bears fans:
For the next four games, a backup QB is going to hand off to the backup RBs when he isn't throwing interceptions.
The Bears need to win three of those four to finish 10-6 and guarantee a playoff spot. And one of the games is against the undefeated Green Bay Packers.
No pressure.
Because there's no chance the Bears go 3-1 to finish the year. They'll struggle to win two more games and finish 9-7.
See? No pressure. 
Honestly, do you want to see this team limp into the playoffs, maybe get Forte or Cutler back for a game they're destined to lose? Why risk getting hurt again?
Even great players don't come back from injuries fast. It's unrealistic to expect Cutler and Forte to play at Pro Bowl levels immediately.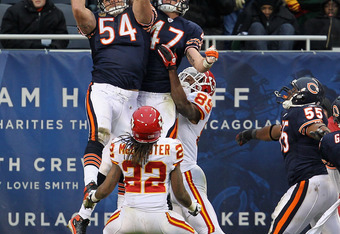 Jonathan Daniel/Getty Images
And don't forget, the Bears offense spent most of the season sputtering around midfield, even with both starters.
So we don't get to be surprised the Bears lost to the Chiefs because a game-deciding Hail Mary deflected off the hands of Chicago's hall-of-fame linebacker, Brian Urlacher.
That's the margin of victory when a team loses it's top two guys from an average (at best) offense.
Next, Chicago faces a must-win game against red hot Denver and their modern day Messiah, Tim Tebow.
It will take a miracle to beat them.
Unless the defense causes as many turnovers as Hanie does, the Bears will lose to the Broncos, and miss the playoffs altogether.