2012 Winter Classic: An Early Breakdown of the Rangers vs Flyers Game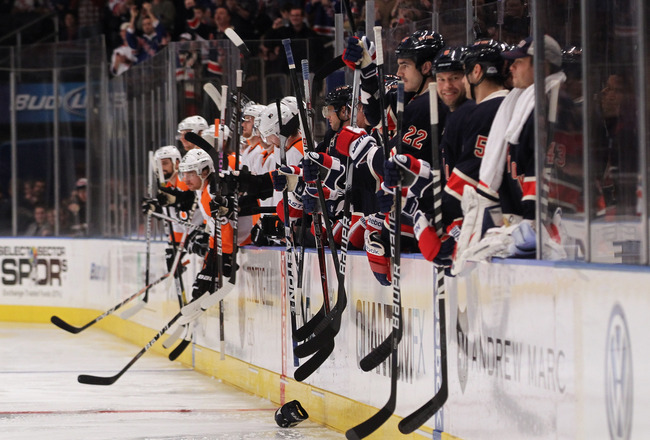 Bruce Bennett/Getty Images
The 2012 NHL Winter Classic is creeping up on us; it's less than a month away now.
The Philadelphia Flyers will face off against the bitter and hated rival New York Rangers. Add some television cameras to the locker rooms, Sean Avery and a hit series on HBO and you have yourself one big month to look forward to.
And hopefully, on January 2, there is no letdown. Hopefully, the two teams come in prepared and forget the hype and just play good old-fashioned Flyers vs. Rangers hockey.
As the NHL's annual showcase game, I cannot wait. Here is my early breakdown of the matchup.
Battle for the Atlantic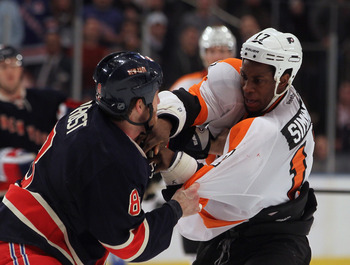 Bruce Bennett/Getty Images
I'm sure there will be plenty of gloves dropped and punches thrown, so this game may turn into a dog fight.
With 33 points a piece, both New York and Philly are trailing Pittsburgh for the lead in the Atlantic Division.
Come January 2, you would expect the three teams to be roughly at the same level of play, all battling for first place.
Not only will this game raise the intensity and adrenaline levels of the players just because of the spotlight, but also because of the standings.
Wayne Simmonds vs. Sean Avery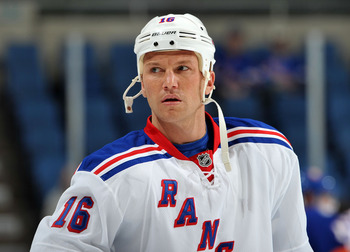 Christopher Pasatieri/Getty Images
Last time I wrote an article about the Winter Classic, the Rangers had just waived Sean Avery.
Luckily for fans around the country, the Rangers picked him back up and he has been consistently playing for the them.
So when will it happen? When will Wayne Simmonds and Avery drop their gloves and fight to the death? Well, maybe not that far, but they are going to want to put on quite a show on a national stage.
I feel like New York just signed Avery again so that HBO can follow this guy 24/7 and see what he's like in person.
Battle of the Goaltenders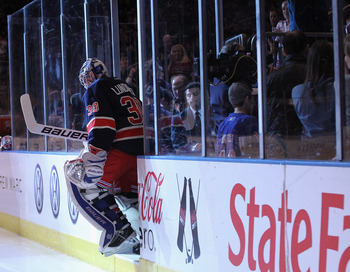 Bruce Bennett/Getty Images
Ilya Bryzgalov has been anything but consistent this season. He started off strong, then showed signs of not even being able to play in this league. He has come on strong the past few games, though, and is headed in the right direction.
On the other side might be the opposite. Henrik Lundqvist has been a brick wall right from the get-go. His 2.10 GAA is fifth in the league among starting goalies.
As good an offense as both these teams may have, these two goalies might turn this game into a dog fight, for lack of a better term.
I could see both these guys standing on their heads in this game and making the second goal the game-winner.
Claude Giroux vs. Brad Richards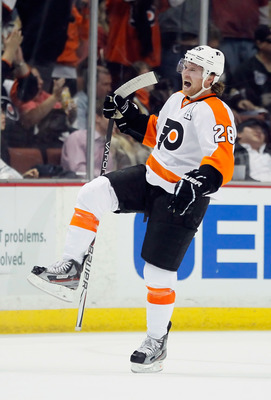 Jeff Gross/Getty Images
Two of the best players in the NHL will be showcased in the Classic. Both Claude Giroux and Brad Richards lead their respective teams in points and also in the locker room.
Both are the kind of guys you want on your roster. With Richards, everyone knows what you are going to get out of him each year. He is a pure scorer that can take over a game.
Giroux is a budding superstar. Players around the league are beginning to take notice and put him up with the elite players in the league.
Offensively, this will be a great battle—not necessarily mono y mono, but from a "take over the game" standpoint.
Prediction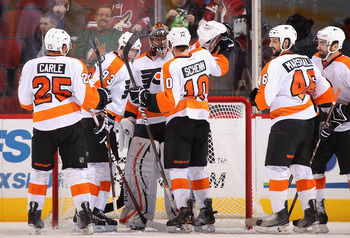 Christian Petersen/Getty Images
It is never too early to start predictions.
This year's Winter Classic has the potential to be the best ever. Not only are two great teams facing off, but they are bitter rivals.
These guys hate each other and it is going to show in their physical play. If that is true, then you've got to give the Flyers the advantage. They are the pros at playing physical hockey.
I see this being a close game with the goaltenders standing strong in net. There will be plenty of shots to go around, but only a 2-1 score on the scoreboard at the end.
The Flyers at Citizens Bank Park will be undefeated.
Keep Reading

Philadelphia Flyers: Like this team?