Colorado Avalanche: Ryan O'Reilly Emerging as the Avalanche Team Leader
December 5, 2011
Doug Pensinger/Getty Images
From the day that Ryan O'Reilly was drafted by the Colorado Avalanche, he has impressed everybody in the Avalanche organization.
O'Reilly was selected in the same draft that brought the Avalanche Matt Duchene, so not too many people knew what to expect from him coming into his first rookie camp.
It seemed a foregone conclusion that the second-round selection of the Avalanche would most likely stay for the first few days of training camp but eventually be reassigned back to juniors, but he just didn't let that happen.
In what was quite a shock to many, Ryan O'Reilly made the Avalanche team straight out of training camp his rookie year.
Flash forward to today, and this second-round selection has emerged as the heartbeat of his team.
You need look no further than the past three games that the Avalanche have won. O'Reilly has put together four goals and three assists to power the Avalanche to their current three-game winning streak.
It hasn't just been during the last three games, either. O'Reilly has been the most consistent player for the Avalanche all season, and he currently leads the team in scoring with 21 points.
To put this in perspective, O'Reilly posted 26 points in both of his first two seasons. He stands poised to obliterate the production of those two years and post career highs in goals, assists and points by the time the 2011-2012 NHL season is finished.
The numbers only tell part of the story, because it is how O'Reilly is getting these goals and points that is so impressive.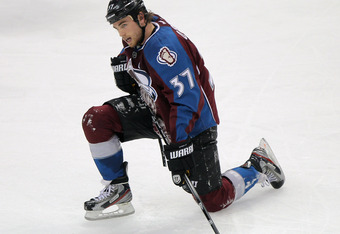 Doug Pensinger/Getty Images
O'Reilly is one of the most tenacious forecheckers that I have ever seen. If he gets a whiff of that puck, it will end up on his stick.
He has been so effective on this front that he ranks second in the entire NHL in takeaways with 36, just two behind perennial Selke candidate Pavel Datsyuk.
All of his points come as a result of this type of hard work, and it is absolutely infectious. 
In his first two seasons, O'Reilly was a third-line guy whose primary task was to be defensive and shut down the opposition's top scoring line. 
This season, O'Reilly has turned into a guy that you want out in every single situation possible. You want his line out against the opposition's best line because not only will they shut them down, they'll produce some quality scoring chances as well.
He has earned his way onto the power play unit and still kills penalties as well.
When the Avalanche were protecting a one-goal lead late against Detroit with a huge defensive zone faceoff coming up and the Red Wing goalie pulled, who took the draw? O'Reilly.
Then he buried the empty-net goal to seal the game.
Ryan O'Reilly has evolved from his rookie year to today. He has always been a hard worker, but now he is much more than that.
He is a team leader. He is the heart and soul of the Colorado Avalanche.
Kevin Goff is a Featured Columnist for the Colorado Avalanche and NHL on Bleacher Report. For more NHL news and discussion,