Patrick Willis Injury: Update on 49ers Star LB's Hamstring Injury
December 4, 2011
Ezra Shaw/Getty Images
Patrick Willis missed a tackle, so right away 49ers fans knew something was terribly wrong.
The heart and soul of the vaunted San Francisco defense sustained a hamstring injury that forced him to leave the game.
There is no word yet as to how significant the injury is or exactly what happened, but this is the worst case scenario for a 49ers team that is one win away from clinching the NFC West and hoped to head into the playoffs with a full head of steam.
Update: Monday, December 5th at 8:12 p.m. EST
Patrick Willis has a grade II strain, according to ESPN. Willis could miss a little time here, and given the weak schedule the 49ers have ahead of them, sitting him until he's 100% isn't a bad idea.
The 49ers have already clinched the NFC West and with the Cardinals ahead of them this weak, it would be silly to risk Willis' health, with a Monday Night matchup against the Steelers lying ahead the following week.
Willis is in the running for Defensive Player of the Year and the 49ers are fighting for a first-round bye, but San Francisco needs their best player when they get into the postseason. If he's got to sit this week, it's certainly not the end of the world.
Initial Update
Fantasy Impact
Even without Willis, the 49ers would be a solid fantasy defense. Navorro Bowman is an animal in the middle and their 16 takeaways coming into this game led the NFL.
That being said, he's the biggest part of the defense. They haven't allowed a rushing touchdown all season and he's a huge reason why.

Who's the Backup?
Last year, this would have been a more manageable injury. Bowman, Takeo Spikes and Willis were all viable starters.
This year, MLB is significantly less deep. Larry Grant will be looked upon to fill the void if Willis cannot go.

Devastation Scale: 7 out of 10
If Willis misses any time, this jumps to a 10 out of 10. This didn't look like a season-ending injury by any means and his demeanor on the sidelines makes it seem like he may even reenter the game at some point.

Timeline for Return
The 49ers say his return is doubtful.

What They're Saying
ESPN's Trey Wingo probably made a number of 49ers fans break down and cry upon reading this tweet.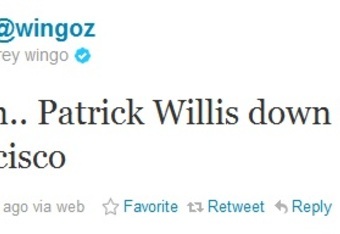 Eric Branch of the San Francisco Chronicle says Willis is doubtful. 

Check back for updates on Patrick Willis' injury.