Euro Cup 2012 Draw: Bold Predictions for Every Team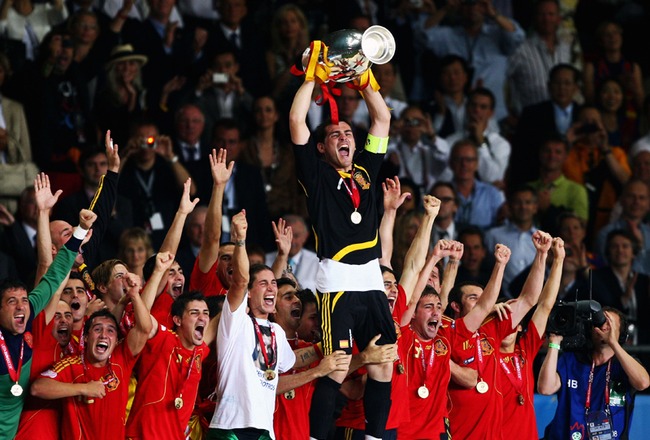 Spoiler alert: I'm not picking Spain.
Now that I've got your attention, let me tell you why.
Four years ago, Euro 2008 was all about Spain making its breakthrough. Two years ago, the World Cup was all about Spain's dominance over everyone.
Next summer is going to be all about who can break them.
In other words, it has less to do with Spain than with the identity of their potential conquerors. We know what Spain is capable of with their slick passing and machine-like control. But they're not unbeatable, as Denmark showed in both teams' opening match of the 2010 World Cup.
Spain played its normal game, passing up, down, around and through the pitch as the Danes packed nine and 10 men behind the ball. But then Denmark scored out of nowhere, and when their trusty tactics weren't working, Spain didn't have a plan B.
They couldn't play a direct style. They couldn't create a goal when facing a deficit because they didn't have the time to be patient with a dozen build-up passes. And that's why Denmark beat them.
See, you have to think of Spain like Agent Smith from The Matrix. As fast and skilled as Agent Smith was at that way-cool judo-chop awesomeness, he still had to follow the rules of the program. He couldn't ever break the Matrix's speed limit.
So now all we need is for Neo to come along with something Spain has never seen.
And I think I know who can do it.
Group A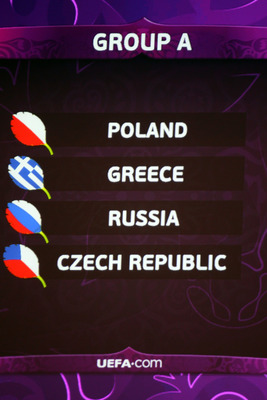 Julian Finney/Getty Images
Group B is the fabled Group of Death, but this might be the Group of Excitement.
Well, mediocre excitement, that is.
Each team could win the group. Every team could finish bottom. All of them could finish anywhere in between.
Considering how evenly matched these teams are, it's almost harder to pick the winner and runner-up of this group than Group B.
This is the Group of Uncertainty.
Czech Republic
It's hard to fault the Czechs for finishing second in qualifying behind Spain, but it's impossible to forget their qualifying loss at home to Lithuania in 2010.
Still, they won Group B in 2008 over Germany, and there's plenty of talent in the roster, but it's all aging.
Bold prediction: Bottom.
Poland
They're the co-hosts, and that always counts for something. Their team, however, isn't strong.
Seriously, their best player might be Arsenal goalkeeper Wojciech Szczesny.
I'd like to pick them to win the group, but I just can't see it.
Bold prediction: Second, solely on the strength of playing at home.
Russia
They're the wild cards of this group. They'd have more of an advantage playing in the Ukraine, but as it is, playing in Poland won't feel too far from home.
There's definitely some talent on the roster, especially if Andrei Arshavin can get his act together. Remember, they made the semis in 2008, though of course they got housed there by Spain (4-1).
Bold prediction: Group winners, almost by default.
Greece
The shock winners of Euro 2004, Greece aren't really sneaking up on anyone these days.
That said, they did top their qualifying group ahead of Croatia. And in a weak group like this one, they really could advance, if only on experience.
Look for a repeat performance of their dour 2010 World Cup, though.
Bold prediction: Third.
Winner: Russia
Runner-up: Poland
Group B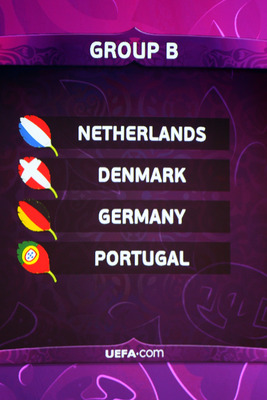 Julian Finney/Getty Images
The Group of Death. And for once, this group really could live up to the name.
Germany are a hot pick to upend Spain.
The Netherlands reached the World Cup final in 2010.
Denmark has some exciting young talent.
Portugal, of course, have Cristiano Ronaldo, who might be the best player in the whole tournament.
Netherlands
Yes, they're good. But remember, this country has a long history of disappointment and underachievement at major tournaments.
The Euro 88 triumph remains their only major title. And after back-to-back semifinal appearances in 2000 and '04, they disappointingly went out to Russia in the quarters four years ago.
Still, they haven't missed the knockout phase since 1984, when they failed to qualify altogether.
Oh, there's talent, and plenty of it. Sneijder. Van Persie, who's in form of his life. De Jong. Van Bommel.
It's hard to pick against them, but…
Bold prediction: Level on points for second, but out on goal differential. Hey, it's the Group of Death. Somebody good has to go home.
Denmark
The obvious choice for early elimination, Denmark has the players to cause an upset.
They've got a hot prospect in midfielder Christian Eriksen, they still have Daniel Agger in defense and a couple of solid goalkeepers in Anders Lindegaard and Thomas Sorensen. That makes that a little less obvious as the group's runt, but then again…
Bold prediction: Bottom but with the chance for a shock win.
Germany
Outside Spain, Germany are the favorites for the whole tournament. They annihilated Netherlands in a recent friendly and they breezed through qualifying with a 100 percent record.
The Germans also boast some outstanding young players in Mesut Özil, Thomas Müller, Mario Götze and Mats Hummels. Plus, they have a solid core of veterans like Bastian Schweinsteiger, Philipp Lahm (the captain), Miroslav Klose, Lukas Podolski (who if selected would be playing in the country of his birth), Sami Khedira and Per Mertesacker.
They're the three-time European champions and three-time world champions. They have experience throughout the squad and enough young talent to still be innovative.
You won't beat them tactically. And it'll be hard to beat them technically.
Bold prediction: Group winners.
Portugal
Talk about hard to gauge.
At 26, Cristiano Ronaldo is entering his prime. He's probably the second-best player in the world right now, and No. 1 (Leo Messi of Argentina) will be watching from home.
The rest of the squad isn't nearly as brilliant, but it's still very good. In 2010, they survived Group G, the Group of Death at the last World Cup, and while they finished behind Denmark in qualifying, next summer will be different.
With Nani also on the roster, this could be quite the entertaining team.
Bold prediction: Runner-up, on goal differential. Don't ask why, but I think they'll finally figure out Denmark, beat them by two or three goals and do enough against the Netherlands enough to advance.
Winner: Germany
Runner-up: Portugal
Group C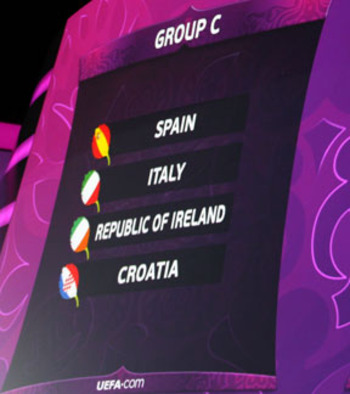 This group is pretty easy to read: Spain will win it.
They might draw their opening match with Italy, but they'll beat Ireland and Croatia.
So will Italy, but not by as much. It doesn't matter who wins the game between Ireland and Croatia, except for who will lead the group through one round.
What will matter is who beats Ireland and Croatia worse.
Spain
Come on. You're going to bet against them this early?
Not-so-bold prediction: Group winners.
Italy
Come on. You think they're going to lose to Ireland or Croatia?
Not-so-bold prediction: Runner-up.
Ireland
I love the party, but it won't last past the group stage.
I'll go ahead and plump for an opening win over Croatia. The Irish deserve something after Henry-gate.
Not-so-bold prediction: Third, but I'll be rooting for them the whole time.
Croatia
Come on. They couldn't even top Greece in qualifying.
They won't do anything here, though they'll relish a match against their neighbors from Italy.
Not-so-bold prediction: Fourth.
Winner: Spain
Runner-up: Italy
Group D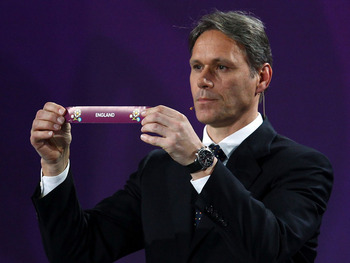 It could be worse for England, but it won't be easy.
France have recovered from their meltdown in South Africa.
Ukraine are co-hosts.
Sweden are a decent team, their recent performance at Wembley notwithstanding.
England, of course, are England, and they always melt down somehow.
Ukraine
There's not much hope for this team outside a past-it Andriy Shevchenko. But I still think they'll open with a win over Sweden.
Patriotism will be at an all-time high, but then they'll lose to France in their next game. Needing a win to advance, they'll play England tough but will only be able to get a draw.
Bold prediction: Third.
England
Rooney will miss all three group matches, barring appeal of his suspension. That might turn into a blessing in disguise, since England will have to find ways to play without him.
Then again, they could just reinforce their own ideas about how reliant they are on one player. It would be a shame, too. There are some exciting players coming up through the system. Kyle Walker provides a thrill a moment at full-back, and the same can be said for Walcott (who really can't be considered up-and-coming since he went to the World Cup in 2006).
Phil Jones has been a revelation in the holding midfield role, and Fabio Capello will have a ton of options across the rest of the midfield, from old faces to new.
The defense should be solid, and Joe Hart has developed into a class international keeper. But without Rooney, England will struggle to find goals. And then there's that long history of failure.
No, England aren't the new Greece. They're the old Germany, stuck somewhere between the Germany that crashed out of the group stages of Euro 2000 and the Germany that reinvented itself to reach the semifinals of back-to-back World Cups.
Success will come only when they truly overhaul their system. Part of that means not being so reliant on a single player.
Here's how I see it playing out for them:
They'll start with a draw against France, which will keep both teams reasonably satisfied. Then, they'll beat Sweden with their newfound confidence from breaking their 38-year duck in 2011. Finally, a spirited Ukraine will hold England while France beat Sweden.
Bold prediction: Second, though the talent is there to win the group. And trust me—they really want to avoid second place in this group.
Sweden
They might be a good team, but this won't be their tournament. They'll lose all three matches.
Bold prediction: Fourth.
France
The embarrassment of World Cup 2010 is gone. Now, France have a solid squad with talent throughout the roster.
They'll draw with England, beat Ukraine and beat Sweden. And finish first.
Bold prediction: First.
Winner: France
Runner-up: England
Quarterfinals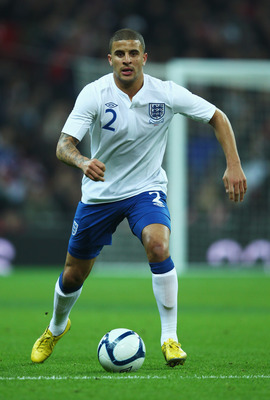 Julian Finney/Getty Images
Quarterfinal 1: Winner, Group A (Russia) vs. runner-up, Group B (Portugal)
Portugal wins. Ronaldo shines.
Bold prediction: Portugal 2, Russia 0
Quarterfinal 2: Winner, Group B (Germany) vs. runner-up, Group A (Poland)
In a rematch of World War II, the outcome will be just as lopsided, and the victory assure just as quickly. Germany by a lot.
Bold prediction: Germany 4, Poland 1
Quarterfinal 3: Winner, Group C (Spain) vs. runner-up, Group D (England)
See why I was saying England don't want to finish second in Group D?
Spain wins a tight one.
Bold prediction: Spain 1, England 0
Quarterfinal 4: Winner, Group D (France) vs. runner-up, Group C (Italy)
On second thought, it didn't really matter for England. I don't see them beating Italy either.
Italy beats France, in a shootout, just like the 2006 World Cup final. Let's hope France don't have another Zidane waiting to head-butt someone.
Bold prediction: Italy 1, France 1 (Italy wins shootout 4-3)
Semifinals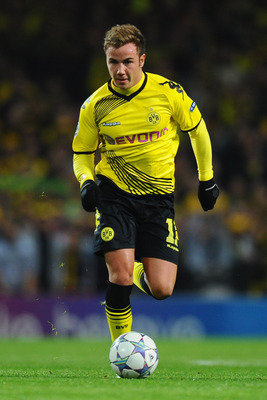 Mike Hewitt/Getty Images
Semifinal 1: Spain vs. Portugal
Ronaldo shines again. A month after leading Real Madrid to the La Liga title over Barcelona and most of the Spain squad, he threatens to do it again on the international stage.
This time, though, Ronaldo doesn't have the supporting cast he has at Real. Spain wins a tight one in the Iberian derby.
Bold prediction: Spain 2, Portugal 1 (extra time)
Semifinal 2: Germany vs. Italy
It should be clear to you now that I'm picking Germany to win it all.
Mario Götze will be the breakout player of the tournament. He'll score the winner in the semifinals.
Bold prediction: Germany 1, Italy 0
Final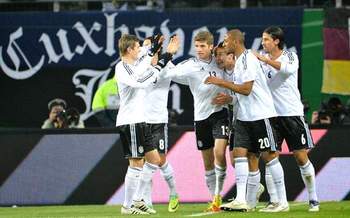 The final will be played July 1 in Kiev.
That's when and where the Spain dynasty will end.
Spain will take the lead on Germany with a first-half goal. But in the second half, the Germans will adjust their tactics and take the game straight at Spain.
Relying on the playmaking abilities of Real Madrid's Mesut Özil, Germany will carve out enough chances to tie it in regular time and win it in extra time.
Spain, like in their loss to Denmark a couple summers before, will struggle to find a plan B. And with Fernando Torres still in poor form, they won't be able to score again.
Bold prediction: Germany 2, Spain 1 (extra time)
Keep Reading