North Carolina vs. Kentucky: TV Schedule, Live Stream, Radio, Game Time and More
December 2, 2011
Nick Laham/Getty Images
Even in a basketball season rich with high-powered matchups, the North Carolina Tar Heels' meeting with the Kentucky Wildcats is the year's most anticipated.
Even though it's no longer No. 1 vs. No. 2, as was widely expected at the start of the year, the showdown between the nation's two most talented teams will be as good a regular season game as fans will get in 2011-12.
Where
Rupp Arena, Lexington, KY
When
12:00 p.m. ET
Watch
CBS, or live stream at cbssports.com
Listen
Kentucky: 630 WLAP-AM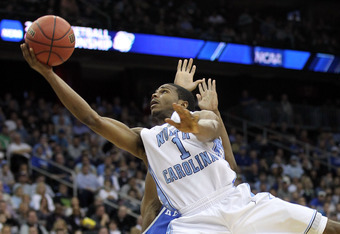 Nick Laham/Getty Images
North Carolina: 1360 WCHL-AM
Betting Line
Kentucky -5, according to vegasinsider.com. Even if the Wildcats win (and that's far from guaranteed), there's a good chance they won't cover this spread, modest though it is.
Key Injuries
North Carolina guard P.J. Hairston (wrist), questionable
North Carolina guard Leslie McDonald (knee), out
What's At Stake?
This early in the season, not a great deal beyond bragging rights. Still, the Wildcats would love to defend their No. 1 ranking and have a shot to go undefeated (as they very well could do if they win here).
UNC, meanwhile, would be in line to reclaim the top spot soon enough if they can pull off a huge road victory.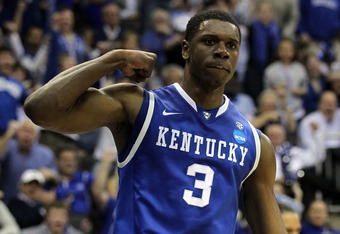 Nick Laham/Getty Images
What They're Saying
Kentucky PF Terrence Jones is well aware of how tough a matchup he'll be facing against the huge Tar Heel front line. As reported by the Boston Herald, Jones commented, "they are big in the paint like we are. It's going to be real competitive for me and Anthony [Davis] down low."
On the other end of the floor, Roy Williams hasn't been thrilled with Tyler Zeller's 8-for-23 shooting slump over the Tar Heels last few games. Still, the coach told ESPN, "if that's my biggest concern, I've really got a charmed life, because I've got that much confidence in the young man."
North Carolina Player to Watch
Harrison Barnes is still recovering from the ankle injury that kept him out at the end of UNC's loss to UNLV. He played brilliantly against Wisconsin, scoring 20 of the Tar Heels' 60 points, but in what's likely to be a much faster pace against the Wildcats, the ankle could give out on him again.
Kentucky Player to Watch
Freshman center Anthony Davis will be in for the toughest test of his young career against perhaps the only front line in the country that can make Kentucky look small. Whether he's guarded by 7'0" Tyler Zeller or 6'11" John Henson, the 6'10" Davis won't just be able to coast on his extraordinary length to get points.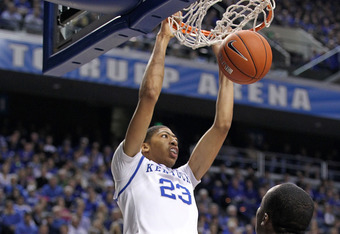 Andy Lyons/Getty Images
Key Matchup
Kentucky's Marquis Teague vs. North Carolina's Kendall Marshall. Neither has shown much affinity for the jump shot this season, but Marshall has been All-America good in running the Tar Heel fast break (10.3 assists a game) while Teague has been more ordinary (4.1 assists a night) for the Wildcats.
Prediction
Both offenses are going to score in bunches, so this one is likely to be a see-saw affair. Unless Barnes gets hurt again, though, expect the more experienced Tar Heels—returning all five of last season's starters—to outlast the green Wildcats (with three freshmen in the starting lineup) in a squeaker.