MLB Free Agents 2012: 10 Possible Scenarios To Expect at Winter Meetings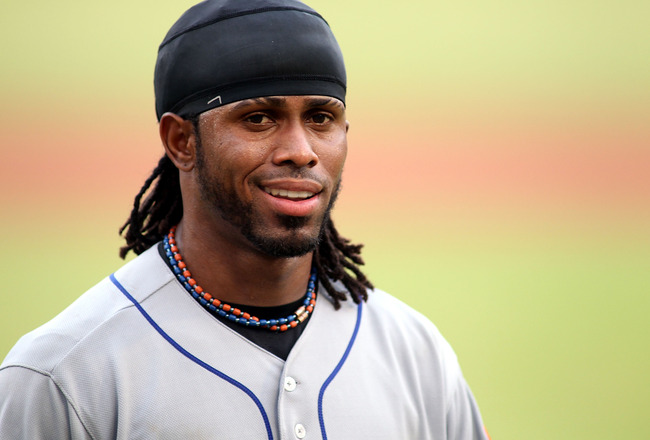 Marc Serota/Getty Images
Major League Baseball's annual winter meetings will be starting on Monday in Dallas, and if previous years are any indication, next week should be an active week for transactions.
Owners and general managers from all 30 teams will be on hand to discuss not only the state of baseball today, but also to interact with their peers and set about the business of formulating plans for next season.
Many of the agents for pending free agents will also be on hand, and by the end of the day next Thursday, there will no doubt be some deals made in the halls and rooms of the Dallas Hilton Anatole.
We will take at 10 possible scenarios that could possibly take place starting next Monday in Dallas.
Washington Nationals Will Search for a Leadoff Hitter/Center Fielder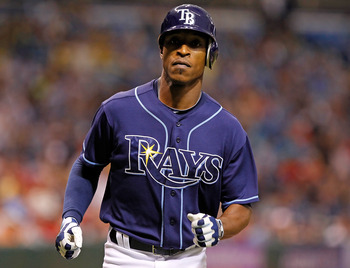 J. Meric/Getty Images
Washington Nationals GM Mike Rizzo will be heading to the MLB winter meetings in Dallas armed with a laundry list, and at the top of that list will be a leadoff man/center fielder.
The Nats recently attended a workout for Cuban outfield sensation Yoenis Cespedes, and while they are clearly one of the teams interested, Rizzo will no doubt be seeking the ear of Tampa Bay Rays GM Andrew Friedman regarding center fielder B.J. Upton.
The two teams nearly worked out a deal for Upton at last year's trade deadline, however the pieces couldn't be worked out. However, no doubt that Rizzo has a package in place for the Rays should Friedman be interested once again.
Detroit Tigers Will Walk Away from Winter Meetings with a Third Baseman
Jared Wickerham/Getty Images
The Detroit Tigers fell short in their quest for the American League pennant in 2011, and during the process, several holes were exposed.
One of the biggest holes is at third base. While the Tigers could potentially go with a platoon of Brandon Inge and Don Kelly, in all likelihood GM Dave Dombrowski will be targeting a more permanent solution.
The best free agent out there at the position is obviously Chicago Cubs slugger Aramis Ramirez, and Dombrowski will no doubt take a hard look. Dombrowski could possibly initiate conversations with New York Mets GM Sandy Alderson about David Wright as well.
The Tigers have other needs as well, including a veteran presence in the bullpen, a No. 2 hitter and possibly another starter for the rotation, but the guess here is that Dombrowski will indeed target a third baseman, and Ramirez could very well be the answer.
Chicago White Sox Will Move Outfielder Carlos Quentin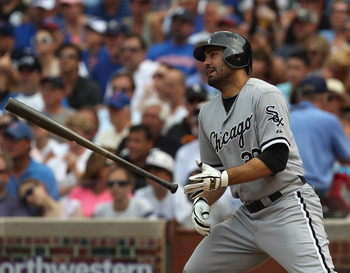 Jonathan Daniel/Getty Images
The Chicago White Sox are very high on young outfielders Alejandro de Aza and Dayan Viciedo, and GM Kenny Williams envisions both players in Chicago's starting lineup next year. However, with Alex Rios and Carlos Quentin already in place in the outfield, something has to give, and that something, or someone, will be Quentin.
While Quentin is certainly productive, he is also injury-prone, playing in just 118 games last season. Quentin will likely get somewhere around $6-$6.5 million in his final year of arbitration, and Williams has the option of moving Quentin now in order to find a spot for both de Aza and Viciedo, and get major league-ready talent back in return.
Blockbuster deals have certainly happened in prior baseball winter meetings, so maybe Williams offers up both Quentin and either John Danks or Gavin Floyd in a multi-player deal?
One never knows.
Miami Marlins Will Announce Signing of Shortstop Jose Reyes
Jim McIsaac/Getty Images
The Miami Marlins have already been active in at least courting several high-profile free agents, and have been successful at signing one of them. Pending a physical, former San Diego Padres reliever Heath Bell will sign a three-year, $27 million contract, with a vesting option for a fourth year.
Oftentimes, the signing of one player creates a domino effect, and the Marlins are certainly serious about seriously upgrading their roster in time for their move to their new retractable roof stadium next April. With Bell's signing, it sends a signal to other free agents that the Marlins do indeed mean business.
Shortstop Jose Reyes has already been actively courted by the Marlins, and reportedly received an offer for six-years and $90 million.
It's our guess that Reyes accepts that contract offer before the winter meetings end on Thursday.
Boston Red Sox Will Acquire Chicago Cubs Staring Pitcher Matt Garza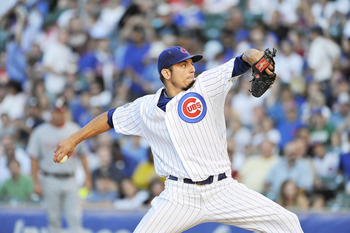 Brian Kersey/Getty Images
Now that the Boston Red Sox have finally settled on Bobby Valentine as their new manager, GM Ben Cherington will head to Dallas on Monday with the task of trying to find help for his starting rotation.
With John Lackey out for the season with Tommy John surgery and Daisuke Matsuzaka also shelved with the same until at least the All-Star break, Cherington needs help beyond Josh Beckett, Jon Lester and Clay Buchholz.
Cherington will no doubt talk to his friend and former boss, Chicago Cubs president of baseball operations Theo Epstein, about starting pitcher Matt Garza. Garza is a grizzled veteran of the AL East, and with two more years in arbitration is an attractive option financially for the Sox.
Look for Garza to become a member of the Boston Red Sox by the end of the meetings.
New York Yankees Will Listen but Not Partake in Any Transactions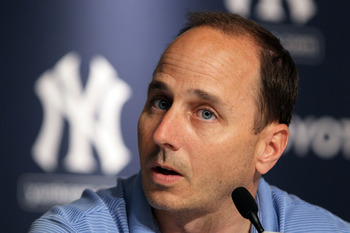 Jim McIsaac/Getty Images
The New York Yankees are always expected to be a major player at the annual MLB winter meetings, and indeed history has shown that to be fact. However, this year, things could be very different, the Yankees could very well be one of the least active teams.
GM Brian Cashman, after signing starter Freddy Garcia to a one-year deal to remain with the Yankees, is likely not going to overpay for the services of free-agent pitcher C.J. Wilson. With what appears to be a set rotation with CC Sabathia, Ivan Nova, Phil Hughes, Hector Noesi and Garcia, Cashman will no doubt listen to offers to upgrade his rotation, but the feeling here is that Cashman will only be listening.
Colorado Rockies Will Acquire Baltimore Orioles Starting Pitcher Jeremy Guthrie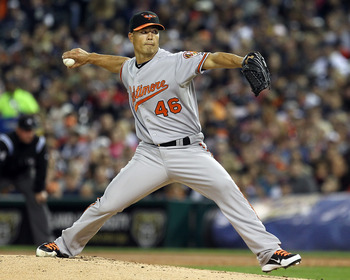 Dave Reginek/Getty Images
The Colorado Rockies, coming off a very disappointing 73-89 season in 2011, have already been active thus far during the offseason, signing free-agent catcher Ramon Hernandez to a two-year, $6.4 million contract and dealing catcher Chris Iannetta to the Los Angeles Angels for 22-year-old pitcher Tyler Chatwood.
It's likely that GM Dan O'Dowd is nowhere near done, as he continues to re-tool his team and look for upgrades. One of the pressing rumors lately has the Rockies talking with the Baltimore Orioles regarding starting pitcher Jeremy Gutrhie.
Our guess is that Guthrie is in fact traded to the Rockies, possibly for closer Huston Street. Street lost his job last season to Rafael Betancourt, and appears to have no place in the Rockies' rotation. The O's could certainly use a closer, and Street's salary of $7.5 million in 2012 is certainly not an obstacle.
Chicago Cubs Will Deal Outfielder Alfonso Soriano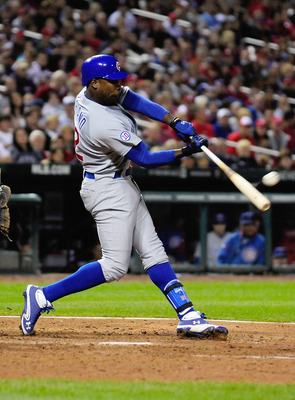 Jeff Curry/Getty Images
The Chicago Cubs certainly figure to be active at the MLB winter meetings starting in Dallas on Monday, and new president of baseball operations Theo Epstein and GM Jed Hoyer will be on hand to continue the re-tooling of the Cubs' roster.
The Cubs have already signed outfielder David DeJesus to a two-year contract, improving their outfield defense. However, it's clear that with DeJesus' signing, the writing may be on the wall for Alfonso Soriano.
If recent reports are to be believed, at least three American League teams are interested in Soriano. Epstein will likely want top-tier prospects in return, and the Cubs will have to send along a major chunk of Soriano's remaining $54 million in salary.
Our guess is that Epstein will get the approval from Cubs' owner to eat some of that money and get rid of Soriano this week.
Cleveland Indians Will Target Logan Morrison as Their Answer at First Base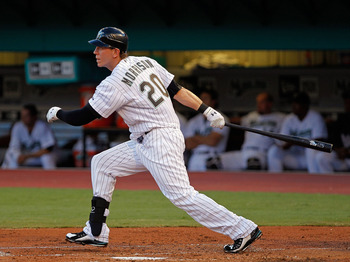 Mike Ehrmann/Getty Images
The Cleveland Indians have already taken steps to shore up their starting pitching, with last year's acquisition of Ubaldo Jimenez and the trade earlier this month for Atlanta Braves starter Derek Lowe. They also fortified their outfield, signing Grady Sizemore to a one-year, incentive laden contract.
Now, the Cleveland Indians will target first base as they seek to build on their success following the 2011 season. Our guess is that they will target Miami Marlins' outfielder/first baseman Logan Morrison.
Morrison is a natural first baseman, and with the problems that plagued his season last year in Miami, there appears to be a window of opportunity to obtain Morrison, if GM Chris Antonetti can put together the right package.
The Boston Red Sox Will Sign Free Agent Carlos Beltran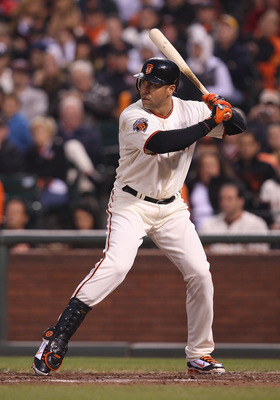 Tony Medina/Getty Images
As mentioned in an earlier slide, the Boston Red Sox will be active after finally settling on manager Bobby Valentine, and GM Ben Cherington will be actively searching for a right fielder to replace the departed J.D. Drew.
While Josh Reddick and Ryan Kalish are prospects that could impact the Sox in the future, Cherington will settle on offering a contract to free agent right fielder Carlos Beltran.
Beltran would fit well in an offense loaded with talent, and can also serve as designated hitter should Cherington be unable to resign long-time DH David Ortiz.
Doug Mead is a featured columnist with Bleacher Report. His work has been featured on the Seattle Post-Intelligencer, SF Gate, CBS Sports, the Los Angeles Times and the Houston Chronicle. Follow Doug on Twitter, @Sports_A_Holic.
Keep Reading