BYU Football: Bronco Mendenhall Leaving? Become a Bruin, Bronco!
November 30, 2011
Doug Pensinger/Getty Images
Nothing official has been announced, confirmed or denied, but somewhere on the college football landscape, somebody started the rumor that BYU head coach Bronco Mendenhall may be considering leaving Provo for a more lucrative deal.
Let's face it, Mendenhall is not likely to become the next Urban Meyer or Pete Carroll, but is leaving BYU really such a bad idea for him?
Although Meyer snatched the Ohio State job up after a week of denying it, there are a few job openings out there that would be a good fit for Mendenhall, should he consider leaving.
Mendenhall's laid-back persona and easygoing demeanor makes him come across as someone you're more likely to find spending lazy afternoons on a boogie board at a Southern California beach than stalking the sidelines of a major college football program.
Did someone say Southern California?
Why yes, Junior, that was precisely what I was thinking.
UCLA, in spite of its "accomplishment" of winning the Pac-12 South Division, revoked Rick Neuheisel's parking spot by showing him the door effective immediately following the Bruins' matchup with Oregon in the inaugural Pac-12 championship game on Friday.
With Neuheisel gone, why not insert Mendenhall into the Bruins' plans?
He's got the SoCal personality. He's got the SoCal looks. His asking price would be a bargain in light of today's college football coaching salaries.
It doesn't take an eHarmony profile to realize Mendenhall and UCLA are a perfect match.
Mendenhall owes a lot to BYU for giving him his first head coaching gig, but, hey, this is 21st century college football. You go where there's a challenge and don't stay put too long.
If UCLA came knocking and Mendenhall was inclined to answer, he would inherit a 6-6 program—probably 6-7 come Friday—that surrenders nearly 31 points per game.
Since defense is his specialty, Mendenhall would be an instant shot in the arm to a Bruin defense that ranks 10th in the Pac-12 against the rush, third against the pass and eighth overall.
The rumor mill—which is owned and operated by anyone with a mouth, computer or platform—has the Bruins courting Boise State's Chris Petersen.
Hey, Bruin powers that be (aka athletic director Dan Guerrero, in case you were wondering), save yourself the airfare and plop that plane down in Utah and make Mendenhall an offer he can't refuse. It won't be difficult to top his current pay.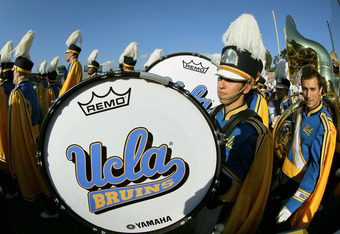 Stephen Dunn/Getty Images
After a year of football independence and potential conference realignment talk, Mendenhall would be able to enjoy the relatively stable conference affiliation UCLA has with the Pac-12. It would be a situation that allows him to focus more on his team's on-field performance than dealing with the uncertainty and speculation that comes with BYU football lately.
Uprooting and relocating from Utah to anywhere can be a stressful occurrence, one that can lead to shell shock for many who have grown accustomed to the LDS-influenced environs of Utah that include LDS church houses and temples within view of each other.
Don't let that hold you back, Coach. The Los Angeles LDS temple is a stone's throw from Westwood, and there's a large Mormon community in SoCal should you have a hankering for green Jell-O.
You'll have to import your own fry sauce, though.