Carling Cup Review: Arsenal Player Ratings vs. Manchester City
November 30, 2011
Michael Regan/Getty Images
Arsenal were eliminated from the Carling Cup after a 1-0 defeat to English Premier League leaders Manchester City in the quarterfinals at the Emirates. In what was a spirited, energetic and impressive display from a young Gunners outfit, a cruel Sergio Augero goal in the 82nd minute from a counter attack was enough to see the Sky Blues through to the semifinals.
As always with the Carling Cup, Arsene Wenger gave opportunities to teenagers, fringe players and reserves, which ensured a new look Arsenal starting XI. Roberto Mancini also utilized what the Italian considers his reserves, but due to financial power and depth of City, this was a starting XI of high quality and experience.
Arsenal's midfield personified the difference in power and experience, with Franis Coquelin, Emmanuel Frimpong, Alex Oxlade-Chamberlain and Yossi Benayoun boasting a combined total of 33 Arsenal appearances and an average age of just under two.
In contrast, City had the likes of former Arsenal ace Samir Nasri, who received a deserved hostile reception, Bosnian striker Edin Dzeko, England international Adam Johnson and Dutch midfielder Nigel De Jong in their attack, alongside goalscorer Sergio Augero arriving just over 30 minutes into the match, accumulating over £90 million in transfer fees.
However, despite the gulf in experience and financial dominance, it was the young Gunners who were the more energetic and lively. Despite a distinct and rare lack of possession for Arsenal, the midfield energy of Coquelin and Frimpong alongside the pace of Chamberlain saw opportunities favouring Arsenal, with South Korean Chu Young-Park finishing off a well-worked move that looked certain to result in a goal before deputy City shot stopper Costel Pantilimon made a magnificent save. The Romanian would then go on to thwart Alex Oxlade-Chamberlain's powerful drive.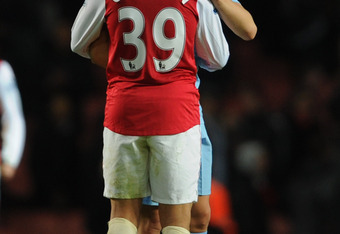 Michael Regan/Getty Images
City had possession, but the Arsenal defence was resilient and energetic, with the midfield complementing the defenders as this expensive attacking talent failed to sufficiently penetrate a second-rate Gunners defensive line.
As the second half arose, the North London giants were still the more lively, and fans were beginning to ponder whether this young squad could indeed reign supreme over a side so engrossed in money its not funny.
However, all hopes were diminished when an Oxlade-Chamberlain corner was cleared to Edin Dzeko who countered strongly, finding Adam Johnson, who then neatly played Augero, who had no such problem scoring the winner. Then again, one would expect that from a trio costing over £60 million.
It was a sour taste for Arsenal fans, but in truth, this was a sterling effort from a makeshift, inexperienced and lacking squad that was without inspirational leaders Robin van Persie and Alexandre Song. Arsene Wenger can reflect on a proud performance.
Arsenal Player Ratings
Lukasz Fabianski: 5.5: A rare chance for the Polish international who was not exactly consistently challenged. Fabianski was safe when called upon, but still evoked nerves and uncertainty from set pieces, Could do nothing about the goal.
Johan Djourou: 6: The makeshift right back dealt with the likes of Samir Nasri and Edin Dzeko with relative ease and was regularly safe on the ball. However, the Swiss was not exactly energetic and quick in attack.
Laurent Koscielny: 7.5: A tough, efficient display from the Frenchman whose defending to restrict Augero at times was world class. Koscielny showed impressive energy and strength as he continues to improve and improve.
Sebastien Squillaci: 6.5: The Frenchman enjoyed a solid, composed display with his experience and leadership showing. Squillaci preformed when required in the air and showed fans he is capable when called upon.
Ignasi Miquel: 7: The Spanish teenager was used as a makeshift left back, and despite a few precarious moments against Adam Johnson, enjoyed a strong performance, combining both speed and strength well.
Francis Coquelin: 8: A superb display from the French youngster. Coquelin never stopped working in both attack and defence, and his energy pleased the crowd strongly. Made some vital interceptions and was flashy in attack.
Emmanuel Frimpong: 7.5: The Ghanain teenager showed impressive maturity and power in a strong display. Frimpong combined well with Coquelin and Chamberlain and was never afraid to get stuck into Samir Nasri.
Yossi Benayoun: 6: The Israeli captain led from the front, but from a man of his experience and calibre, Benayoun didn't quite influence the way one would have hoped. Nonetheless, he looked dangerous at times and played a delicate ball that Marouane Chamakh failed to take advantage of.
Alex Oxlade-Chamberlain: 8: The teenager showed why he is so highly regarded and why Wenger should play hm more. Chamberlain was energetic and skillful in both the middle and the wings with his pace and one-twos causing havoc. Unlucky not to score.
Marouane Chamakh: 5: What has happened to Marouane Chamakh? The Moroccan was almost a liability. Literally no energy in attack and failed to take the chances that arose for him. It's getting harder and harder to think of why he should be kept.
Chu Young-Park: 6: The South Korean captain was unlucky not to score thanks to a superb save, but showed an impressive work rate and a useful ability to be a prominent poacher.
Substitutes
Gervinho: 6: The Ivorian bought energy and flair, but failed to find the answer and could have done better soon some attacking occasions.
Thomas Vermaelen: N/A
Andrei Arshavin: N/A