Ohio State Football: 3 Players That Will Excel in Urban Meyer's New Offense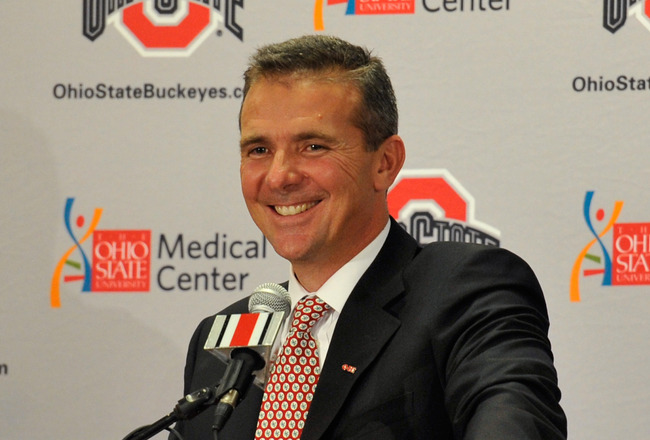 Jamie Sabau/Getty Images
Urban Meyer's offense has left countless defensive coordinators scratching their heads. He does a great job of utilizing his talent and putting his players in the best position to make a play. The offensive style he will implement is completely different from anything Buckeye Nation has seen recently and some players on the current roster will shine as a result of it. Here are the three Buckeyes itching the most to shine in Meyer's system.
3. Jake Stoneburner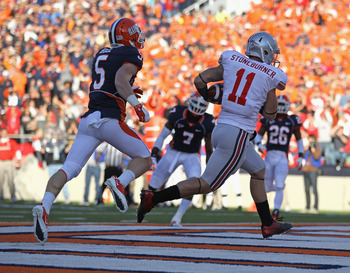 Jonathan Daniel/Getty Images
Jake Stoneburner was the best kept secret in college football this season. Not because teams didn't expect him to be good or because he surprisingly dominated a few games, but because he wasn't used nearly enough!
Half of his receptions this season were touchdowns and he caught seven! The current offense only threw him the ball successfully 14 times in 12 games. Granted, we played the whole season with a young QB who struggled throwing the ball at times, but a tight end is supposed to be an inexperienced quarterback's best friend.
Remember that tight end Meyer coached at Florida who couldn't be stopped? Does the name Aaron Hernandez ring a bell? He won the Mackey Award his junior year at Florida as a non traditional, more athletic tight end and Stoneburner certainly fits his mold. Stoneburner stands at 6'6" and weighs a solid 245 lbs but has exceptional speed and athleticism for his size.
Stoneburner was one of the very few players Meyer specifically named during his press conference so clearly he is excited to utilize the redshirt junior's talents. Look for Stoneburner to actually be targeted more than twice a game next season and to make a tremendous impact on the field.
2. Jordan Hall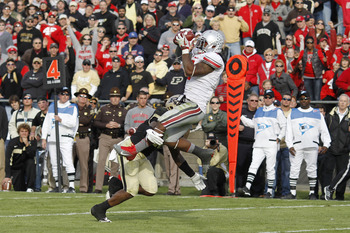 Joe Robbins/Getty Images
Jordan Hall has been stuck in the wrong system his entire time at OSU. He's been forced to run between the tackles far too much and his elusiveness has been wasted, with the exception of when he returns kicks. There was a ton of talk that Hall would be used as a receiver out of the backfield and in the slot before this season and it has hardly been true. Every once in a while he'll line up out wide but not nearly enough.
Meyer's offense does an excellent job of getting skill players out in space and no one at Ohio State is better out in the open than this junior out of Jeannette, Pennsylvania. Hall has exceptional quickness and elusiveness. He has solid hands and could be a viable option in the slot and would do wonders on screen plays.
Stan Drayton, OSU's current wide receivers coach, already compared Hall to RB Jeff Demps from Florida who is known as one of the most explosive and versatile players in college football. Drayton coached Demps at Florida and with Meyer at the helm, the new head coach and Drayton can finally use Hall in the right system and back up the comparison.
Next season, Hall will be a matchup nightmare for linebackers in the slot and a huge component in the screen game. The more he's in space, the more great things he can do and Meyer will put him in the positions he needs to be.
1. Braxton Miller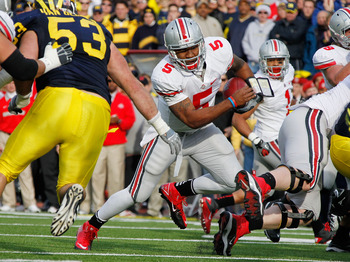 Gregory Shamus/Getty Images
Braxton Miller couldn't have dreamed of a better situation than the one he has found himself in now. Everywhere Meyer has coached the quarterbacks have had tremendous success, and while these former players were all very talented, Meyer deserves some credit. His system put quarterbacks in a great position to succeed.
The freshman out of Huber Heights is the perfect type of quarterback for Meyer's offense. He's quick and extremely elusive. This new spread offense will allow Miller to utilize his best weapon (his legs) in countless ways to move the football. Instead of lining up in the I-formation for half the game, Miller will be allowed to set up in the spread and really run rampant on opposing defenses.
Probably even more importantly, Meyer's scheme will put Miller in a better position to be successful as a passer. Miller has shown potential with his arm but certainly has not been consistent. Meyer's offense will allow the young QB to make quick easy throws more often. These effortless completions will force defenses to worry about Miller as a passer and build the field general's confidence in the process.
Like I have said countless times, Meyer does an excellent job of putting his players in the best position to excel and no player will reap the benefits of this more than Braxton Miller. Combine Miller's rare talent and intangibles with Meyer's understanding of how to utilize them, and you have Buckeye opponent's worst nightmare. Maybe a Heisman trophy too.
Keep Reading

Ohio State Football: Like this team?