UCLA Basketball: Grading the Bruins in Win vs. Pepperdine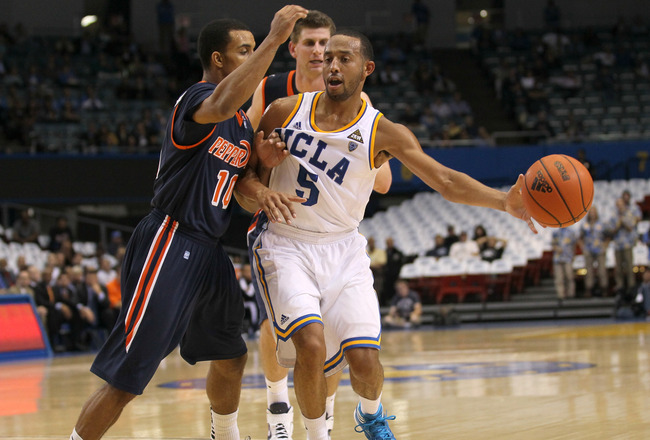 Stephen Dunn/Getty Images
UCLA 62, Pepperdine 39
Now that's what we expected from the UCLA Bruins: a clean, defense-driven win over a lesser mid-major opponent.
After dropping four of their first five, two of which came at home against LMU and Middle Tennessee State, UCLA got a much-needed win at the Sports Arena over Pepperdine.
UCLA played the type of smothering help defense we've come to expect from Ben Howland's teams, holding Pepperdine to 31.3 percent shooting for the game and only 11 first-half points.
For the first time this season, the Bruins played with the kind of effort and pride you'd expect them to bring to every game. The positive mentality this team will need to succeed in the Pac-12 was evident against the Waves. The Wear twins in particular played with energy and intelligence on both ends of the floor, rebounding from sub-par performances in Maui.
Most importantly, Pepperdine wasn't allowed to drain open threes or drive uncontested to the cup as other teams have routinely done on this UCLA team in 2011. The Bruin guards stepped up defensively across the board, staying in front of their men and out of foul trouble.
As Howland preaches, defense keyed the Bruin offense, with turnovers and one-shot possessions by the Waves igniting UCLA's transition game.
Pepperdine was clearly fatigued after its overtime win over Texas San-Antonio two days earlier, so take UCLA's dominance with a grain of salt. The Waves have proven they can play far better, having already beaten Pac-12 opposition in Arizona State in Tempe earlier this year.
Nevertheless, it was a welcome win for a Bruin squad in need of something positive. As a team, I give them a solid B for their improved defensive effort and ability to make open jump shots. Read on for my individual player grades.
Lazeric Jones, G: B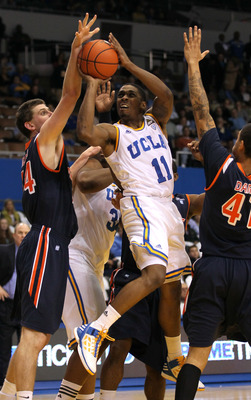 Stephen Dunn/Getty Images
14 Pts, 4 Ast, 6 Stl, 3 To
In one of his most complete performances to date, Lazeric Jones led team in scoring while single-handedly forcing six Pepperdine turnovers.
Jones struggled for consistency in Maui, but found his stroke back at home. His 2-for-3 shooting behind the arc was most impressive and a positive sign of things to come. He was efficient from other areas on the floor, finishing with 4-of-8 shooting and a perfect 4-of-4 from the stripe.
While he still left a man or two open, Jones dramatically improved his defense, staying in front of his man and denying easy jump shots. In a change from the previous five games, not one Waves guard was able to drive on him or create his own shot off the dribble.
Jones slips a few grade points due to some faulty entry passing and careless turnovers, but overall, it was a solid outing.
Jerime Anderson, G: C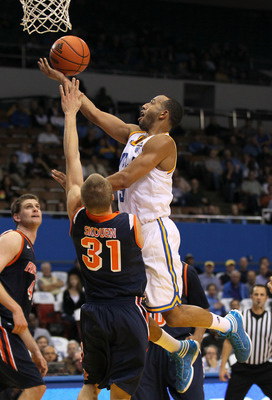 Stephen Dunn/Getty Images
2 Pts, 2 Ast, 3 Reb
With his backcourt partner Lazeric Jones in fine form, it was a shame that fellow senior guard Jerime Anderson couldn't complement him.
Anderson was an abysmal 1-of-8 from the floor, including a few missed layups and going 0-for-4 from downtown. Anderson tried to do a little too much offensively early, but once it became clear that the game was well in hand, he buckled down defensively and got his teammates involved.
In fact, it's because of that defensive effort that Anderson doesn't get a lower grade. Like Jones, Anderson's active hands and solid defensive positioning helped stifle any notions of a Pepperdine run. He even got involved on the boards, quickly keying a handful of fast breaks.
He's proven to be effective from distance, but just had an off night. Anderson has better days ahead, and luckily, got picked up by Jones and Norman Powell in this game.
Tyler Lamb, G: C+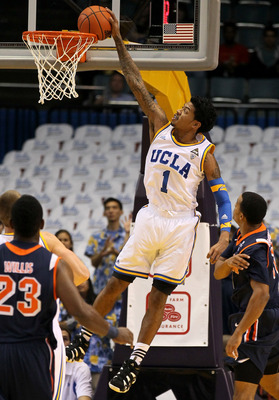 Stephen Dunn/Getty Images
8 Pts, 1 Ast, 1 Reb
It wasn't one of his best nights, but Tyler Lamb acquitted himself well against Pepperdine.
Lamb didn't look for his shot much, missing his only three on 2-of-4 shooting from the floor, but instead dedicated himself to improving defensively. Like the rest of the backcourt, Lamb pressured the Waves guards all night long, using his lengthy wingspan to deny any kind of offense.
If Ben Howland continues to play Lamb at the 3, look for the sophomore to continue to focus on defense rather than just getting his offensively. Lamb has one of the best strokes on the team, but without respectable defensive footwork, he has yet to become a complete player.
In 29 minutes on the court, his lack of other noteworthy stats brings down Lamb's grade. Otherwise, he had a so-so game.
David and Travis Wear, F: A-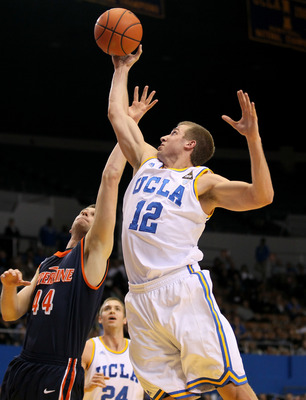 Stephen Dunn/Getty Images
Without question the stars of the night, David and Travis Wear put in standout performances on both ends of the court. They converted shots from everywhere inside the arc, defended with intensity and played with an overall passion that seemed infectious.
Without question, UCLA was at its best when the twins were in the game. The team seemed to have an edge defensively that they lacked when Joshua Smith or Reeves Nelson entered play.
After a forgettable trip to Maui in which both twins were non-factors, the Wear brothers took the Sports Arena floor with a defensive mindset. They hedged well, contested shots, blocked out and ran the floor with the speed of shorter guards.
It was a revelation for Bruin fans, as through the first five games, the Wears had been scattered on defense. They missed switches, left shooters open and were constantly beat off the dribble. Not so against Pepperdine.
While the stats jump out at you (both brothers were close to double-doubles), it was the verve and pride they both played with which really stood out. They both acted like they cared about the game, showing some emotion when they didn't execute well.
When Travis Wear was hit in the mouth so hard a tooth was knocked out, he didn't wallow on the sidelines waiting for treatment. He stepped off the court, found a mouth guard and petitioned Howland for re-entry into the game.
The only thing keeping the Wears from an A in my book is the poor quality of the opposition. If they bring the same skill and effort into Pac-12 games, look out.
UCLA will need more performances from the Wears as they go forward. If the brothers continue to improve, the Bruins might someday live up to that lofty preseason ranking.
Reeves Nelson, F: C-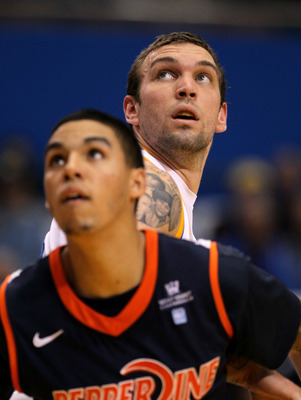 Stephen Dunn/Getty Images
2 Pts, 2 Reb
With Ben Howland's public admission that he would not start Reeves Nelson in the near future, Nelson seemed to play uninspired basketball for all 10 minutes he was on the floor.
Due in large part to early foul trouble, Nelson never got going in the first half, getting flagged for a pair early. When he did play, he did his job defensively, but little more.
If Nelson wishes to win back minutes from the Wear twins, he'll have to find the level of energy he once had. Howland seems perfectly content to let him stew on the bench for most of the game, and if the Wears keep playing like they did against Pepperdine, Nelson could stay there.
Texas will be another real test for UCLA, a game in which experience will count much more. Look to that game as a barometer for Nelson's projected involvement with the team.
Joshua Smith, G: C-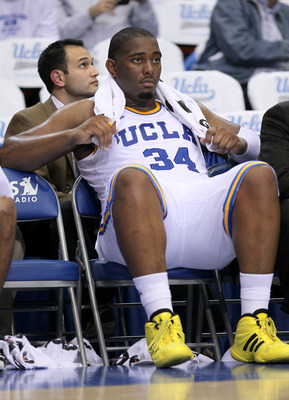 Stephen Dunn/Getty Images
4 Pts, 6 Reb, 2 Blk
Much like Reeves Nelson, foul trouble kept Joshua Smith from settling in against Pepperdine, but that hid the real root of his struggles.
It's one thing to tell your big center "Do. Not. Foul." before every game, but it's quite another for that center to actually not foul. To stay out of foul trouble, players need to understand that defense is more about positioning than anything else. If you can't get the position you need as a defender, chances are you're going to give up a bucket or commit a foul.
What's become clear to pretty much everyone who follows UCLA basketball is that Smith is incredibly out of shape. He lags back in transition, doesn't close up open lanes and when he does contest shots, he does so unintelligently. Instead of getting to favorable defensive position with his feet, he either hacks with his arms or lets the player go buy.
At 6'10'', 305 pounds, you don't need to do anything with your arms but stick them straight up. It's the movement of your feet that counts, and that's where Smith's lack of conditioning comes in. He doesn't have the stamina to defend well for long period of time and hasn't shown the work ethic needed to drop the weight.
Whenever he's in, expect Bruin opposition to run high ball screens to get Smith away from the basket. They know as well as you or I that he's too slow to get back into position. As we saw against Kansas and Michigan, it's an easy layup or foul every time.
As for his game against the Waves, his rebounds were nice, but overall, his offense was lacking. He scored half of his points from the line and did little of note in 12 minutes on the court.
It wasn't a coincidence that UCLA played better without Smith on the floor than with him on it. Unless we see some serious work by Smith to get fit, it should stay that way.
Norman Powell, G: B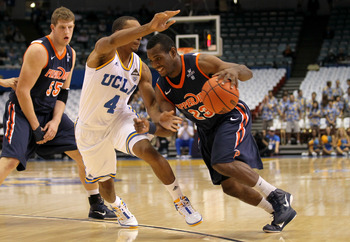 Stephen Dunn/Getty Images
10 Pts, 2 Ast, 1 Reb
A real bright spot for the future, Norman Powell had his best game in a UCLA uniform against Pepperdine.
Finishing with a career-high 10 points, Powell went 2-of-4 from three and contributed a crowd-pleasing dunk when UCLA was making their run. He was active defensively and didn't make too many mistakes.
Not much is expected from Powell at this stage in his career other than making good decisions. Powell has shown flashes of what he will become and will be scary when combined with the talent UCLA has incoming in 2012.
Any significant offensive contribution they get from Powell should be a considered a bonus. He picked up the UCLA backcourt when Jerime Anderson was having a bad night and was rewarded for it, recording 23 minutes on the court.
Anthony Stover, C and Brendan Lane, F: C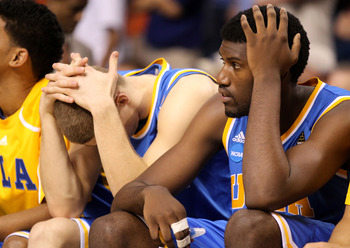 Mike Ehrmann/Getty Images
Combined: 4 Pts, 2 Reb
The two bigs who got their minutes all but eliminated as a direct result of the Wear twins, Anthony Stover and Brendan Lane did what they were asked to do against Pepperdine.
The two players snagged a pair of rebound and scored one basket apiece. Everyone was shocked when Stover put home a right-handed hook shot, as he's out there purely to be a defensive stopper.
Both Stover and Lane provided energy off the bench and gave the main contributors a breathier down near the end of both halves. Going forward, expect them to remain in that role, barring injury from one of the starters.
Keep Reading

UCLA Basketball: Like this team?