Houston Texans Foolish to Consider Brett Favre, Jeff Garcia and Jake Delhomme
November 29, 2011
Sam Greenwood/Getty Images
Here we go again.
Brett Favre, the 42-year-old front-running gunslinger, is back in the headlines because of injuries at the quarterback position.
Instead of picking the best-looking team in the beginning of the season, Favre would have a clear shot at the postseason with only five regular-season games remaining.
The Houston Texans (8-3) lead their division but just saw their starter, Matt Schaub, and No. 2 quarterback, Matt Leinart, go down with injuries in consecutive weeks.
Now they have rookie T.J. Yates under center with recently signed Kellen Clemens backing him up.
The Texans have never been to the postseason before and legitimately have their best shot right now without or without a quarterback.
According to ESPN's quotes of coach Gary Kubiak, they are considering all options right now:
"I don't think you rule out anybody," Kubiak said when asked about Favre specifically. "There are a lot of names being mentioned. We've got to continue to work through the process.

"I'm not going to rule out anybody, nor confirm anybody."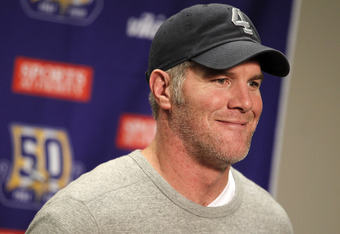 Gregory Shamus/Getty Images
ESPN reports that the Texans are working out Jake Delhomme and Jeff Garcia. They also report that Favre's agent, Bus Cook, has not been contacted.
The Texans would have to be out of their frickin' minds to even consider bringing in Favre. He obviously would only come for a starting opportunity and that would be a mistake.
As for Delhomme and Garcia, they aren't Vinny Testaverde. They aren't guys who can just pop off the couch and come start.
And obviously they don't think so either, as they are working them out as veteran backups only.
They won't get much out of any of these players.
Say what you will about Clemens, but he's not a bad option as a backup/emergency starter all things considered.
The same cannot be said of Delhomme or Garcia. As for Favre, there is just too much that goes along with his No. 4 jersey for that to even be an option.
The Texans are fools if they honestly believe they'll get anything productive from any of these names.
Houston is still the favorite to win the AFC South with Arian Foster and their improved defense. They should focus on getting T.J. Yates up to speed rather than wasting time with fossils.