NHL Free Agency: Teams That Could Use Marty Turco Right Now
Ezra Shaw/Getty Images
Marty Turco took his talents to the NHL Network following the 2010-11 NHL season, but that could change because there are a handful of teams around the NHL that are in need of another goaltender.
Turco's 10-year NHL career came to a end last year after the Chicago Blackhawks decided to forgo re-signing the veteran goalie, allowing him to test the free-agent market after just one season with Chicago. Marty began the season as the Hawks starting goalie but lost those duties in late November to rookie Corey Crawford.
Turco has experienced a lot in his 10 years in the NHL, and he can provide a team with intangibles more than production for the immediate future. Rather then expecting Turco to be the everyday starting goalie on a team, he can join an organization and mentor a number of young goalies, or he can be a solid backup.
New York Islanders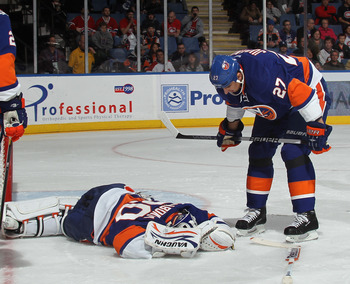 Bruce Bennett/Getty Images
Evgeni Nabokov, the New York Islanders' goalie, left the team's Oct. 27 game against the Pittsburgh Penguins with a groin injury, and it's likely that he'll be out indefinitely. Any hopes of Nabokov gaining trade value for the Islanders was no longer possible following his injury.
New York's starting netminder is 26-year-old Al Montoya, and he's done a solid job for the Islanders thus far in 2011, stopping 93 percent of the shots he's faced.
Rick DiPietro, the 30-year-old American goalie, is now filling Nabokov's shoes as the Islanders' backup goalie, and 21-year-old Anders Nilsson is also listed on the team's roster.
Rather then wasting a roster spot on Nilsson, the Islanders should have him recalled to the Bridgeport Sound Tigers, the Isles' minor league club, and signed Turco to be one of two backups behind Montoya.
Turco can provide Montoya with plenty of insight and mentor the young goalie to help Montoya be as successful as Turco was throughout the 10 years he spent in the NHL with the Dallas Stars and Chicago Blackhawks.
Buffalo Sabres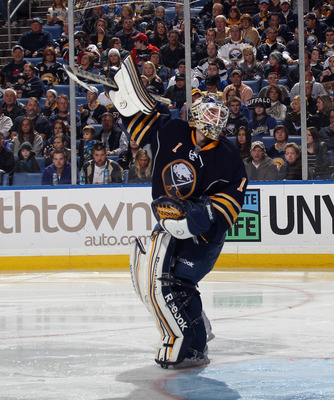 Bruce Bennett/Getty Images
The Buffalo Sabres have been without goalie Ryan Miller since Nov. 12 after taking a hit to the head from Boston Bruins forward Milan Lucic. Jhonas Enroth has since taken over as the Sabres' starting goalie.
Since Miller has been sidelined, the Olympic netminder has been linked to possible trade rumors prior to the NHL's trade deadline that doesn't come until February.
Trading Miller wouldn't be a bad idea for Buffalo. The return Miller can be exchanged for would be of high value, and that would give Buffalo's 23-year-old backup and current starting goalie, Jhonas Enroth, the opportunity to be the team's everyday starting goaltender—the role Miller will likely reclaim when he's healthy.
Turco could be a mentor to Enroth as well as fill the void as the team's backup netminder.
Phoenix Coyotes
Christian Petersen/Getty Images
Phoenix Coyotes' starting goalie Mike Smith has been very solid for the team thus far in 2011, stopping over 93 percent of the shots he's faced and recording two shutouts—his most recent on the road against the high-powered Chicago Blackhawks.
Smith's backup, Jason LaBarbera, hasn't been as impressive. LaBarbera has stopped less than 90 percent of the shots he's faced, and he's led the 'Yotes to a 1-3 record in the four games in which he started in between the pipes.
Turco hasn't been on the ice since last season, but he can provide Phoenix with a better backup plan to relieve Mike Smith than what LaBarbera has done for the team thus far.
At 29-years-old, Smith has been in the NHL for five years, so he wouldn't need the mentoring that many other young goalies around the league would need, but it wouldn't hurt to be coworkers with a guy who's played over 500 career games in the NHL.
Ottawa Senators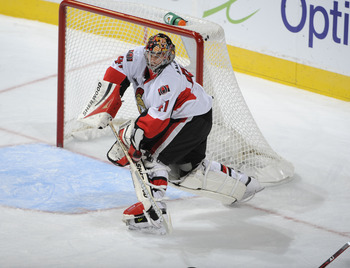 Dale MacMillan/Getty Images
The Ottawa Senators have two 30-year-old netminders on their roster, starting goalie Craig Anderson and Anderson's backup, Alex Auld.
Anderson has led the Senators to 11 wins in his 20 starts, and Auld has yet to earn a win in a game he started in between the pipes for Ottawa.
Auld has stopped a mere 86 percent of the shots he's faced, and his services are nearly useless for Ottawa.
Anderson, who isn't the most spectacular starting goalie in the NHL, has stopped 89 percent of the shots he's faced this season.
How can it hurt the Senators to sign Marty Turco? He wouldn't cost much money, and chances are, he'd provide Ottawa with better backup services than what the team already has in Auld.
Ottawa has nothing to lose besides another game. Give Turco a shot.
Washington Capitals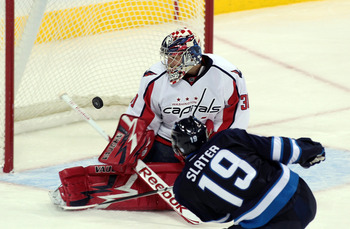 Marianne Helm/Getty Images
The Washington Capitals acquired Tomas Vokoun prior to the season, and he immediately took over starting duties for the Capitals. He's led the Caps to 10 wins, and he's stopped 90 percent of the shots he's faced.
Michal Neuvirth, Washington's current backup goalie, hasn't been nearly as good in 2011 as he was last season for the Washington Capitals.
Neuvirth led the Caps to 27 wins in his 45 starts in 2010, in addition to four playoff wins, and he stopped 91 percent of the shots he faced. This year, Washington has gone 2-4 when Neuvirth starts, and he's only stopped 86 percent of his shots—a number very low for a goalie to expect to succeed at the professional level.
Marty Turco can provide Neuvirth with a little bit of a wake-up call and give him a helping hand in order to get his game back to the level it was at last season.
Dallas Stars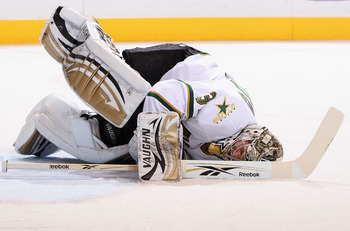 Christian Petersen/Getty Images
Marty Turco played nine of his 10 NHL season with the Dallas Stars before going to Chicago for his final year in the league. When he was in Dallas, he led the Stars to a record of 262-154-26.
Dallas' starting goalie, Kari Lehtonen, is expected to miss at least three weeks after injuring his groin Nov. 26 against the Coyotes, so that leaves Andrew Raycroft as the team's starting netminder.
Raycroft is 1-5 in his six appearances this year, and his backup, 24-year-old Richard Bachman, has faced just four shots in his NHL career.
Bachman is clearly lacking experience in the NHL, and Turco can replace him and provide the Stars with a much more, to say the least, experienced backup goalie while Lehtonen is hurt.
Why not sign Turco? Do the man a favor, and bring back the goalie who failed to have a losing season in his nine years in Dallas, especially when the Stars are in need of another goalie right now.
Keep Reading