College Basketball: Iona Gaels Win Fourth of Year, 100-84, over LIU Blackbirds
November 28, 2011
It is a final here in New Rochelle, the Iona Gaels (4-1) have defeated the LIU Blackbirds (2-4), 100-84. 
Iona senior forward Mike Glover led all scorers with 28 points and 14 rebounds. Point guard Scott Machado, already leading the NCAA, had 10 more assists along with 14 points. Also at 14 points for the Gaels was junior transfer Taaj Ridley, who started and played 21 minutes. 
Coming off the bench for Iona was senior guard Jermel Jenkins, who had 13 points, knocking down a trio of three-point shots and collecting five rebounds.  Kyle Smyth had nine points and six assists.  Also with a career-high six assists along with eight points was Lamont "Momo" Jones.
LIU forward Jamal Olasewere had 20 points, guard C.J. Garner had 18 along with six assists. Forward Julian Boyd had 13 points along with nine rebounds.
Game Blog: 
The Gaels hit the century mark, 100-81, on a Scott Machado drive to the basket. Machado has 14 points and 10 assists.  Less than two minutes remaining here in New Rochelle.
Scott Machado is looking for Glover most times the Gaels fast break down the court.  Glover made two straight shots underneath then "Momo" Jones added one to give the Gaels a 96-74 lead.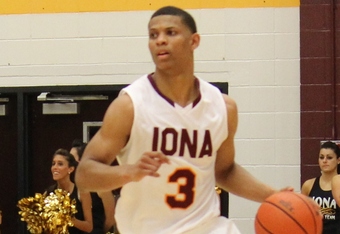 The Blackbirds made a 13-point run closing the margin to 87-68.  C.J Garner has 17 for LIU.
Iona is out to a 87-55 lead with 10:54 left in the game.  Scott Machado continues to lead the Iona offense with fast breaks looking for Glover inside or Kyle Smyth in the corner. 
LIU had two technical fouls called on them, one on Jamel Olasewere and the other a moment later on their bench. Olasewere has 18 points leading the Blackbirds.
Mike Glover has 22, Taaj Ridley 14, and Jermel Jenkins 13 including three three point shots.  Scott Machado has 12 points and 9 assists. 
In the second half Iona came out running with Machado looking to feed into Glover or take the ball inside himself.  Glover put back his own missed dunk to give the Gaels a 61-41 lead.  Machado now has 20 points and Glover 16.  Machado has 9 assists.
Iona's Taaj Ridley made the opening score of the half on an inside shot, he has 16 points.
At the half, Iona leads LIU 54-38.  Iona continues to play up-tempo with Scoot Machado the leading assist maker in the NCAA setting up the plays.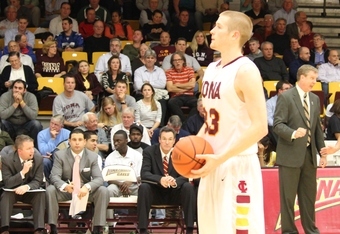 For LIU, junior forward Jamal Olasewere leads the Blackbirds with 16 points.
Iona hit the half century mark, 52-34, on sophomore Sean Armand's three point shot with 1:11 left in the half.
Iona leads LIU 31-25 with 8:07 left in the first half.  Junior forward Taaj Ridley leads the Gaels with nine points on four of seven from their floor.
Jermel Jenkins the senior guard came off the bench to score a pair of three point shots.
Long Island came into the game 2-3 with wins over Radford and Vermont in their last two games.  They are coached by Jim Ferry in his 10th season.
Iona came into the game with a 3-1 record after a double overtime win last Wednesday 104-98 over St. Joseph's.  They defeated Maryland and Western Michigan in the season opening San Juan Tournament.  Iona lost the opening game of that event on a last second shot by Purdue. 
Iona is coached by second year coach Tim Cluess who brought the Gaels within a game of the NCAA Tournament.  The Gaels came into the game ranked seventh in the College Insider.com "Mid-Major" Poll.
Iona point guard Scott Machado is leading the NCAA with 51 assists in his teams first four games.  That averages out to 12.8 assists per contest. Iona leads the NCAA in scoring with an average of 94.3 points per game. 
Ken Kraetzer covers Iona College basketball and West Point football for WVOX 1460 in New Rochelle, NY.