Downtown Showdown Results: Eric Wisely Showcases His Ability in Minneapolis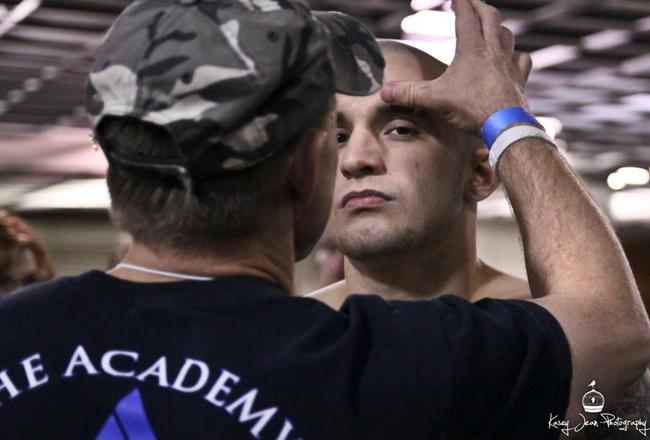 Photo Credit: Kasey Jean

This past Saturday the Hyatt in downtown Minneapolis, Minnesota was host to some very exciting fights, including several stellar performances from some MMA up and comers and a former Strikeforce competitor.
Strikeforce veteran Eric Wisely won in impressive fashion against his opponent Brandon Girtz. Mike "The Marine" Richman, a rising star in the MMA world, also won in dominant fashion.
With lots of first round stoppages and a Fight of the Night that certainly lived up to its name, Driller Promotion's Downtown Showdown was another successful event. Read on to see the results of each fight.
Panda Nguyen vs. Brandon Buchholz: 135 Pounds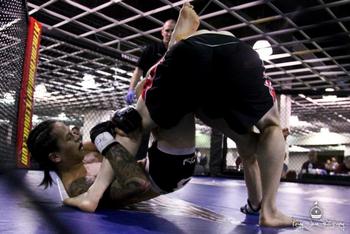 Photo Credit: Kasey Jean
The first fight of the night was between Panda Nguyen and Brandon Buchholz. Nguyen came out strong i the first round, throwing the first set of strikes, but was quickly taken to the ground by Buchholz.
While on the ground Buchholz locked up Nguyen's leg and showcased some of his ground and pound ability before going for an armbar that turned into a tight rear naked choke, but Nguyen was saved by the bell.
The second round started in the exact same way with Buchholz getting the takedown early on in the first round. After some struggling Nguyen ended up in Buchholz guard. While landing some strikes Nguyen got caught in a triangle and tapped, despite fighting the triangle for some time, at 1:55 of the second round.
Bruce Johnson vs. Nicholas Compton: Catch Weight of 165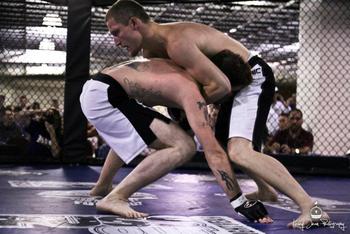 Photo Credit: Kasey Jean
Bruce Johnson vs. Nicholas Compton was a short but exciting fight between two 165 pounders. The two fighters started things off by exchanging some leg kicks before Johnson got the takedown.
Johnson landed in mount but Compton quickly rolled Johnson off and ended up in his guard. Compton quickly moved into side control and slapped a tight guillotine choke on Johnson who tapped at 146 of the first round.
Jake Wyman vs. Corwin Nichols: 170 Pounds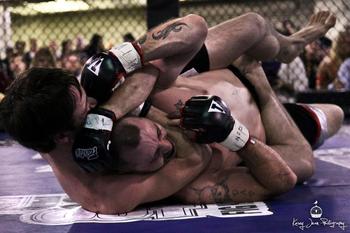 Photo Credit: Kasey Jean
The following fight was an even quicker flurry as Jake Wyman faced off against Corwin Nichols. The fight only lasted :58 seconds.
Both fighters were giving it all they had before Nichols got the takedown and swiftly put Wyman in a rear naked choke that Wyman tapped to. During their brief exchange both fighters were throwing punches with some furiosity behind them.
Jay Paulson vs. Jim Clark: Catch Weight of 175 Pounds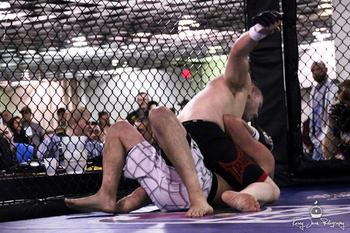 Photo Credit: Kasey Jean
Jay Paulson vs. Jim Clark was another fight that ended in extremely quick fashion. Clark came out and attempted a big overhand right that barely missed.
Clark then got the takedown and quickly transitioned into mount where he dominated Paulson with some great ground and pound before the ref stopped the fight at 1:59 of the first round.
Erik Vo vs. Lloyd McKinney: 125 Pounds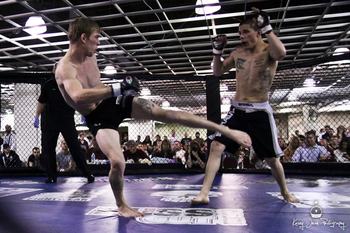 Photo Credit: Kasey Jean
The fight between Eric Vo and Lloyd McKinney was the first fight of the night to go all three rounds and won Fight of the Night honors in impressive fashion.
The big story of this fight was McKinney's ability to take Vo down at will. The fight started off with both fighters throwing some great kicks before McKinney tossed Vo to the ground. Both fighters continued to work before standing back up and going back down to the ground.
McKinney landed a big knee right to the side of Vo's head while Vo was in the three-point position. The ref stopped the fight for a moment to check in with Vo and reprimand McKinney, but didn't deduct a point. Towards the end of the first round Vo had McKinney in a great armbar, but McKinney refused to tap.
The rest of the fight went on in much the same fashion. Both fighters had excellent striking and showcased an incredible pace, but McKinney ended up winning on the Judges Scorecard by the end of the fight.
Morgan Sickinger vs. Mike Richman: 145 Pounds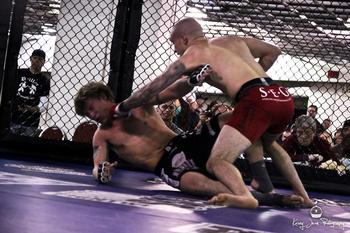 Photo Credit: Kasey Jean
Mike Richman looked excellent in his bout with Morgan Sickinger. Richman dropped Sickinger three times within the first round, once with a great head kick and twice with punches, but Sickinger clearly has a great chin as he was able to survive the first round.
Richman certainly got the best of Sickinger for all three rounds. He showcased some incredible striking, a great ability to stuff takedowns and avoid being hit.
Throughout the rest of the fight Richman continued to drop Sickinger with some great jabs and control the fight when it went to the ground.
Make sure to keep your eye on Richman as he's sure to be fighting on a bigger stage very soon.
Brandon Girtz vs. Eric Wisely: 150 Pounds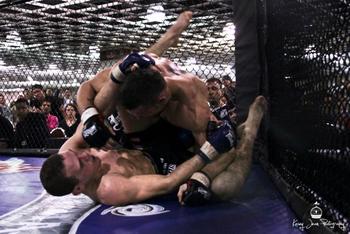 Photo Credit: Kasey Jean
In the main event of night, Strikeforce vet Eric Wisely faced off against the hometown favorite in Brandon Girtz.
The fight started off with some great striking from both fighters. Wisely landed a spinning heal kick before Girtz was able to take him to the ground.
No matter how many times Girtz was able to push Wisely's head up against the cage, Wisely was consistently able to turn himself away from the cage and land some great strikes from the bottom.
Round two started off with Girtz landing an awesome uppercut and moving in with a flury of punches as he tried unsuccessfully to put Wisely away. After neither fighter did much while on the mat the ref stood them up and they immediately went back to throwing strikes.
During their exchange Wisely attempted a head kick that Girtz blocked, but consequently broke Girtz's wrist. The fight was stopped at 4:26 due to the broken wrist.
The Girtz fans in attendance were non too happy about Wisely's win, and they certainly let him know it.
Thanks to Kasey Jean Photography for the great photos in this article! All photos are available for purchase on her website.
Keep Reading