Denver Broncos Week 13: 7 Keys to Victory for Tebow and the Broncos in Minnesota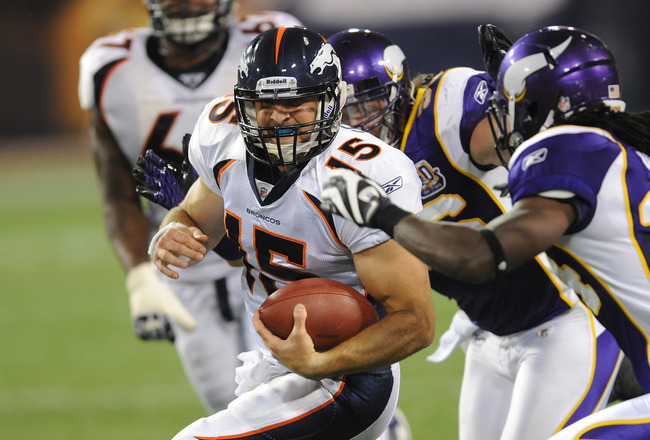 Tom Dahlin/Getty Images
The Denver Broncos and the Minnesota Vikings are two teams that are coming to a crossroads. Both teams are evaluating whether a young quarterback will be part of their long-term future.
But between Vikings QB Christian Ponder and Broncos skipper Tim Tebow, it's starting to look like Tebow is the better quarterback, at least when it comes to wins.
Wins aren't guaranteed in the NFL, and the Broncos will need more than Tebow to defeat a Vikings team which will be hungry for a win Sunday at home.
Here's a look at seven keys Denver needs to win Sunday against Minnesota.
Get the Ball to Eric Decker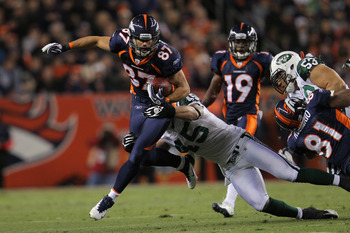 Doug Pensinger/Getty Images
The Broncos are now 5-1 with Tebow under center. The critics still claim that Tebow can't throw a pass, but Broncos' wide receiver Eric Decker might argue otherwise, having caught a touchdown pass in four of those wins.
Decker, a Minnesota native, will have to have a huge homecoming in order for the Broncos to maintain their competitive edge. Tim Tebow clearly has a rapport with Decker, who has been his most targeted receiver this season.
The Minnesota Vikings are currently ranked 29th in pass defense, so the Broncos will be sure to have a fair share of chances to come up with a big pass play, even before the game goes into "Tebow Time."
Win the Field Position Battle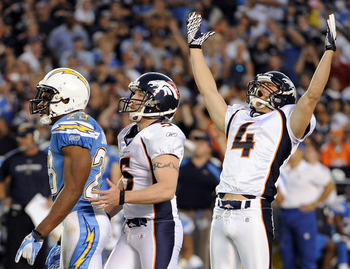 Harry How/Getty Images
The national media seems to be ignoring a key component of the Broncos recent wave of success, the battle for field position.
Denver Broncos punter Britton Colquitt has been having a Pro Bowl year thus far, averaging 47.6 yards per punt and 20 punts inside the opponents' 20-yard line to date.
Forcing opposing offenses to go 80 yards or more on multiple drives in a game has been wearing opponents down and keeping games close for the Broncos.
Convert on Third Down
Donald Miralle/Getty Images
In recent media appearances, Broncos Vice President of Football Operations John Elway has put emphasis on the necessity for Tim Tebow and the Broncos converting on third down.
The team got it done late in the game against San Diego, but the team still needs to markedly improve on third down attempts earlier in games in order to gain early leads of its own, instead of conceding leads to opponents.
A huge part of accomplishing this will be advancing the ball better on first and second down with positive runs and completing short passes.
Avoid Mistakes, and Avoid Turnovers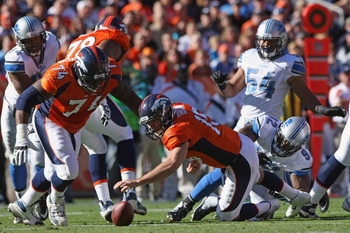 Doug Pensinger/Getty Images
It's become a cliché in the NFL, avoid turnovers and win the game. But it's easier said than done. Luckily for the Broncos, Tim Tebow's touchdown to interception ratio is currently 8-to-1.
The last time that a Broncos quarterback played more than five games with less than 10 interceptions (Jake Plummer in 2005), the team was 13-3 and playing for the AFC Championship.
Not coincidentally, the Broncos only loss with Tebow this season was a 45-10 trouncing by Detroit in which Denver was a -3 in turnover differential.
Limit Jared Allen's Effectiveness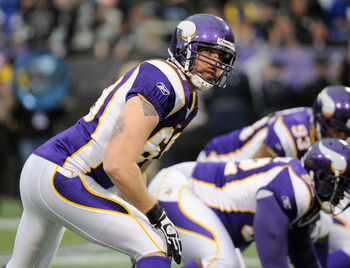 Hannah Foslien/Getty Images
In their upcoming matchup against the Vikings, running the ball will be more important than any other game to this point.
Why? Because the Vikings have Jared Allen, who has 13.5 sacks this season. Running the ball downhill and away from Allen will help to take him out of the equation.
But when the Broncos do need to pass, they will need a step up in play from their young offensive line, especially rookie Orlando Franklin.
Denver hopes will be helped by the fact that Allen has been filling in as the backup long snapper. The extra duties may help to wear on his effectiveness.
Take Percy Harvin out of the Equation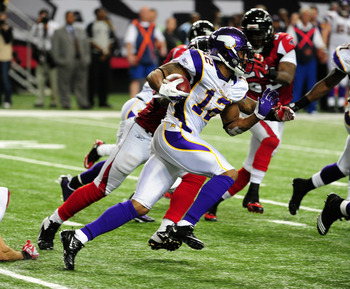 Scott Cunningham/Getty Images
Last Sunday against the Atlanta Falcons, Percy Harvin was an absolute terror. Harvin hauled in eight catches for 95 yards on offense in addition to rushing for 11 yards. He also nearly scored on a 104-yard kickoff return, which was the NFL's longest non-scoring play.
Harvin would've had another touchdown in that game on a 3rd-and-2 play in which he appeared to break the plane of the goal line, but the play was not challenged by Vikings' head coach Leslie Frazier.
The Broncos will have the luxury of Champ Bailey to cover Harvin in the defensive backfield, but preventing huge return plays by Harvin on special teams will be an absolute must-do this week.
Put the Pressure on Christian Ponder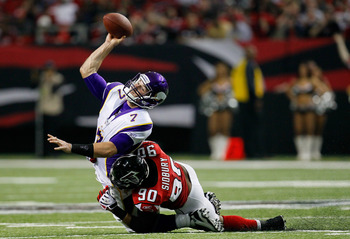 Kevin C. Cox/Getty Images
Christian Ponder may be the answer for the Vikings future, but for now he is still a rookie quarterback prone to rookie mistakes.
To date, Ponder has as many touchdowns as interceptions, which further solidifies the argument that the Broncos must win the turnover battle to beat the Vikings.
Both teams have to get solid play from their rookies to have a chance in this matchup, and my money is on Broncos linebacker Von Miller, who is closing in on the NFL rookie sack record with 10.5 sacks (NFL Record: 14.5)
If Miller can get to Ponder early and often, he will be able to force the turnovers that can help the Broncos win.
Keep Reading

Denver Broncos: Like this team?