Urban Meyer Ohio State Press Conference Brings Swift Twitter Reaction
November 28, 2011
Al Messerschmidt/Getty Images
The worst-kept secret in sports is no longer a secret. Urban Meyer is the new head football coach of the Ohio State Buckeyes.
Meyer was viewed as a fit for Ohio State the very moment Jim Tressel resigned over the summer in the wake of a memorabilia scandal involving several of his players. The former Florida coach is a two-time national champion and an Ohio native, so the general consensus is that he's pretty much the only man for the job.
Making matters even better, the Buckeyes are getting him for a good price. According to College Football Talk (via Twitter), Meyer is getting a six-year contract worth $4 million per year.
It's definitely a big day for Ohio State, and seemingly everyone has something to say about Meyer's hiring. When it comes to situations like these, there's only one thing we can do.
To the Twitterverse!
Before Meyer got to the podium, Ohio State athletic director Gene Smith gave him a lengthy introduction. Erick Smith of USA Today couldn't help but notice that there was something strange about Smith's demeanor: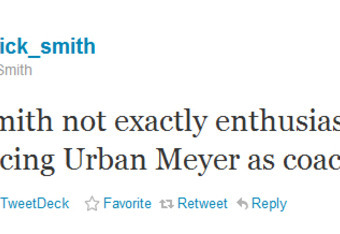 While Smith was rambling on, a couple pundits took the opportunity to squeeze a few zingers in.
Dan Wolken of The Daily was keeping his fingers crossed to hear something special during the Q&A: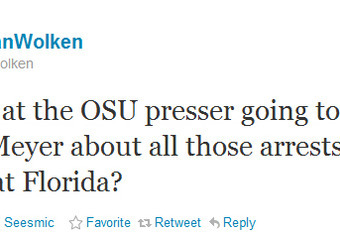 In the meantime, Arash Markazi of ESPNLosAngeles.com could have used a little less of people saying "The" Ohio State University: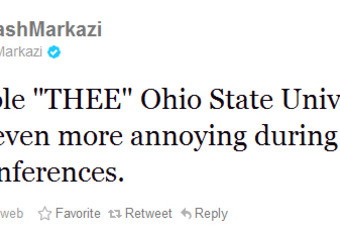 When Meyer finally started speaking, the mood of the press conference didn't get much of a lift. Tom Fornelli of CBSSports.com was hoping to see something awesome: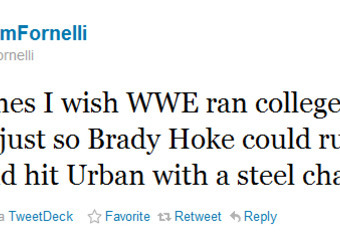 Jason McIntyre of The Big Lead wasn't very enthused either. In fact, watching Meyer speak clearly annoyed him: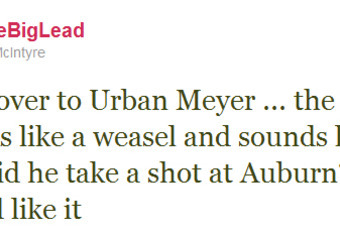 Penn State athletics guru Ben Jones also took a shot at Meyer's character: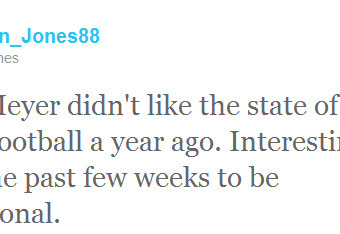 Speaking of Penn State, Matt Norlander of CBSSports.com had an idea how things could be spiced up a little: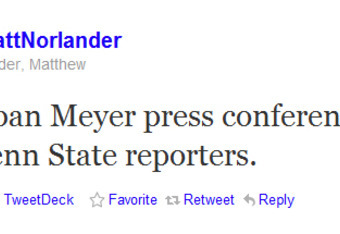 When Meyer paused to introduce his family, Markazi chimed in again: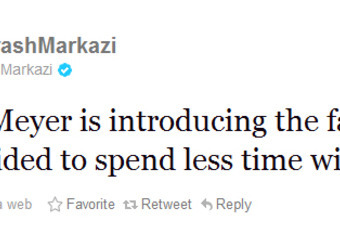 One thing Meyer touched on was what he learned in his time working at ESPN. Coincidentally, Richard Deitsch of SI.com brought up an interesting point: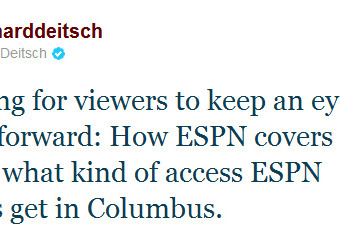 After a few minutes of answering questions, something clearly went wrong with the camera guy. The camera's focus suddenly drifted off Meyer and you could hear people in the room start shouting for an EMS.
The BCS Guru was definitely caught by surprise: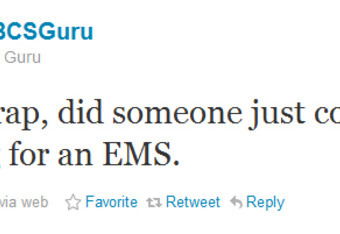 Concerning the same incident, CNBC's Darren Rovell made an interesting observation: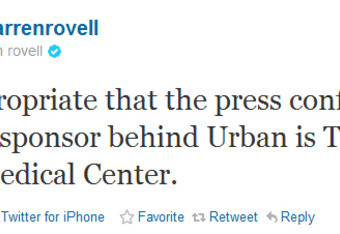 Though, come to think of it I guess Rovell could have been referring to Meyer's own well-documented health issues. Either way.
Thankfully, things got straightened out in a matter of moments and the press conference was able to continue as planned. That's when Mike Freeman of CBSSports.com noticed that the key questioned hadn't been asked yet: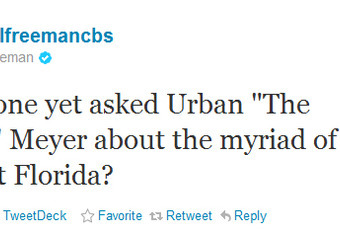 To my knowledge, the issue never came up. For that, I guess you can blame the Ohio media. But if you were to ask this guy, the blame lies with Ohio State for bothering to bring Meyer aboard in the first place: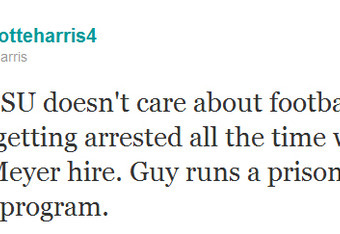 But hey, not everyone is skeptical about Meyers' hiring. Zac Jackson of FOX Sports Ohio pointed out that some heavy hitters have come out in support of Meyer: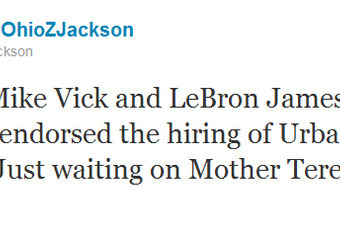 Not surprisingly, OSU president E. Gordon Gee is also a big fan of Meyer: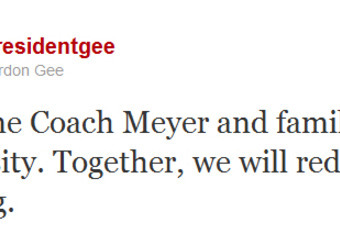 Ideally, Meyer and the Buckeyes won't redefine winning to mean "losing."
I swear, mocking this hiring is way too easy.
Stay tuned for more, folks. Plenty more where these came from.