Why Patrick Peterson, Not Devin Hester, Will Retire as NFL's Best Returner Ever
November 27, 2011
Dilip Vishwanat/Getty Images
Patrick Peterson is silently living up to his draft position in Arizona and threatening the single-season record for punt return touchdowns, tying it today with his fourth. Peterson joins the club with Jack Christiansen, Rick Upchurch and, of course, the preeminent return man in the NFL, Devin Hester.
Coming out of LSU, it was clear that Peterson was a force in the return game, but some wondered whether his coverage ability would catch up to his electrifying skills with the ball in his hands. With only two interceptions, Peterson is not quite a game-changer on defense yet, but in a thin Cardinals secondary he is more than adequate and shows signs of improvement every week.
This means that the comparisons to Deion Sanders in terms of all-around ability might be premature, but what isn't premature is to wonder if Peterson, not Devin Hester, will be remembered at the end of his career as the greatest return man ever in NFL history.
The case for Peterson is looking strong, as it has only taken him 12 games to tie a record held by Hester, and many signs point to Peterson breaking that record prior to the season ending. Still, the stats that Hester has compiled to date are impressive with 12 punt return touchdowns and five kickoff returns for a touchdown in his still relatively young career.
The differences between the two are apparent, as Hester narrowly misses being six feet tall and weighs 190 lbs, whereas Peterson is a stacked 6'1" and weighs in at 219 lbs. Hester probably has the edge in pure speed, and that has allowed him to make so many teams look foolish, but Hester will not challenge the middle of the field as often as Peterson will unless the seam is clearly open.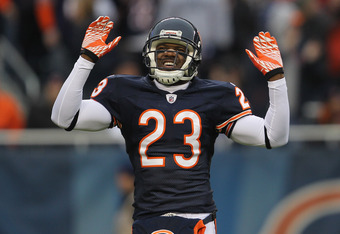 Jonathan Daniel/Getty Images
Peterson's size gives him the confidence and the ability to shake tough tackles in the middle of the return coverage and ultimately might reward him more often than Hester.
That alone is probably not enough for Peterson to outpace his fellow return man, but what will allow Peterson to win the war is the fact that he will likely have more staying power in the NFL.
Hester is as electric a return man as the NFL has ever seen, and that much cannot be denied. However, what might give Peterson the edge when all is said and done in terms of sheer numbers is the theory that he may have a longer NFL career.
For all of his efforts, Hester has not found a way to keep himself involved regularly in anything but special teams. He has shown flashes of being a decent deep threat at receiver, but the stats do not bear out the fact that he is anything more than a great returner.
Peterson, on the other hand, is going to have an opportunity to establish himself as a great cover corner who also happens to change games via special teams. That alone should project to Peterson having a career longer than Hester, who may fall victim to a tough decision on final cutdown day when he goes up against an expensive draft pick.
Someday the Chicago Bears may be forced to ask themselves, "Is it still worth having Hester on the roster despite his inability to be effective on offense or defense?"
This debate is one that is just beginning, and to say that Hester's best days are behind him or that he will never be a consistent contributor to the Chicago offense would be false. Time will tell on all of those things.
Patrick Peterson may be a one-hit wonder in his rookie season, or he may be announcing to the world that he is here to take dead aim at all of Hester's records. Taking a fifth punt back this season and knocking Hester off his perch in his first season seems like a clear "It's on" coming from Peterson.