5 Issues Philadelphia 76ers Must Address for 2011-12 NBA Season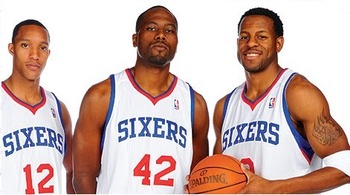 News broke yesterday that the NBA,its owners and its players, have reached an agreement on a new collective bargaining agreement, which will save the basketball season.
The proposed 66-game season will begin with training camp and free agency starting on December 9, with the first scheduled games to come on Christmas Day.
With that, Joshua Harris and company have less than two weeks to fill out their 2011-12 roster and make the necessary changes in order to improve on the 76ers" title="Philadelphia 76ers">Philadelphia 76ers' 41-41 season from a year ago.
With little wiggle room in free agency and with their current roster, here are some issues the 76ers must address before this shortened season begins.
1. Re-Sign Thaddeus Young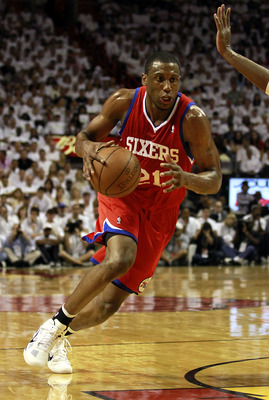 Marc Serota/Getty Images
Thaddeus Young had the best season of his young NBA career last year under Doug Collins.
Young put up similar scoring and defensive numbers to seasons prior, while coming off the bench playing limited minutes.
Young greatly improve his scoring efficiency shooting over 54 percent from the field. He proved to be one of the best and most valuable sixth men in the entire league last year and it would be a complete buzz kill if the 76ers were to lose him to free agency.
A hefty raise is certainly in the mix for Young because other teams surely like the energy and spark he can bring off the bench.
Luckily for the Sixers, they can match any other team's offer and control Young's services for the next season and beyond since Young is a restricted free agent.
2. What to Do with Andre Iguodala and Evan Turner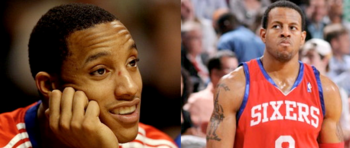 crossing broad.com
It seems like years ago that rampant rumors were surrounding Andre Iguodala and his possible trade out of Philly.
Now that teams can talk about moving pieces again, rumors are bound to surface regarding the future of Iggy again.
There is no doubt that Andre Iguodala is the glue that holds this team together, but how much farther can he take this team? With Boston, Miami, Orlando and Chicago looming as the powerhouses in the East, the Sixers are going to have to do something drastic to shake up their roster in order to contend.
And maybe a shake up of the roster is exactly what Evan Turner needs going into his sophomore season. Turner showed flashes of his potential during the regular season, and especially during extended playing time in the playoffs.
I'm not saying the Sixers should trade their franchise player, but extended playing time and improved play from Turner may make the decision a lot easier.
3. Hand the Reigns over to Jrue Holiday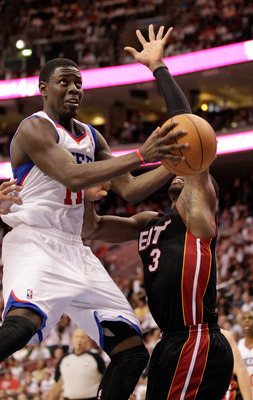 Rob Carr/Getty Images
Regardless of whether Andre Iguodala is a 76er or not, a changing of the guard has been coming to the 76ers and it was apparent last year.
Jrue Holiday will now become the cornerstone and the face of the Sixers franchise. Entering his third season, I believe Holiday is up to the task. If you ask Coach Doug Collins, he'd likely share the same thought.
Iguodala may have been a more veteran presence on the court and maybe more of a vocal leader to this young squad, but it was Holiday who ran this team. It was Holiday who put this team on his shoulders and carried them to multiple wins last year.
In Holiday, you are looking at a top 10 point guard in the league who is constantly improving.
4. Who Will Be the Key Free Agent Signing?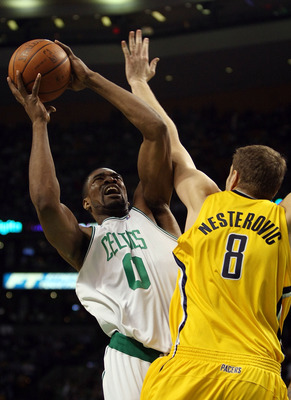 Elsa/Getty Images
The 76ers will have limited flexibility in this shortened offseason to sign free agents. They are cap-strung by big contracts given out to Elton Brand and Andre Iguodala.
Most likely, the team will be on the lookout for a reserve player who could sign for the mid-level exception.
However, according to Dei Lynam of CSN Philly, the new CBA will have an Amnesty Clause, allowing a team to get rid of a player's contract without it counting towards the cap. Lynam hints that this could lead to Andres Nocioni's departure from the team.
Sure, why not. Nocioni fell out of the rotation midseason and would be a waste of $7 million sitting on the bench. With that extra money, the 76ers could definitely go out and find another big man to challenge Spencer Hawes, assuming he remains with the team.
Players I wouldn't mind seeing in a Sixers uniform: Leon Powe, Malik Allen, Jason Collins, Sammy Dalembert.
5. How to Get Evan Turner More Playing Time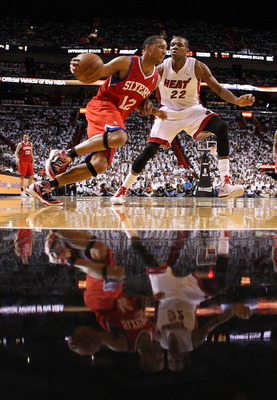 Mike Ehrmann/Getty Images
Let's face the facts. Chances are that Andre Iguodala will not be traded this season, or at least that is what fans should expect.
Then comes the question, how does Doug Collins get Evan Turner on the floor, along with Iggy?
I think this scenario will play itself out very early. The answer is to play them both at the same time. Evan Turner has been working tirelessly with legendary Philadelphia University coach Herb Magee with his shooting this offseason. I think you will see a vast difference in Turner's game on day one.
Jodie Meeks is a role player, and should not be a starter in the NBA. I'm not knocking Meeks, but Turner looks like he put the effort in improving this offseason and anything short of being a starter in his second season might have him labeled a bust.
Is Turner the scorer that the 76ers have been looking for since Allen Iverson left?
Well, that remains to be seen. That's quite a tall task to fulfill, but if he can consistently drop 12-13 points a night, the 76ers will have a very balanced and athletic offense that can run and gun with any team.
Keep Reading

Philadelphia 76ers: Like this team?