Arkansas Bowl Projection: Where Are Razorbacks Going After Losing to LSU?
November 26, 2011
Chris Graythen/Getty Images
Today's loss to LSU proved that Arkansas is not yet at the elite level of its peers, and it will not be able to reach a BCS bowl game.
This does not mean that the season is lost, as there are a number of respectable bowls still available to SEC teams.
LSU will definitely receive a BCS bid, and Alabama should receive the second spot from the conference. Even if the Crimson Tide loses to Auburn, the blowout win over the Razorbacks from earlier in the season should keep them ahead.
However, there are still three quality bowl games that could invite Arkansas.
The first will be the Capitol One Bowl in Orlando, Florida. The Razorbacks will be the most attractive SEC team available, so this opportunity should go to them.
They would face the No. 2 team from the Big Ten, which could be a choice of many teams including Michigan State, Michigan, Penn State or Wisconsin. Any of these teams would provide a great matchup and more interesting than anything the Orange Bowl would produce.
A second option would be the Cotton Bowl, a place where Arkansas could face one of the elite teams from the Big 12. The opponent would probably be either Kansas State or Oklahoma, and the prime-time bowl on Jan. 6 would be quite attractive for a school trying to turn some heads.
Finally, the Razorbacks can end up in the Outback Bowl. This game also opposes the Big Ten but is slightly less impressive than the Capitol One Bowl. The committee would have to feel that South Carolina or Georgia were a better team, and that does not seem likely.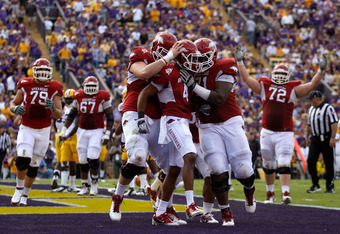 Chris Graythen/Getty Images
The best guess right now would be the Capitol One Bowl, creating the most interesting non-BCS bowl of the winter.
With the SEC standings almost set, the team can start narrowing down the options.
Besides the Alabama battle, the only other game that can affect Arkansas at this point would be if Georgia upsets LSU in the SEC championship game. The Bulldogs would receive an automatic bid to the Sugar Bowl, but Alabama and LSU could still face each other in the BCS national championship.
Therefore, things would still remain about the same for the Razorbacks.
Arkansas will have an opportunity to celebrate a terrific season in the new year.