Rettig, Kuechly Lead Boston College Past Miami in Season Finale
November 26, 2011
Mike Ehrmann/Getty Images
Stop me if you've heard this before—the Boston College offense was a fine-tuned machine on Friday afternoon in its 24-17 win over ACC rival Miami.
None of you stopped me, that's for sure.
After an entire season of frustration and failure on the offensive side of the football, sophomore quarterback Chase Rettig led his BC Eagles to an efficient and productive offensive showing against their conference rivals.
The win closed the books on Boston College's season, inking themselves a 4-8 final record. They went 3-5 in the ACC.
Miami closes its campaign at 6-6 overall, compiling a 3-5 ACC record.
For Boston College fans, it was rather encouraging to see their offense hit the offseason on such a high note. Despite taking heavy criticism throughout the season from fans and media alike, Rettig saved his best for last.
The true sophomore finished the day having completed 13-of-17 passes for 196 yards and two scores. The numbers weren't monstrous, but they were efficient and timely. Rettig made the big throws when he needed to, and most importantly, he didn't make any crucial mistakes.
Sophomore tailbacks Rolandan Finch and Andre Williams rushed for 96 and 52 yards, respectively, providing the bulk of Boston College's 153 yards on the ground.
Junior tight end Chris Pantale and sophomore wide receiver Bobby Swigert were Rettig's two favorite targets for the day, combining for eight receptions and 137 yards receiving. Pantale hauled in both of the touchdowns his quarterback tossed, bringing his season total to three.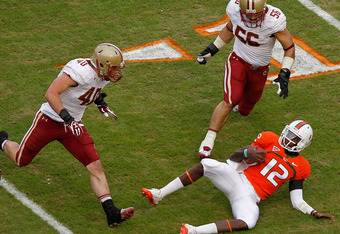 Mike Ehrmann/Getty Images
Oh—did I mention that kid named Luke Kuechly?
After breaking the Boston College all-time tackling record on his second tackle of the game, the All-American junior linebacker proceeded to rack up nine tackles (unofficially) to help hold the Hurricanes offense to just 14 points.
If the final number of nine tackles stands, it would snap Kuechly's 33-game streak of double-digit tackles.
Kuechly also snagged one of four interceptions thrown by Jacory Harris, jumping the route after a brilliant read and returning it 45 yards for the touchdown. The defensive score gave BC a 24-14 lead that would hold until Miami's field goal with under a minute to play in the game.
If you watched today, you got a glimpse of why NFL scouts are drooling over Luke Kuechly's ability.
Overall, it was a good conclusion to what was a horrible season for the Boston College Eagles.
Several young players made key impacts on the game, and those players will look to carry that momentum into what will be a hardworking and motivated offseason.
The aforementioned tailbacks, Finch and Williams, had strong efforts and will look to build upon their accomplishments as they move into their junior season.
Freshman linebacker Sean Duggan and junior defensive back Hampton Hughes each had interceptions for the Eagles, as well. Duggan has flanked fellow star linebackers Kuechly and Kevin Pierre-Louis, and the coaching staff is very excited for what he can bring to the team in years to come.
Even if they lose Kuechly to the NFL draft, BC will bring back most of their offense and several of these young, key pieces on defense for next year and potentially beyond.
Wins like this one can hopefully serve as building blocks for the future. For Frank Spaziani's Boston College Eagles, the future may be brighter than some had once imagined.
Be sure to follow Derek Robinson on Twitter. @DRobMachine