Buckeye Linebackers Must Step Up Against Michigan Running Game
November 25, 2011
Kirk Irwin/Getty Images
After Penn State's success using the wildcat offense in a 20-14 victory over Ohio State, Buckeyes fans should be nervous about the defense's ability to stop a dynamic read option offense. While Ohio State did not anticipate the Nittany Lions using the wildcat last week, you can be sure the Michigan coaching staff took notice.
After all, the wildcat is not dramatically different than the shotgun-heavy variation of the spread option Michigan runs the most.
This will be a painful exercise for those who bleed scarlet and gray, but imagine the Wolverines, your bitter rival, employing the same strategy as Penn State, with Denard Robinson in the shotgun. How do you stop it?
Are you sweating yet?
Ohio State head coach Luke Fickell and defensive coordinator Jim Heacock must preach discipline to their defensive unit to slow down the Wolverines ground attack. Defensive end John Simon can blow up any play, but if he rushes too far up the field, he may take himself out of the play.
If the defensive line pressures Robinson and holds the edge in the running game, they will have done their job, but the linebackers must play better if the Buckeyes are to slow down the Michigan ground game.
Last week, when Penn State stunned the Buckeyes with the wildcat, linebackers Etienne Sabino, Storm Klein and Ryan Shazier looked absolutely lost, like they were unexpectedly asked to write an essay on quantum physics. They reacted a step slower than the Michigan offense and by the time they realized where the running backs were going, it was too late, the play was already fifteen yards or more down the field.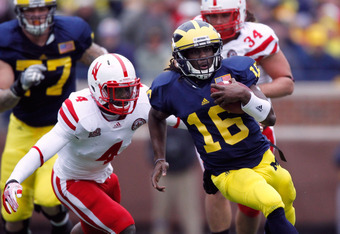 Gregory Shamus/Getty Images
It is possible that the defense would have been more successful against the wildcat if Andrew Sweat were available to play. Sweat is a heady player with a nose for the ball, but he was sidelined in the Penn State loss with a concussion he suffered against Purdue and is questionable for Saturday's game against Michigan.
The Wolverines will not have the element of surprise to assist their ground attack. Everyone knows Robinson will look to run and that running back Fitzgerald Touissant will get his fair share of carries. Fickell and Heacock must be sure the linebacking corps know their assignments and do not get confused by motion and formations. The defense, particularly the linebackers, will have to process a lot of information quickly and react accordingly to stop the Wolverines' 12th ranked rushing attack.
If the linebackers do not step up, Michigan's running game will not be stopped and the Buckeyes will hear "Hail to the Victors" more often than they have in a nearly decade.