Green Bay Packers vs. Detroit Lions: Giving Thanks for a Green Bay Win
November 25, 2011
Gregory Shamus/Getty Images
Greetings from the Frozen Tundra, friends!
Or, should I say, "Greetings from the frozen, over-indulged, miserably stuffed, nap seeking tundra"?  Either way, today was a day to give thanks for all that you have and spend time with family and friends.
Yes, we at Casa Moen-Kadlec woke early this morning.  Manpig (my husband and, oddly enough, personal chef) woke up early, prepped the turkey and then looked at me with his withering stare (also known as his look of love) and said, "And, will you be allowing me to watch the Packers game today, Jackie?  Or will I be locked in the kitchen until your meal is served?  Would you like me to cut up your meal in bite sized pieces?  Would you prefer that I feed you?"  My response, as I lounged on the couch?  "Yes, all of that would be nice.  Thank you."
Alas, it was not meant to be.  Although Manpig does the holiday cooking, he did not appreciate the thought of hand feeding me my Thanksgiving meal.
No sense of humor, that one.
Anyway, today was a day for family and football, and not necessarily in that order.  The family descended into Casa Moen-Kadlec at an alarming rate.  However, at 11:00 am, my 100-pound, five-foot tall, feisty mother started to howl:  "WHAT'S UP WITH THIS PARADE!  PREGAME!  PREGAME!"  The television channel was changed to pregame festivities, and all was calm in my world.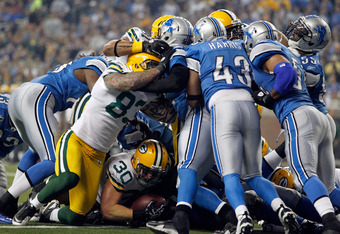 Gregory Shamus/Getty Images
I really wish that I could tell you that this game lived up to the hype.  Throughout the preseason and the last 10 games I kept telling people that I couldn't wait for the Packers-Lions game.  Not only was it a return to the Thanksgiving game that I grew up on, but with the Lions having such a good season, and the Packers being undefeated, this game felt like it was going to be a barn burner. 
Who would win out?  Aaron Rodgers and his blessed by the heavens play or Matthew Stafford, the guy that gets injured (broken finger) but keeps fighting for wins?  Would Clay Matthews, Charles Woodson, A.J. Hawk and Tramon Williams be able to hold Calvin Johnson (aka Megatron)?  Or would Ndamukong Suh stop the Packers' offense?
The anticipation and excitement of this game was tremendous.
And then the game was played.  My mom, who is a rabid Packers fan, and I talked through much of the first half, which is unheard of during a Packers game in my house.  We ate during halftime and were kind of shocked when the Lions actually scored a touchdown in the second half. 
I can honestly say this:  "What in the blissful world happened to the Detroit Lions?"
Besides two ejections from the game (Ndamukong Suh's stomp and Green Bay's Pat Lee's scuffle), the game, and the Lions ,didn't meet up to the hype.  
Pie was served during the fourth quarter, threats of stomachs exploding were given, Jiggs and Ethel (my slightly loopy, elderly Norwegian grandparents) arrived with the fanfare of "Hide the silverware!  Jiggs and Ethel are here!" and the Packers won.
Yup.  Typical Thanksgiving at my house.
So, with that being said, I am thankful for the Packers win, grateful for football and giving thanks for an undefeated season so far.  I am also going to be thankful for thinking of purchasing antacids prior to today, as I believe that Manpig may be trying to eat his body weight in turkey...
Go Pack, go!