Virginia Tech vs. Virginia: Live Score, Highlights and Analysis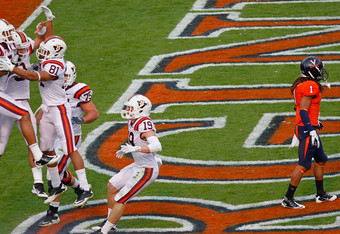 Geoff Burke/Getty Images
Virginia Tech 38 Virginia 0 Final
The Commonwealth Cup, the ACC Coastal Division and ultimate bragging rights are on the line as the Virginia Tech Hokies travel to Charlottesville to take on the Virginia Cavaliers.
These are the two hottest teams in the conference right now. The Hokies have turned their season around after a disappointing performance against the Clemson Tigers. Now, ranked No. 5 in the BCS, the Hokies are eyeing another conference title to add to their already impressive collection since joining the ACC in 2004.
Virginia stands in their way—a team that won only one ACC game in 2010. The Cavaliers have found success under coach Mike London by running the football. With the third best running game in the ACC, Clifton Richardson, Kevin Parks and the versatile Perry Jones have made the Cavalier offense potent once more.
Now they are ranked and going to their first bowl since 2007.
However, where they play will depend on what happens in this contest.
Will the Hokies be able to stop the Virginia offense?
Can Virginia contain explosive running back David Wilson?
Can wide receiver Danny Coale exploit the Virginia secondary as he did before?
Will the Cavaliers use their newfound momentum to match the Hokie's physicality and control possession?
So many questions and they will all be answered on Saturday at 3:30 EST.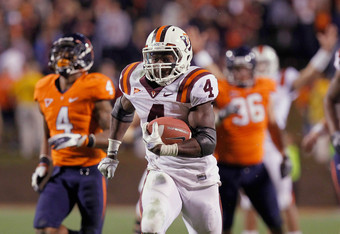 Virginia Tech clearly did not take kindly to the doubters out there.
The Hokies stuffed one of the better rushing attacks in the ACC and dominated in all phases.
Virginia looked like a team that was predicted to finish fifth in the Coastal. They looked like a team that has lost 12 of the last 13 to their arch rivals.
They look like a team that is still not there yet. This team over-achieved and one of the best coaching staffs in the country exposed them.
Virginia needs to remember this beating and grow from it. Unfortunately, those words are a constant refrain for the Cavaliers and their fans.
On to the bowl game for Virginia and a chance to finish the season on a stronger note.
As for Virginia Tech, get the oranges ready, Clemson is in for a tough rematch.
Thanks for reading, sorry it was not more competitive.
David Watford comes in and proves what every Virginia fan has learned the hard way, he cannot throw the football.
Watford looked so good early on in the season but his lack of playing time clearly hurt him and he lacks confidence and rhythm out there. He had his opportunities against Southern Miss and Idaho but really looks like he will have to bide his time.
Well, except for the random times London decides to bring him in to run for two yards.
Virginia's coach was right that this season will not be defined by this one game but this one game will have lasting repercussions.
It hurts recruiting, the perception of the program and probably makes bowl committees a little more gun shy to pick us.
Rivalry games mean more and a loss was not that bad but not showing up was a big disappointment.
Virginia Tech will milk the clock and this game will mercifully be over soon.
Virginia Tech 38 Virginia 0 6:45
Is there really any more to be said?
This game is getting chippy and the Hokies would be wise to remove their starters soon because the Cavaliers will take their frustration out on them otherwise.
As the announcers pointed out, the last thing they need is for a key player to go down before the ACC Championship.
Now the question becomes whether Clemson can regain their form against South Carolina tonight or if they will continue their free fall.
Virginia Tech probably could care less regardless. Whoever wins this week, the Hokies appear to be the clearly better team come next week in Charlotte.
Virginia needs to hope no one ever doubts the Hokies again as much as they did this week. Virginia Tech was listening.
Virginia compounds another turnover with a late hit unnecessary roughness penalty on Oday Aboushi.
Guess it makes sense considering just how badly he has been beaten all game long. If you cannot win just throw people around to feel like a man.
The Cavaliers should be ashamed of this performance.
Period.
So in one game we have had bad injuries to linebacker Steve Greer, wide receiver Tim Smith and now running back Kevin Parks.
I guess this game could have gone worse for Virginia, but it is hard to imagine how exactly.
The Cavaliers better have enjoyed their one week in the top 25 rankings.
It is easy to get wrapped up in the emotion but a humiliating loss like this will not appease a fan base that was ravenous for a win. Progress or not, coaches at Virginia will be defined by their record against Virginia Tech.
Just ask 1-9 Al Groh.
The pressure has taken its toll on Rocco, an interception inside his own 30 and this really has turned into every Virginia-Virginia Tech massacre post-2003 that Cavalier fans have had to deal with.
Virginia needs to shake this one off but that is easier said than done.
Hokies will be talking a great deal of smack for the next few weeks and unfortunately they have earned it.
Another touchdown and Virginia Tech looks not only Charlotte bound but Orange Bowl bound.
Virginia Tech 28 Virginia 0
With 13:54 to play, I would not blame Virginia fans for heading to the Corner to drown away their sorrows.
Once again Virginia had a chance to take the Coastal crown at home and were dominated in all phases of the game. The Cavaliers cannot help but be frustrated but giving up is not the answer.
Rocco and company need to march the ball down the field again and prove that they can score points on the Hokie defensive juggernaut.
This loss will sting but Virginia cannot forget all that they have accomplished. Another good recruiting class will help stem the tide and give the Cavaliers even more opportunities in 2012.
Still, it requires finishing 2011 on the right note.
Well barring a Maryland-like collapse, Virginia Tech is going to win their eighth straight over the Cavaliers.
They are up by 21 and looking to wrap up the Coastal crown once more.
Give quarterback Michael Rocco credit for giving Virginia all of its offense at this point but two bad plays have really hurt Virginia's chances at points.
If Perry Jones disappears like this in the bowl game, the Cavaliers could end on quite the sour note.
Still, this fourth quarter is an opportunity to at least play for some pride and make the final score look more competitive.
Coach London will beg his team to not quit. I hope they listen.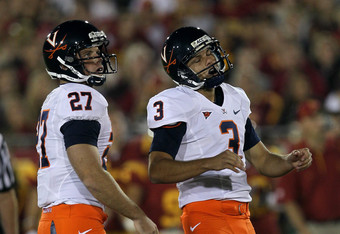 Learning to win is a process.
Virginia finally moved the ball successfully but a bad decision by Michael Rocco led to a sack and a missed field goal by Robert Randolph.
That kind of drive is so deflating that Virginia could really just pack it in at this point.
The defense needs to get them points but Virginia Tech is not a team that turns it over.
We shall see.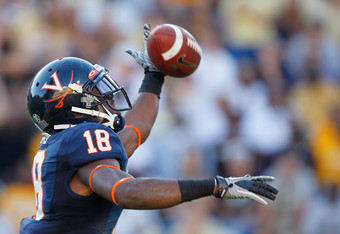 When the announcers call you "Mr. Reliable", you are pretty much assured of tipping a ball into a defenders hands for an interception.
Virginia had zero turnovers against Florida State but already have two against Virginia Tech.
The Cavaliers are 0-for-2 in the red zone and really cannot expect to win against a top 5 team if they are making these kind of mistakes.
Virginia Tech cannot do anything with the turnover but at this point it does not really matter.
A 21-point deficit feels like a million when Virginia's offense is playing like this.
I warned that Perry Jones or any punt returner might muff a punt but it might have been a net again with a late hit on Virginia Tech.
Virginia must score, but that involves moving the ball.
Dilemma.
One big pass play and then Virginia stalls again on offense.
Why the Cavaliers are not protecting Michael Rocco under center is beyond me. The young sophomore is running for his life and his passes are going awry as a result.
Either give him more blockers are start using faster slants and screens.
If Virginia needs some inspiration, Virginia Tech looks like they are about to put on a clinic in just minutes now that they have the ball at their own 20 yard line.
The Cavaliers are on life support, Virginia Tech is sizing up their ACC Championship rings.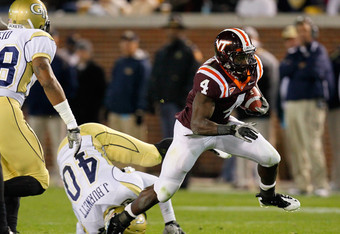 Virginia tried to contain the offense of Virginia Tech but they simply wore down.
Running back David Wilson reached the edge and he was gone.
This is exactly the opposite of what the Cavaliers needed, it is now 21-0 and Virginia is in desperation mode. While they have already over-achieved this season, they wanted to do better than this.
The Cavaliers will get the ball here and need to establish an offensive rhythm. If they cannot put game pressure on Virginia Tech this game will turn into a laugher.
Of course, so far the Hokies are definitely getting a few chuckles in.
Logan Thomas has really developed at quarterback and Clemson might get a first row seat to that next week in Charlotte.
Virginia needs something good to happen in the opening drive of the first half.
Might they onside kick ala Sean Payton in the New Orleans/Indianapolis Super Bowl?
Can they get a turnover?
Will they get blasted by Logan Thomas again and really put Virginia behind the eight ball?
We're about to find out!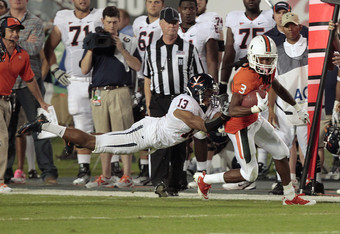 Halftime: Virginia Tech 14, Virginia 0
Well if you are the Virginia Cavaliers, the halftime adjustments are clear:
1. Contain Logan Thomas.
His running game, particularly on third downs has been the difference.
2. Make Chase Minnifield come out of his food coma and play well.
Three penalties have been on Minnifield in this game, two of them were declined but he has not looked good and needs to step up.
3.The offensive line has to play better.
Their play in this game is reminiscent of the Southern Mississippi game where they were unexpectedly dominated. The Hokie defense is just consistently smacking them around and the Cavaliers are messing up basic coverages.
Just look at the Rocco fumble for proof, two lineman were standing there with no one to block.
4. Get Perry Jones in the game
Granted, Jones needs to stop going for the big play running east-west and just plow forward but Rocco needs to get him the ball in space.
So far, not so good for Virginia.
For Virginia Tech, just keep taking chances deep to keep the defense honest and let David Wilson do what he does. Between him and Thomas, Virginia has no consistent answer to keep them off the field.
Virginia's offensive line, one of the biggest strengths all year long has been absolutely smashed by the Virginia Tech defensive line.
They are bringing everybody and bringing pressure on quarterback Michael Rocco. Rocco has done about as good as he could considering the tormentors he has had to deal with but if he cannot get more time than Virginia has no chance of pulling off the upset.
A big turnover by Rocco gives the Hokies the ball and a chance to put a huge nail in the coffin with under a minute to go in the first half.
Also, Virginia Tech gets the ball first in the second half.
Uh oh.
Virginia finally gets some momentum thanks to a big play by Nick Jenkins taking down Logan Thomas.
This is the moment for the Cavaliers to score and Rocco finds Kris Burd for a first down in Hokie territory.
Let's see if this can become a game.
Logan Thomas scampers out of bounds in a play that was going to be called back on a hold and Virginia's Steve Greer got absolutely smashed by D.J. Coles and is out on the field.
What a tough loss for Virginia in a game that is already looking like a loss.
The Cavalier faithful are mad but they need to get even. Can they actually beat them on third down?
Virginia gets a very odd penalty on the punt return after a good defensive stop. Perry Jones signaled for the players to scatter and then picked the ball up, his reward was a five yard penalty and the Virginia offense never got anywhere.
Rocco had open receivers that he could not find and the Hokies get the ball back with a good return out to midfield.
Should Virginia Tech score here the Cavaliers are going to be in big trouble. They famously came back from down 22 in 1998, but at least that team had scored a touchdown in the first half.
Virginia Tech clearly came to play.
One big play to fullback Max Milien and then the Cavaliers are out on offense yet again.
Quarterback Michael Rocco needed to get the ball to Perry Jones and third down and never even looked at him. Instead his pass sailed over intended target Kris Burd and Virginia's offense continues to struggle, already down two scores.
Despite the bad field position, Virginia Tech is fully confident they can march 97 yards and put this game out of reach.
Virginia, on the other hand, seems to be losing confidence with each and every play. They just cannot string together good plays to make a drive effective.
There is plenty of time for the Cavaliers but is there enough offense?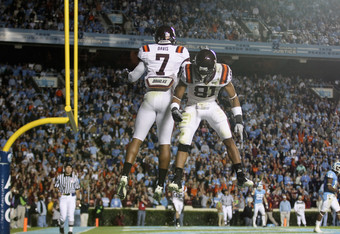 Well, Logan Thomas looks like he could get used to this Commonwealth Cup rivalry.
Thomas converted two third downs with his legs and scored the touchdown with his arm on another third down to Jarrett Boykin.
The Hokies in Scott Stadium are in party mode and the Cavalier fans have to be wondering if they are stuck in Bill Murray's "Groundhog's Day". It is a similar script but a different year.
If the Cavaliers are going to respond, they need to do it soon. They have been able to move the ball some but have not been able to run in the trenches.
If the lead gets any bigger, that will be the least of their concerns.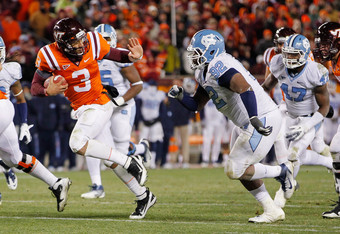 Virginia football needs a defensive stand here, Logan Thomas just aired out a perfect pass to get them back in the red zone.
Virginia Tech has had trouble this season finishing drives with touchdowns and the Cavalier defense is particularly stout in this area. However, in this rivalry, Virginia Tech finds a way to finish off their opponent when they have the chance.
The Cavaliers have not played poorly but Virginia Tech is firing on all cylinders and looking every bit like the best team in the ACC.
That will not change unless Virginia can make a big play, particularly on Thomas who is carving them up two days past Thanksgiving.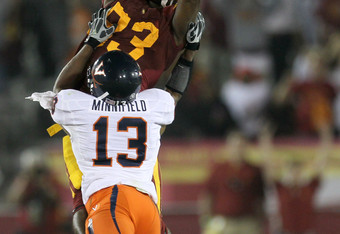 Logan Thomas has had two important runs already in the game, one for a touchdown and one for a big first down deep in their own territory.
Virginia is number one in the FBS when it comes to third down stops with two yards or less but they have never faced off against a big, mobile target like Thomas.
The Cavaliers have done well but their energy clearly hurt them early. They, after all, are not often in this position and looked like it on the opening drive for Virginia Tech.
While Virginia has settled in, they need a big play to get momentum back in their favor. If anyone should feel the desire to do it, it should be the senior cornerback Chase Minnifield who almost single-handedly gave Virginia Tech the opening score of the game.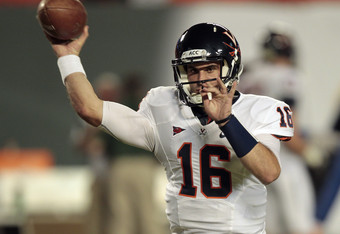 The Virginia Tech defense is really making the Cavaliers look bad.
If Virginia cannot establish the running game, the Hokies will simply bring the heat on Rocco and force him into poor decisions.
Fortunately for the Cavaliers, Danny Coale dropped the punt return and almost completely changed the momentum of the contest. We will see if the Cavaliers can hold the Hokies once more and get their offense a short field.
Virginia's defense bails out Mike London's poor decision to go for it with a three-and-out.
The Cavaliers are controlling the clock but trailing 7-0.
Virginia's offense needs to keep hammering the ball and hope to wear down the Hokies now that they have favorable field advantage.
This article is
What is the duplicate article?
Why is this article offensive?
Where is this article plagiarized from?
Why is this article poorly edited?