NHL Trade Rumors: Jarome Iginla, Zach Parise and Players Who Should Be Moved
November 23, 2011
Jim McIsaac/Getty Images
There is still plenty of time before the 2011-12 NHL trade deadline, but that doesn't mean teams aren't already testing the water to see what stars teams are looking for.
With major stars in both conferences rumored to be on the move, there is a feeling of uncertainty with the league. If the landscape of the NHL is shifting, which stars will be moving?
Players like Zach Parise, Jarome Iginla and Kyle Okposo have all had their names thrown into the rumor mill, but there is still plenty of time for even bigger names to join the trade rumor three-ring circus.
Jarome Iginla
The Calgary Flames have to start looking forward and the only way to do that is by trading 34-year-old right wing Jarome Iginla.
Iginla is having the worst statistical start to a season he has ever had, posting just nine points in 19 games. The Flames could move Iginla to a contender around the trade deadline and get some young prospects and picks to help develop a direction and future for the team.
As hard as it will be for Iginla to leave Calgary and the fans to watch him go, the fact that the Flames are the third worst team in the Western Conference and last in a tough Northwest Division shows change is needed.
Zach Parise
At the end of the season, Zach Parise is going to walk away from the New Jersey Devils as a free agent. So why not try to trade him?
General Manager and Devils hockey czar Lou Lamoriello knows a lot about hockey, but if he doesn't trade Parise, he is crazy. I'd rather have two prospects and a draft pick than let one of my best players walk out the door with no compensation.
Parise's departure via free agency is almost a lock, so trading the star is the only option the team has. Anything less would only hurt the Devils moving forward.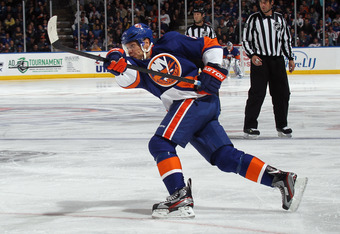 Bruce Bennett/Getty Images
Kyle Okposo
The curious case of Kyle Okposo has gone on long enough on Long Island. It's time for New York to ship the young player out in return for a more proven commodity.
There have been rumors circulating that the former first-round pick (7th overall in 2006) may be drawing some attention from across the NHL, and the New York Islanders would be fools to let this chance slip by.
With just three points in 15 games this season, Okposo and the Islanders will be looking for a fresh start. The Islanders will be looking for a veteran power forward that can help out the plethora of young talent the team already has.
Check back for more on the National Hockey League as it comes, and check out Bleacher Report's NHL Page to get your fill of all things hockey.