Albert Pujols: Why Reports of Sleazy Agent Dan Lozano Will Hurt His Credibility
November 23, 2011
Ed Szczepanski/Getty Images
Dan Lozano is a sleaze ball agent that Albert Pujols needs to cut all ties with immediately before it damages his reputation and bank account.
Lozano, aptly nicknamed "Danny the Chameleon", has been living a lie since his career as a baseball agent started.
Deadspin has the full story but here are some disgusting details.
After getting Mike Piazza signed to the Mets for a record seven-year, $91 million contract, Lozano began to lure new clients through a number of means.
Very often he would use hookers, bottle service and other disreputable tactics to recruit young athletes and was known for stealing clients from junior agents at BHSC, the agency he worked at for a number of years before starting his own.
In Pujols' case, a subordinate did the recruiting and Lozano did the signing. He also turned himself into a devout Catholic whenever he was in the presence of the Cardinals superstar.
Pujols and his wife are highly religious people, something the agent preyed on to get them to sign with him. He would wear a cross on his chest and attend church regularly to convince the slugger of his devotion to God.
When his best client wasn't around, Lozano was getting blacked-out drunk and hanging around the underground porn world.
He also referred to Pujols as a "some Dominican monkey" behind his back.
After reports of this have surfaced, there is absolutely no way the nine-time All-Star could possibly stay with his current representation.
Owners and GMs of MLB teams know that Lozano is broke from living beyond his means and constantly blowing money on girls and booze for his players. He will be willing to sign his best client away for less than market value.
It's happened already.
Pujols' eight-year contract extension in 2004 only cost St. Louis $14.5 million per year and that was a ridiculous deal at the time.
An executive referred it to as "the best owner's contract in baseball" in reference to the value the Cards got from it.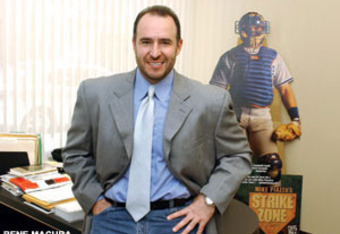 Now that Pujols has another World Series ring under his belt and has hit the free agent market for the first time in his career, he needs to shed his corrupt and immoral agent.
Sign with a reputable man that will work for your best interests and can manage his own finances. You don't want someone who is desperate for cash to keep afloat negotiating your contracts.
I guarantee the deal he gets won't be the best one out there.
There are a ton of agents available who will care for the first baseman and will work tirelessly to find him the biggest deal in baseball history without rushing to get their beachfront mansion's payment in on time.
I think Pujols will have new representation sooner than later after this story makes the rounds and if he chooses to stick with Lozano, he deserves what is coming to him.