Georgia vs. Georgia Tech: TV Schedule, Live Stream, Radio, Game Time and More
November 22, 2011
Kevin C. Cox/Getty Images
The battle for Georgia will be waged between two teams in the top 25.
Georgia Tech will be trying to help their season end on a high note with this game. After starting the season 6-0 they have dropped three of their last five.
The Bulldogs season has been the exact opposite. They dropped their first two, and have since won nine in a row. 
This game is about far more than a win in the "W" column though. This is about ownership of Georgia.
Where: Bobby Dodd Stadium in Atlanta, Georgia

When: Saturday, November 26th at 12:30 p.m. EST


Watch: ESPN

Radio: Full list of Georgia radio networks, full list of Georgia Tech radio networks

Betting Line: Georgia -6 according to Bodog Sports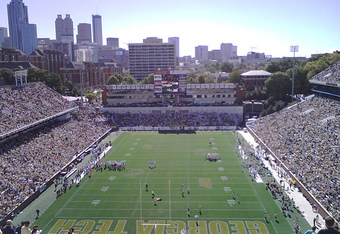 Injury Report for Georgia
Check here for updated injury information.
Injury Report Georgia Tech
Check here for updated injury information.
BCS/Top 25 Poll Implications
This game is all about the Georgia rivalry. The Bulldogs are already guaranteed a spot in the SEC championship game, and the Yellow Jackets have already been eliminated from the ACC championship game.
The Yellow Jackets stand the most to gain as a win here would greatly enhance their bowl stock, but it is the state bragging rights that will motivate players in this one.
What They're Saying: Georgia has been battling injuries to their tailbacks. This has left their running back situation in a state of flux. That is not a state they have yet to leave. Chip Towers of the The Atlanta-Journal Constitution offers insight on this:

Richt was asked what the Bulldogs' tailback rotation might look on Saturday against archrival Georgia Tech. In a nutshell, he either legitimately does not know or is not saying.

"I don't know the answer to that," Richt said at his weekly news conference Tuesday at Butts-Mehre Heritage Hall. "We have to sort through it. It's just not cut and dry. I don't know who is going to start. I don't even know who's going to play 100 percent. But we're working our way through it and we'll know more by the end of the week. I don't know what I'll announce, but right this second I do not know exactly how it's going to come out."
Player to Watch for Georgia: QB Aaron Murray
Murray has been up and down this season. That trend has not slowed with the season. He threw four touchdowns and no interceptions against Auburn two weeks ago. But he followed that up with a one touchdown and one interception performance against Kentucky last week.
When Murray is on top of his game, Georgia is nearly unbeatable.
Player to Watch Georgia Tech: QB Tevin Washington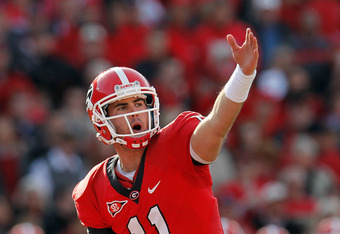 Kevin C. Cox/Getty Images
Washington is more of a rushing QB than a passing QB. That is not surprising given he is running a straight option offense.
However, that is not to say he can't throw. He has thrown for 1481 yards this season, and his passing will be key in this one. Washington has to be on the mark to keep Georgia from loading up against the run.
Key Matchup: Bulldogs' Defense vs. Yellow Jackets' Option Offense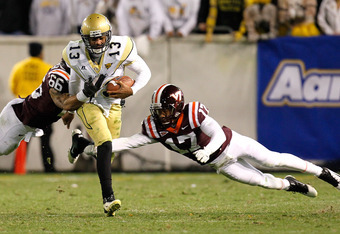 Kevin C. Cox/Getty Images
Georgia has been excellent on defense. They are fourth in total defense at 263.5 yards per game, and even better second in rush defense at 81.3 yards per game. They will be tested big time in this one.
The Yellow Jackets are second in the nation in rushing at 323.5 yards per carry. Something has to give.
Prediction: Georgia 26, Georgia Tech 20
Georgia is too complete a team for Georgia Tech. They will be able to contain the Yellow Jackets' dominant run game, and then wear out Tech's defense.