Arkansas vs. LSU: TV Schedule, Live Stream, Radio, Game Time and More
November 22, 2011
Chris Graythen/Getty Images
LSU and Alabama will face each other in a game that will go a long way towards determining which teams will play for the national championship.
The winner of this game will advance to the SEC championship game. Arkansas will hope to get there by handing LSU its first loss of the season, and if the Razorbacks are going to do that, they will have to do it on the road.
This is one of the biggest games of the college season, and for all intents and purposes this is the real SEC championship game.
Where: Tiger Stadium in Baton Rouge, La.

When: Friday, Nov. 25 at 2:30 p.m. EST

Watch: CBS

Radio: Full list of Arkansas radio networks, full list of LSU radio networks


Betting Line: LSU (-12) according to Bodog Sports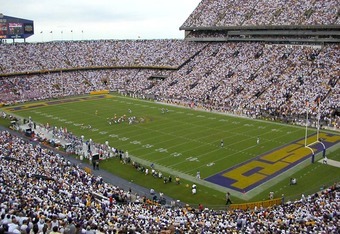 Injury Report for Arkansas

Check here for updated injury information.
Injury Report for LSU
Check here for updated injury information.
BCS/Top 25 Poll Implications
The implications of this game are huge, but that probably goes without saying since it is the No. 1 and No. 3 teams playing in the final week of the regular season.
If Arkansas were to upset LSU, the BCS will fall into chaos.
And if LSU wins, the Tigers would likely make the national championship game even if they lost the SEC championship game.
Key Storyline: Can Arkansas pull off an upset for the ages?
The last few weeks have been rocked by upsets. One team after another has fallen from top of the BCS rankings. Can Arkansas continue this trend?
If they do, the BCS will be a complete mess. Would they put an LSU team in the title game over an Arkansas team that just beat them? Or would they put an Arkansas team in with the same record as LSU, but without as impressive a resume? 
What They're Saying: Gene Wojciechowski on ESPN.com talks about the BCS madness:

"The same sort of thing could happen Friday afternoon. A scenario exists where LSU could lose, but still end up in the national championship game against Bama. And if that happens, we'd have Game of the Century III … in less than 2½ months.
"The dominoes could fall this way: Arkansas upsets LSU, Bama beats Auburn, Georgia beats Arkansas in the SEC championship game. Or…LSU beats Arkansas, Bama beats Auburn, Georgia beats LSU in the SEC championship."
Player to Watch for Arkansas: QB Tyler Wilson
Tyler Wilson has thrown for 3,215 yards, 21 TDs and five interceptions this season. If Arkansas is going to be able to move the ball at all on LSU, he will have to be on top his game.
This won't be Wilson's first game against an elite defense. He was decent in Arkansas' game with Alabama where he went 22-for-35 for 185 yards, two touchdowns and one interception.
Those numbers aren't bad, but he'll have to do even better than that if the Razorbacks are going to win.
Player to Watch for LSU: QB Jordan Jefferson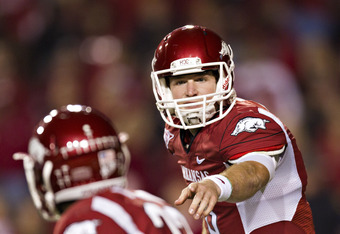 Wesley Hitt/Getty Images
Since the Alabama game, Jordan Jefferson has been spending more time under center, and he has been playing fantastic.
He is coming off of a game where he finished 7-for-7 for 88 yards and a TD. Jefferson will look to prove that he is LSU's best option at QB in this high-profile game.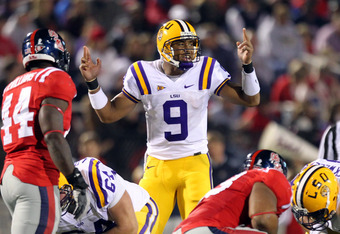 Joe Murphy/Getty Images
Key Matchup: LSU's defensive line vs. Arkansas' offensive line
LSU's dominance begins with its amazing defensive line. The line is talented, deep and can destroy an opponent's game plan with penetration on run plays and pressure on pass plays.
Arkansas' hogs in the offensive trenches will have their work cut out for them trying to slow this group.
Prediction: LSU 31, Arkansas 16

Arkansas has been winning games with offense.
This is no way to beat LSU. The Tigers' defense is simply too good.