Oregon vs. Oregon State: TV Schedule, Live Stream, Radio, Game Time and More
November 21, 2011
Steve Dykes/Getty Images
The Oregon Ducks will look to rebound from a tough loss last week when they host their in-state rivals, the Oregon State Beavers this Saturday. 
Known as the "Civil War," these two teams are in a constant battle to see who is the best in the state. Lately, that title has gone to the Ducks, as they've won the last three. 
The Beavers season has been a disappointment this season, but it was good to see them end their three-game losing streak by beating Washington this past weekend. 
The Ducks cannot falter this Saturday, as they need the conference win to claim the Pac-12 North division and move on to the first-ever Pac-12 Championship Game.
With that said, let's take a look at some specifics for this big rivalry. 
When: Saturday, Nov. 26 at 3:30 p.m. ET 
Where: Autzen Stadium, Eugene, OR
Watch: ABC, ESPN2, ESPN3.com
Listen: KUGN 590 AM in Eugene, KEJO 1240 AM in Corvallis 
Betting Line: Oregon (-28) 
Oregon Injury Report 
According to USA Today, tight end Curtis White (leg) is listed as questionable. Defensive back Cliff Harris is questionable as well, but it's not injury related as it deals with his eligibility due to suspension. It is unknown at this time if he will be allowed to play.
Oregon State Injury Report 
According to USA Today, RB Malcolm Agnew (hamstring), OL Geoff Garner (shoulder) and LB Rueben Robinson (concussion) are day-to-day, and CB Sean Martin (foot) is questionable. 
BCS/Top 25 Implications 
The Beavers are an afterthought in the polls at this point in the season, but an upset victory over their most hated rival would give the program great confidence moving forward, especially since Oregon is ranked No. 10 in the nation. 
The Ducks, on the other hand, need this victory to stay alive in the BCS hunt. Losing their second game of the year was a big blow in regards to playing for the national title, but a win over the Beavers and the Ducks will be Pac-12 North champs, meaning it's an easy road to the Rose Bowl. 
What They're Saying 
Rob Moseley covers the Ducks for The Register-Guard, and he tweeted some happy news that came from Oregon's tough loss to USC.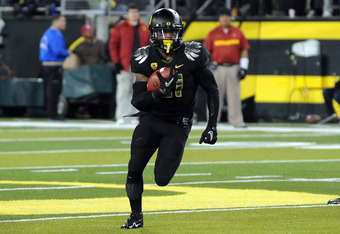 Steve Dykes/Getty Images
James has been a huge success at Oregon, and he is one of the main reasons they made it to the title game last year and are in the running to win the first ever Pac-12 Championship. 
Without James, the Ducks wouldn't be anywhere as good as they have been, and one has to wonder if the junior running back will return for his senior season or declare for the NFL draft. 
Paul Buker writes for the Oregonian, and he re-tweeted something a fan sent to him, and it is quite astonishing.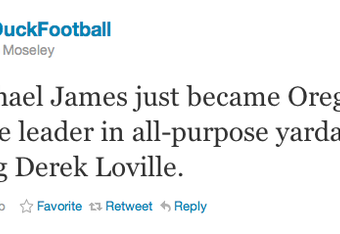 That dates back to 2001, and it holds true. It's a very interesting fact, but I have a feeling that streak will come to an end. It's a new decade, and the Ducks knows how important Saturday's contest is.
Crazy things have been happening in college football all season long, so you can't rule the Beavers completely out. However, they'll need a lot of luck on their side if they want to pull the upset over Oregon.
Oregon Player to Watch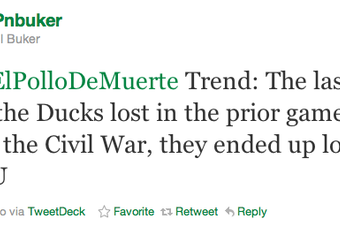 LaMichael James was held to just 78 rushing yards last week, which is the first time he was held under 100 yards this season when carrying the ball 20 or more times. 
In his previous two games against the Beavers, James has rushed for a total of 300 yards and five touchdowns. They don't have much of an answer for him, so I fully expect him to bounce back and have another dominating performance. 
Oregon State Player to Watch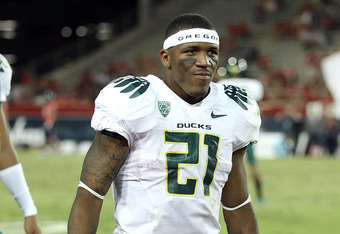 Christian Petersen/Getty Images
Sean Mannion passed for 339 yards last weekend, which was the first time he surpassed 300 yards in a month. Oddly enough, that was the last time the Beavers won a game.
Mannion also completed 70 percent of his passes, which he has done in each of the Beavers three wins this season. 
The freshman quarterback has had his ups and downs this season, but the Beavers need him to be on his A-game if they want a shot at upsetting the Ducks.
Key Matchup 
The Beavers defensive front will have their hands full trying to stop James and Kenjon Barner. Oregon State hasn't been very successful this year against the run, and this Saturday it will face the toughest running back on their schedule since Week 2.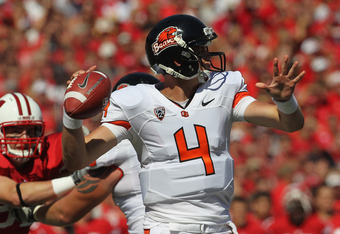 Jonathan Daniel/Getty Images
That was when the Beavers traveled east to take on the Wisconsin Badgers, and Montee Ball rushed for 118 yards and two touchdowns. James is much faster, and he should have no trouble against the Beavers, unless, of course, Oregon State shows up better than ever. 
Key Storyline 
This marks the 115th time these two teams will battle it out on the gridiron. The Ducks own the rivalry record at 58-46-10, and they're hoping to extend their streak of consecutive wins over the Beavers to four.
The "Civil War" is always intense, and even though the Oregon is more talented, Oregon State will come to play and put the Ducks to the test on Saturday afternoon.
Prediction
The Beavers will put up a good fight, but the Ducks will easily pull away in the second half. Chip Kelly will make the necessary adjustments at halftime, and Oregon will spoil any hopes Oregon State had of an upset. 
Ducks 48, Beavers 28