San Francisco Giants Positional Breakdown: First Base
November 21, 2011
Ezra Shaw/Getty Images
"He's going to have to come in ready. He's going to have to come in and pull more weight"—Brian Sabean speaking on Aubrey Huff
In hindsight perhaps the words "more" and "weight" weren't the best choices. 
The Giants 2011 season wrap up featured the above tidbit about Aubrey Huff's fitness during the season. It came as a shock to San Francisco Giants fans as Huff had just signed a 2-year/$22 million deal, was re-teamed with life long buddy and Lothario Pat Burrell and was living in a city where the female to available male ratio is roughly 736 to 1. 
Shocked I say.
Even more shocking was manager Bruce Bochy's insistence on playing Huff over highly touted rookie first basemen Brandon Belt. Despite Huff's plummeting numbers he was penciled in everyday. Bochy, always a player's manager, could only be heard muttering something to the effect of, "2010", "deal", and "devil", as Huff swung over yet another low changeup for strike three.
Again, flabbergasted ...
What NOT To Do 
Guarantee anyone the first base job. Huff will be the starter on Opening Day regardless of spring numbers. But this is due to his inability to play the outfield as effectively as Belt more than anything. 
The reality is 2012 is Aubrey Huff's last year with the Giants. Whereas Brandon Belt has several years remaining before long-term deals are even thought about. The Giants cannot make the mistake of siding with the short term. If Huff struggles early on then the Giants cannot let him flounder for another full season.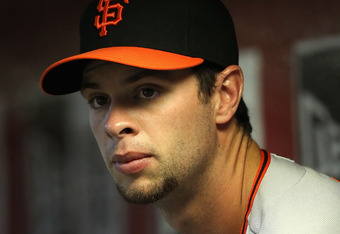 Christian Petersen/Getty Images
Also, not that anyone is suggesting it, but just so the bases are covered, don't sign a big name free agent at first base. No Prince Fielder. No Albert Pujols. First base is going to be three people deep next year. Huff, Belt and, yes, Buster Posey at times. Don't logjam the position any more than it already is.
What TO do
Stop me if you have heard this before. Let the younger guys play. Atlanta's Freddie Freeman is a prime example of what the Giants should have done last year, and in all likelihood would have done had they not won the World Series the previous year with Huff at first. 
Freddie Freeman's 2011 stat line: .282/.346./.448
Brandon Belt's 2011 stat line: .225/.306/.412
But the telling stat...
Freddie Freeman's 2011 plate appearances: 635
Brandon Belt's 2011 plate appearances: 209
Keep in mind that both guys were Opening Day starters. Both guys also struggled out of the gate. The difference being Atlanta was in no hurry to replace Freeman with an aging lefty (Eric Hinske. who also has the world's largest thighs). The Giants suffered a serious case of cold feet with Belt last year. Like Tammy Wynette said, "stand by your man."  
What WILL happen
This year it seems as if every positional decision is connected to another with the Giants. If Carlos Beltran is signed and convinced to play left field (presumably to put Nate Schierholtz in right) that will drastically limit the potential of both Brandon Belt and Aubrey Huff being in the lineup at the same time.
If Beltran signs and plays right, then Nate is relegated to the bench while Belt moves to left.
So, as you can see, there are several moving parts to this puzzle. At least in theory, because in reality, the San Francisco Giants are not signing Carlos Beltran. With Grady Sizemore off the market you could put solid money on the Red Sox chasing Beltran even harder. And this will directly effect the Giants' first base issue. Come Opening Day, Aubrey Huff will trot out to first, while Brandon Belt will come up the dugout stairs and take a hard left out out to left field.
next up—Third Base