The Presidents Cup: Golf's Fraternity Party
November 21, 2011
Quinn Rooney/Getty Images
There is no g-o-l-f in team. At least not as in p-r-o-f-e-s-s-i-o-n-a-l  g-o-l-f-e-r.
Let me tell you why. M-o-n-e-y and M-a-j-o-r-s!
There is no money in those Cups—Presidents or Ryder—and no battlefield promotions to major winner. Oh yes, there is a little glory—like Justin Leonard's 45-foot putt at Brookline in 1999 to complete a huge comeback and clinch a Ryder Cup victory by the United States team on the final day.
And there is infamy, sort of—like Bernhard Langer's missed six-footer at Kiawah Island in 1991 that would have tied that Ryder Cup and allowed the European team to keep the trophy.
However, is Leonard now a U.S. team Bill Mazeroski who won a World Series for the Pirates and then leapfrogged all the way to Cooperstown? And is Langer a disgraced European team Bill Buckner who booted a World Series for the Red Sox and had to escape with his family from Boston?
The truth is, no matter how historic the heroics or how gross the gaffe, no player is going to be enshrined in Valhalla or get run out of Isleworth because of his performance in one of these now yearly international team competitions.
Ask Colin Montgomerie, perhaps the greatest golfer never to have won a major championship. "Monty" played in eight Ryder Cups and never lost a singles match. Ask him if he'd trade all those wins to just be able to have one mulligan, and I'm betting he would.
That shot, by the way, would be from the middle of the 18th fairway at Winged Foot in 2006. He'd use a 6-iron instead of the 7-iron that came up short and led to a double bogey that denied him the U.S. Open.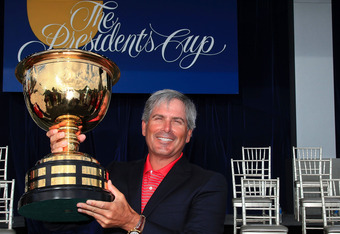 David Cannon/Getty Images
A major golf individual championship is worth something even more than money. It's the sport's meeting place for fame and fortune.  You win one and you own it forever and you don't share it with anyone else.
The Presidents and the Ryder Cups, while entertaining, and sometimes even exciting, are never going to eclipse Jack Nicklaus' last Green Jacket when he was 46 or Tiger Woods' one-legged lion-heartedness at Torrey Pines.
And the solo collapses in golf are just as memorable—like Greg Norman's final-round 78 at Augusta in 1996 or Jean Van de Velde's final-hole triple bogey at Carnoustie in 1999.
These individual conquests or downfalls not only shape legacies, but they also permanently imprint themselves on the minds of both the players and those who witnessed them.
The players know that about the majors and that's why a team win in the Presidents or Ryder Cup is fun, but not earthshaking. A team loss is unpleasant, but not bone shattering.
Johnny Miller, Jimmy Roberts and the Golf Channel's best and brightest can do their best to hype the event—that's their job—but team golf doesn't even have good stats like third-down conversions or runners left on base.
Showing me how each team fared on a particular hole is like telling me what the guys ate for breakfast.
The Presidents Cup is a fraternity party, and this time Greg Norman and Fred Couples were the social chairmen. And if you think Jason Day and Ernie Els feel crushed or that Hunter Mahan or Steve Stricker wouldn't trade their "Down Under" thunder to catch lightning in a Major-sized bottle just once, you're wrong.
And that Presidents Cup trophy? Will each of the American players be taking it home for a day? I don't know, but I'm sure the FedEx Cup must get to travel for free.