West Point Football: Army Quarterback Options Against Navy
November 23, 2011
Many of the Black Knights will be home for Thanksgiving this weekend, undoubtedly a beneficial break for the players and cadets.  They will return to West Point next week to begin two weeks of preparation for the Dec.10 Navy game at Fed Ex Field in Washington, D.C. 
Half the challenge will be keeping focused amid all the attention the Army-Navy game receives.
Army goes into game preparations uncertain of who their quarterback will be. 
Junior Trent Steelman played briefly against Temple before injuring his right knee.  It was his first game back since suffering a high ankle sprain on Oct. 22 against Vanderbilt.  Previously, the Bowling Green, Ky., native had started 32 straight games for Army—every game since the first one of his freshman year. 
After the 42-14 loss to Temple, I was on the field taking photos of the players during the singing of the alma mater and walked off the gridiron just behind Steelman and fellow junior fullback Jared Hassin.  The quarterback was noticeably favoring his right leg, which might have even been in a brace.  This is not a good indication that he will be available for Navy. 
Steelman has three weeks to get better.  He is passionate about playing, but being ready to start might be too much to ask given his prior injury this season.  He has already had two surgeries since coming to West Point.  The Army training staff is cautious about letting players back in action if they are not ready.
After the Temple game, coach Rich Ellerson addressed the media, commenting that freshman quarterback Angel Santiago had not had enough preparation for the game since most of the practice repetitions were given to Steelman.  On the game, Santiago ran six times for 11 yards, and threw four times with one completion for seven yards.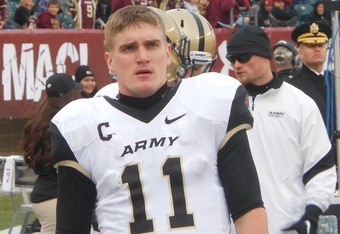 And it is worth noting that one long Santiago pass near the end of the half might easily have been caught at the goal line by sophomore wide receiver Anthony Stephens. The coaches like the quickness that the freshman QB brings to the Army option offense. 
If Steelman can not play, starting a freshman at Fed Ex Field in front of 85,000 people might be a risky thing to do.  Army has a habit of making mistakes early that put them behind. 
That leaves senior Max Jenkins as the possible starter at quarterback against Navy.  Jenkins is the Deputy Brigade Commander of the Corps of Cadets, which means he is number two in the chain of command that runs life for the cadets at West Point. 
Jenkins was the starter for the shutout win over Fordham in the snow, and against Air Force at Colorado Springs where the team played well in the first half.  He is a player everyone around the football program respects and looks to for direction.  He has been through the Army-Navy experience before and knows what to do.
Comparing statistics, Santiago and Jenkins are similar.  Santiago, who started against Rutgers, has run the ball himself 45 times for 184 yards and an average of 3.6 yards per carry, and one touchdown.  
The coaching staff appears to keep the play calling limited with Santiago in the game.  He frequently hands the ball to one of the fullbacks for a dive play up the middle, or runs the ball himself around the end rather than risking a pitch out to one of the slot-backs.  The native of Fontana, Calif., has completed seven of 21 passes without one interception. 
Jenkins, on the other hand, has run 33 times for 128 yards—an average of 3.6 yards per carry and two touchdowns.  He appears most comfortable in getting the ball to the backs in the Army option backfield or running the ball himself in short yardage situations.  Just don't ask him to run around the defense himself.  On passing,  Jenkins completed only six of 31 passes for two touchdowns and two interceptions.   
But, the Houston native is cool under pressure, just what you would expect from a prospective Army officer.  After games he is very honest in speaking about what happened.  Jenkins is a leader and a stand-up guy.
We spoke to him about the upcoming Navy game, which will be his last wearing the Army colors.
"Its the biggest game of our year, " Jenkins said.  "We haven't been looking at it too much because you can not afford to do that.  We have to forget this Temple game and focus on beating Navy because, at the end of the day,  that will somewhat salvage the season if we can pull that one off."
At times Army has been playing three freshmen up the middle on offense with Santiago at quarterback, Ryan Powis at center, and Larry Dixon at fullback.  Powis has received praise from coach Ellerson, who is not afraid to play young guys who show they can contribute right away and have potential for the future.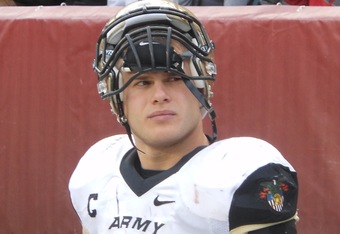 Dixon, from Bremerton, Wash., is Army's fourth leading ground gainer behind Ray Maples, Steelman, and Malcolm Brown.  On the season, Dixon has 477 yards on 77 attempts—an average of 6.2 yards per rush and five touchdowns.  
After the Temple game, I caught up with Steve Erzinger.
"I don't think it will be hard to get everyone to focus on this game, especially after just playing a quality opponent like Temple," Erzinger said.  "We have three weeks off to get everyone healthy, get everyone right.  I think it is always special to get an opportunity to play those guys; it's a tough environment.  No matter what the records are, it is always a good game."
You can hear our complete post-Temple game interviews with Jenkins, Erzinger, junior defensive back Josh Jackson, and junior defensive tackle A.J. Mackey here.
Army Notes: Mark Holtzman, executive director of the Pinstripe Bowl for the New York Yankees, spoke on the Army Radio Network prior to the Rutgers game and mentioned serious discussions about scheduling another Army-Notre Dame game at Yankee Stadium, using the words "sooner than later" to describe when the game might happen.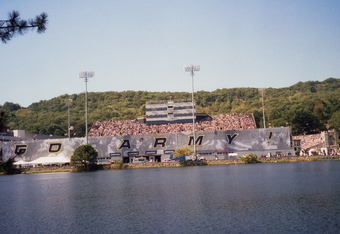 Sal Interdinato of the Times-Herald Record, talked about the ongoing Notre Dame scheduling discussion with Army Senior Executive Associate Athletic Director Roberta Beretta, who said, "We are talking about a three-game series with them and we are only talking to teams that want to play us at Michie." 
Sounds like the discussions are pointing toward one game at Yankee Stadium, one game at Michie Stadium and one game at Notre Dame.  All of those games would be special days to look forward to.  You can read the entire article here.
As we celebrate this special American holiday, we remember those in the US military who are serving away from their homes and families, perhaps in a distant part of the world, or at sea on a Navy ship.  Enjoy the holiday where ever you are.  And thank you for your service.
Happy Thanksgiving to all. 
Ken Kraetzer covers West Point football and Iona College basketball for WVOX radio in New Rochelle, N.Y., and Sons of the American Legion radio.