College Basketball: Iona Statement Win 89-63 over Maryland
November 20, 2011
The Iona Gaels (2-1) showed Sunday afternoon at the 5-Hour Energy Puerto Rico Tip Off that they can make an impact on the national scene this year with a dominating 89-63 win over Maryland.
Lamont "Momo" Jones, the transfer from Arizona, led Iona in scoring with 22 points on 8-of-14 from the field. He commented afterwards about the defensive approach coach Tim Cluess wanted the Gaels to demonstrate against the ACC foe, 
"Coach wanted us to pressure them."
Mike Glover, the preseason MAAC Player of the year, had a big game with 19 points, 10 of which were in the first half.  The senior power forward completed his double-double with 10 rebounds. He commented about the importance of this game:
"Our bond is always strong on the floor.  We wanted to leave this tournament 2-1, after the Purdue game.  We're pretty much humble about this win, but tomorrow we have to go back and work on a few things."   
Iona senior point guard Scott Machado had another superlative game with 15 points and 15 assists.  Machado had an incredible 41 assists in the three-game tournament, he is leading the country in assists.  Last year Machado averaged 7.6 per game.  He commented after the game, "You just have to have focus to play these games.  You have to come to every game wanting to win."
After an early Maryland lead, Iona took the lead for good on the day 15-14 on a jumper by junior Kyle Smyth.  Later in the half Machado made two free throws to give the Gaels a 10-point lead at 35-25.  Just before the end of the half Terrel Stoglin made a three-point play to bring the Terrapins within three at 37-34. Iona made 11 points on fast breaks in the half according to the ESPN broadcast.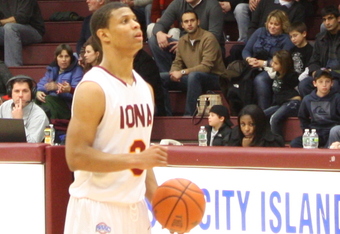 In the second, Iona came out aggressively with an 8-2 run culminating in a signature Mike Glover dunk to give the Gaels a 45-36 lead.  A James Padgett layup got Maryland back within seven at 56-49. Iona then went on another 12-0 run to take a 68-49 lead.  Iona showed endurance by outscoring the Terrapins 52-29 in the second half of the last of the contest in the three games in four day tournament.
Head Coach Tim Cluess has brought an uptempo offense to Iona but often talks about the importance of defensive play; after wards he expressed dissatisfaction with his team's defense in the second half of the first two games but was pleased by Sunday's performance:  
"I'm excited about how hard our team played in the second half holding them to 29 points. I thought we grew up and came back with a great effort and obviously, it was an ACC team so it was great for us.  We were hoping to make a statement that we are a good team.  The team had a hard practice and then they bonded in Old San Juan."
Maryland Coach Mark Turgeon was complimentary in comments about Iona after the game:
"Iona's a great team, potentially a top 25 team or better as this season goes along.  They are not going to lose many games. Great guards, big guys, press well, do a lot of goods things.  They are a heck of a basketball team."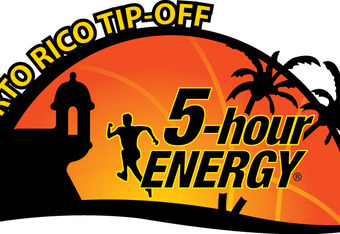 In the first round of the tournament Thursday, the Gaels lost to Purdue of the Big Ten on a last second shot 91-90.  Then in the second round on Friday, the Gaels defeated Western Michigan from the Mid-Admerica Conference, which is another mid-major. 
Finishing the event by defeating an Atlantic Coast Conference team is quite a day that will look good on their resume all season long.  Every pregame show will start by saying, "this is an Iona team which beat Maryland in San Juan". This is Iona's first win against an ACC school since defeating North Carolina at Madison Square Garden on December 27, 2002.
The Gaels will come home to play Wednesday night against the St. Joseph's Hawks of the Atlantic Ten at the Hynes Center.  The Gaels will only play eight home games this year at the Hynes Center in New Rochelle with one home game moved to Madison Square Garden against Siena on January 3rd.
Quotes in this are provided by Tim Simmons of the Tournament Host Committee Staff.
Ken Kraetzer covers Iona basketball and West Point football for WVOX radio in New Rochelle, New York and Sons of the American Legion Press.