Arian Foster: Texans RB Sets Positive Example by Visiting 'Occupy Wall Street'
November 20, 2011
Arian Foster makes a good living as a running back for the Houston Texans, but he has shown himself to be much more than just a football player through the use of social media and getting a proper perspective of things going on in the world. 
For example, Foster visited the participants of "Occupy Wall Street" on Saturday and wanted to learn of their cause and why they were doing what they were doing.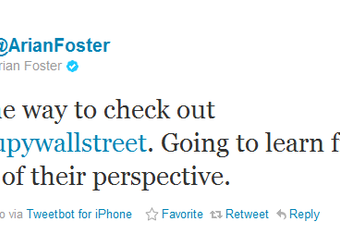 As Larry Brown of LarryBrownSports.com wrote, don't judge Foster one way or another for going down to the protests. Instead, judge him for wanting to educate himself on what is happening and listening to the people that feel this is important. 
It's not about whether you agree with the Occupy Wall Street movement, it's that Foster is open-minded enough to hear different opinions before making his decisions. That approach should be appreciated by everyone.
Foster didn't have to make the trek to Wall Street to learn of what was happening. He could have just sat in his house, read about it on the Internet and come to a conclusion on his own.
But by taking the time to go down and interact with the people, Foster has a perspective that so many of us don't. We can make snap judgments about whether the movement is right or wrong, but what good does that do us without the proper perspective?
Foster is a role model and should be held in high regard by not just sports fans but by all of us for doing what he believes is right. 
I am not here to tell you whether or not the movement is right or wrong, because I don't have the proper perspective. But Foster should be an example for other athletes and celebrities who want to voice their opinions without taking the time to know the people involved. 
Foster is known for being one of the best running backs in the NFL, but he has shown himself to be so much more than just a football player.