LSU vs. Alabama Rematch Probably Going to Happen After Week 13
November 20, 2011
Ronald Martinez/Getty Images
The USC Trojans have spoken. If they are not getting into a BCS Bowl this season, neither is Oregon. The Trojans spoke loud and clear and they will more than likely be heard as the new BCS standings are released after a ridiculous week in college football.
After being down by double digits, the Ducks attempted a comeback that would stand them ahead of Alabama after an at-home rival win and a Pac-12 championship victory. Oregon was all but set at the No. 2 position in the BCS rankings.
Since the Crimson Tide would not have made it to a conference championship, they would be primed for a BCS Championship rebirth.
But, would-haves, should-haves and could-haves have no place in college football as several ranked teams have fallen in games that were predicted in their favor.
One would assume that after the Oklahoma State Cowboys' loss to the Iowa State Cyclones, all would be well in the BCS. But, not too many people paid attention to the fact that Florida State was floored by the Virginia Cavaliers in a 13-14 loss before Oregon suffered the second loss of their season.
Clemson was stomped all over in their Saturday game against the North Carolina State Wolfpack. Low and behold, the BCS shakeup did not end there. A game stroking deep into the night between the Baylor Bears and the Oklahoma Sooners, a one-loss team vying for the BCS Title game, ended with a game-winning TD drive from reemerging Heisman candidate, Robert Griffin III.
After Landry Jones and the Sooners suffered a disheartening penalty during their two-point conversion attempt, Griffin constructed a drive that forged a legacy and eventually capped the night off with "Heisman" cheers from the home crowd.
This week was supposed to have a single blow-up allowing re-entry to all those one-loss teams, leaving an undefeated No. 1 LSU Tigers squad picking at whatever was left when the season was ultimately concluded.
Now, things have changed dramatically and there is no way of telling where everyone truly stands.
What did LSU do to surprise? The Tigers did nothing that they have not done every single week during this college football season. They started trading blows with Ole Miss early in the first quarter and after a quick pick-six, refused to look back. They dominated the Mississippi team and move eons closer to the BCS Title game. After such a stellar season, the only argument that should come in their direction is who they end up playing as all of the errors made by those ranked beneath them are calculated.
The strength of schedule, the who's who that beat who, winning streaks and point differentials will all be taken into account as teams like Arkansas, Boise State, Stanford and even Houston heighten their chances at BCS Bowl berths.
But, the two teams that will most likely be left standing at the end of it all will almost most uncertainly, in such uncertain circumstances, be Alabama and LSU.
There are other teams who fit the one-loss criteria, but their chances are slim-to-none. This is why:
Stanford: Stanford sits one win over the Oregon Ducks in conference games, but after the California win, their next game is against a non-conference opponent, the Notre Dame Fighting Irish. At best, the Cardinals could end their regular season 8-1 in conference play.
Oregon faces in-state rivals, Oregon State, in their next game and is highly favored in what is usually a very emotional battle between the two teams. Oregon will most likely, after such a hard-fought, mistake-riddled game against the Trojans, win out and stand at an 8-1 conference record as well. The Ducks will win the tiebreaker because of the 1-0 head-to-head record they hold over the Cardinals.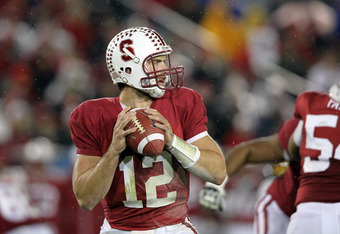 Ezra Shaw/Getty Images
In this event, a one-loss Stanford football team would not look a bit more enticing than a one-loss SEC Alabama team.
The only way that the Cardinals would have a chance at jumping Alabama is if Oregon lost the game to Oregon State and Stanford went on to take their place in the Pac-12 Championship game, winning it of course. This is highly improbable.
Arkansas: The Razorbacks have to face the LSU Tigers in the last game of the regular season and if they win, could make a strong statement as the No. 2 team in the BCS standings. Alabama lost to the Tigers on home turf and if Arkansas was to beat LSU in a tough away game, it would shake rankings up tremendously.
But, for all of this to happen, they would have to win. There would be no knocking the Tigers off of their pedestal, because a one-loss team that made it to their SEC conference championship is far more potent and attractive than one-loss teams that did not win their division.
Boise State & Houston: Neither one of these squads have a BCS-friendly schedule, and the only reason Houston remains stable in the Top 25 is because they have remained unbeaten. Boise State will undoubtedly jump in the rankings after so many teams have fallen, but nothing about their season merits a jump into the No. 1 or No. 2 spot in BCS standings in the end.
Alabama still has a very important Iron Bowl to play against a crushed Auburn offense and LSU still has to get past Arkansas and the Georgia Bulldogs in the SEC Championship.
If everything runs its course, both of these teams will be waiting for that big moment. Both offenses will be waiting to prove themselves again and the defenses will be eager to make sure that does not happen.
That is only if everything runs its course. From what we have all bore witness to this week in college football, what we know to be true usually is not. We will see how long an LSU-Alabama rematch can stand the test of time, modern-day turf warfare and BCS collapses.