Will Tracy McGrady Play in 2011-12 or Decide to Retire?
November 20, 2011
Gregory Shamus/Getty Images
With a career scoring average of 20.4 points during the regular season and 28.5 points during the playoffs, Tracy McGrady was one of the most exciting young players in the NBA for a period of time.
However, after dealing with multiple injuries, the 32-year-old has seen his basketball career move in another direction. McGrady spent the 2010-11 NBA season as a member of the Detroit Pistons.
McGrady, who entered the 1997 NBA Draft directly out of high school, was selected by the Toronto Raptors with the ninth overall pick, and spent the first three years of his career in Toronto.
As time went on, McGrady started to make a name for himself as one of the bright young stars ready to take his game to the next level in the NBA. He joined the Orlando Magic in 2000 as part of a sign-and-trade, and led the Magic in scoring for three years.
He averaged a career-high 32.1 points per game during the 2002-03 NBA season. Grant Hill also signed with Orlando in 2000, but dealt with injuries causing him to miss so much time, and not get a chance to play alongside McGrady.
McGrady was traded to the Houston Rockets in 2004 and got a chance to play alongside Yao Ming and others in order to build a possible contender. However, though the Rockets did make it to the playoffs, they ended up making early playoff exits in the six years with McGrady on the roster.
As time went on, McGrady missed games due to injuries suffered. The first injury that was taking a toll on the guard was back spasms that had been an issue in Orlando. Then McGrady underwent shoulder and knee surgeries in 2008.
Additionally, Yao Ming dealt with injuries that caused both star players to miss significant time, forcing the Houston Rockets to make changes in order to prepare for the future.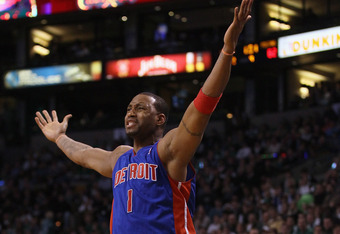 Elsa/Getty Images
The Rockets traded McGrady in a three-team deal close to the 2010 trade deadline involving the Sacramento Kings and the New York Knicks. McGrady was in the last year of his contract and the Knicks were looking to clear cap space at the end of the season. They sent Jordan Hill and Jared Jeffries from New York and Kevin Martin and Hilton Armstrong from Sacramento.
McGrady was a free agent during the summer of 2010 and decided to sign a one-year contract with the Detroit Pistons, who were looking to do some rebuilding themselves. McGrady was not expected to be the former big-time scorer like in Orlando and Houston, but could be a contributor given that he remains healthy.
He averaged 8.0 points per game while playing in 72 games (including 39 starts) last season.
Currently a free agent for the second consecutive year, who will McGrady sign with for 2011-12? Could McGrady opt for retirement?
At this time, nobody knows but McGrady. He can still help a team and, maybe in a reserved role, he can be more productive and stay healthy for an entire NBA season.