Rutgers Football: 5 Things We Learned from RU vs. Cincinnati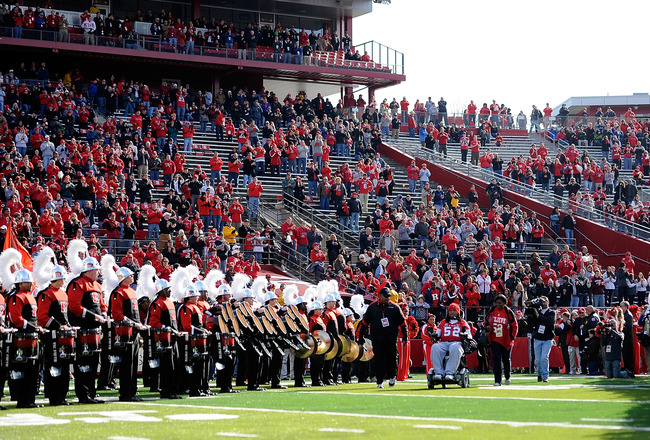 Patrick McDermott/Getty Images
It's always emotional when it's senior day for any program, but this day was even more special for Rutgers fans.
Eric LeGrand was introduced as part of the senior class and came out on his specially programmed wheelchair to be a part of the team one last time.
It was also emotional because for the Knights, this marked the biggest game of the season.
An injury to Cincinnati starting quarterback Zach Collaros in the game against WVU was a huge break for Rutgers.
Installed as three-point favorites by the Vegas odds-makers earlier in the week, the line was RU by a point at kickoff.
The Knights didn't disappoint the bettors and won going away 20-3.
The win puts RU in prime position to win at least a share of the Big East championship for the first time in the Greg Schiano era.
Here is what we learned...
Zach Collaros Is the Heart and Soul of Cincy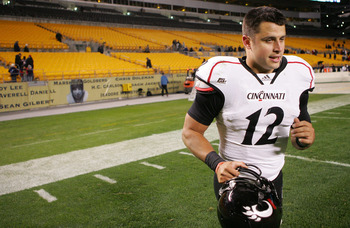 Jared Wickerham/Getty Images
When Zach Collaros was injured in the WVU game last weekend, Munchie Legaux showed he had some skill, which left Rutgers fans worried about the role he'd play in this weekend's monumental game in Piscataway.
Although Legaux's comeback attempt against the Mountaineers fell short, he did lead the Bearcats to a couple of scoring drives and an opportunity to tie the game with a field goal in the game's waning seconds.
This week, however, was a different story.
Inexperienced quarterbacks make huge mistakes, and that's exactly what happened on Saturday.
After a Rutgers punt left Cincinnati buried inside its own 20-yard line, Legaux left the ball exposed when pressured and was stripped by Brandon Jones, forcing the turnover that set up RU's opening score.
The play highlighted Collaros' importance to Cincinnati, as the Bearcats simply seemed to have their hearts ripped out and were not the same team after that play.
Rutgers' "No Name" Defense Is Outstanding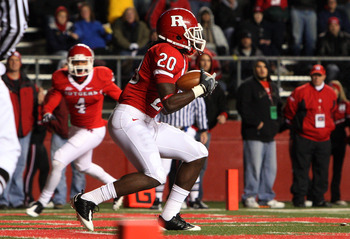 Jim McIsaac/Getty Images
When does Greg Schiano get credit for putting together a really good defense?
The Knights held Cincy to just 225 yards of total offense and held a team that averages 180.9 rushing yards per contest to just 67 yards on the ground.
Since allowing 41 to WVU, RU has given up fewer than 11 points per game.
The Knights have not allowed any Big East opponent to score more than 17 points, except the Mountaineers.
How does Rutgers do it?
This is a defense without a real star and devoid of any "5-Star" caliber recruits according to Rivals.com recruiting service.
The closest thing RU has to a star is Khaseem Greene, who is a good college linebacker, but undersized to play the position at the pro level.
Bounce Back Game for Te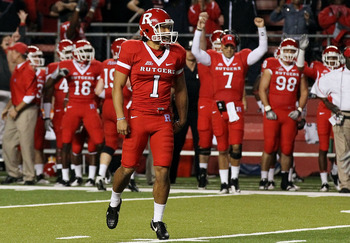 Jim McIsaac/Getty Images
San San Te connected on both PATs on his senior day and made two big field goals to help secure the win for the Knights.
After the Knights were stopped at the Cincy 26, Te was able to drill a 43-yard field goal to put the Knights up three scores early in the fourth quarter,
The kick all but sealed the game for RU.
His first field goal capped an epic 22-play drive that put the Knights up 10-3.
Chas Dodd Played Error-Free Football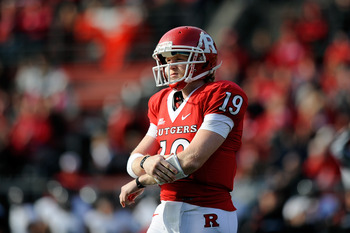 Patrick McDermott/Getty Images
Dodd did get a bit lucky on a completion to Mohamed Sanu for a first down—his pass deflected off the hands of a Cincy defender—but Dodd was efficient on the day.
Dodd was 19-33 on the day, for 173 yards. He consistently made plays to keep drives alive and also had several passes dropped by RU receivers on the day.
Sanu had an opportunity to make a spectacular TD catch, but it fell incomplete after he was hit by a pair of Cincy DBs.
He needs to build off this performance to win at least a share of the Big East crown.
RU Has Found Its Featured Back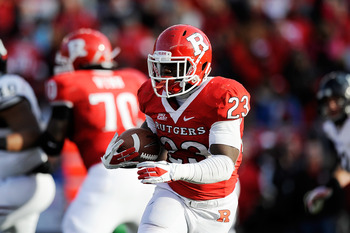 Patrick McDermott/Getty Images
And it's Jawan Jamison.
The kid from Florida found his stride in the WVU loss and gained more confidence when he reeled off a 56-yard TD to close out Army last weekend.
This weekend, the power back was the offense for RU.
He went for a career high 200 yards and a pair of TDs. He showed the ability to break tackles, make cuts and displayed enough speed to break some huge runs on Saturday.
Keep Reading

Rutgers Football: Like this team?