Cincinnati Bengals: How They Can Defeat the Baltimore Ravens Without A.J. Green
November 18, 2011
Andy Lyons/Getty Images
The clock is ticking.
It is Friday and Cincinnati rookie wide receiver A.J. Green has yet to participate in practice since hyper-extending his right knee during last Sunday's loss to the Pittsburgh Steelers.
Now the Bengals head on the road to face another powerful division foe: the Baltimore Ravens. Marvin Lewis has won 9 or his last 13 against his former team; but, listed at day-to-day for most of the week, it now looks as if the he can expect to be without Green on Sunday.
Last week's matchup against the Steelers was not kind to the Bengals, who wound up losing top cornerback Leon Hall for the season due to an Achilles injury. A season-high nine players were unable to practice on Wednesday.
Cincinnati came out of the 24-17 loss bruised and beaten. However, they remain very much in the playoff hunt. If they can win in Baltimore without Hall and A.J. Green, they improve their record to 7-3,  and go essentially two games up on the Ravens. With games upcoming against Cleveland, Arizona, and St. Louis, the Bengals can take firm hold of a wild card spot in the AFC.
Unfortunately for Cincinnati, a Ravens team with their backs against the wall will be taking the field Sunday. After shocking Pittsburgh with late game heroics in prime time, Baltimore laid an egg last week in Seattle.
In that 22-17 loss against the Seahawks, Joe Flacco threw 52 passes. 52, a number magnified by the fact that star running back, Ray Rice, carried the ball only five times Sunday.
Now the team returns to Baltimore for what promises to be a physical AFC North clash. You can expect to see a commitment to the ground game as well as a commitment to stopping the run from John Harbaugh's team this week.
For the Bengals to compete in this game without their star wideout and premier down-field threat, it will take a huge effort from both rookie Andy Dalton and the active receivers.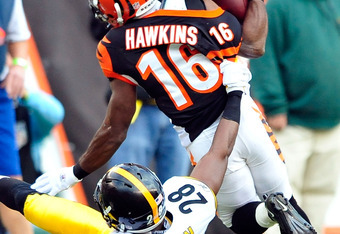 Grant Halverson/Getty Images
Jerome Simpson figures to be the primary target outside for Cincinnati this week and he has seen this Baltimore defense before.
In last season's Week 17 matchup with the Ravens, Simpson finished with 12 receptions, 123 yards, and a touchdown. This season his play has been sporadic, characterized by extreme highs (10 rec 237 yds 23.7 avg vs. Denver, Indianapolis) and lows (two catches against Pittsburgh, Seattle, San Francisco.) While he tends to run hot and cold, he will be the one counted on to provide big plays in the passing game in Green's absence.
Andre Caldwell is more of a possession receiver. In fact, his longest reception this season went for only 14 yards. He will be counted on to work the slot this Sunday, where the Ravens will be without punishing middle linebacker, Ray Lewis.
Second year tight end Jermaine Gresham is also a candidate to become Andy Dalton's go-to-guy. Coaches praised his performance as a blocker against Pittsburgh, but it's in the passing game that Gresham will need to shine this week.
Still, I do not think any of those players is the real "X-factor" with A.J. Green out of the lineup.
For the Bengals to win Sunday, it will take a big game from another rookie: 25-year-old Andrew Hawkins. The 5'7", 175 pound receiver is the most explosive playmaker in Cincinnati's offense. The quickest, shiftiest, and perhaps most versatile player on the roster, Hawkins can expect to see an increased role in Baltimore.
What he lacks in size, he makes up for in heart. When Green left the game in the first half last Sunday, Hawkins stepped up with 5 receptions and 56 yards to lead the team against their physical AFC North rivals. You can expect Jay Gruden will have a little something special in his playbook for him this week and Andy Dalton will continue to look his way.
The odds are admittedly stacked against Dalton and the Bengals this week. They have been bitten by the injury bug and face a tough task in beating the Ravens on the road. Still, Cincinnati possesses the front seven on defense and physical offensive line to give Baltimore a heck of a game.
With A.J. Green sidelined, it will take a special effort from a few offensive players to come away with the win. So whether you are a Bengals or a Ravens fan, remember the name Andrew Hawkins when you watch this weekend.