College Basketball: Purdue Makes Last Shot to Edge Iona, 91-90
November 18, 2011
Wow, a great game between Purdue and Iona College Thursday afternoon in the first round of the 5-hour ENERGY® Puerto Rico Tip-Off.  A disappointment for the Gaels (0-1) as they lost their season opener by one, 91-90, to the Boilermakers.
Robbie Hummel of Purdue made a three-point jumper with 20 seconds left to decide the outcome.  Moments earlier, former Arizona Wildcat Lamont Jones, in his first game as a Gael, hit a jumper to give Iona a 90-88 lead.  After the Hummel shot, a final chance for the Gaels ended in a turnover.
Hummel has had serious knee injuries in past seasons. He was the high scorer in the game with 24 points on ten of 21 shooting from the floor and four of nine from beyond the three point line.  He added nine rebounds to his hot scoring hand.
"I thought they executed better than we did. We got overly sloppy at some moments of the game, that's on me because I didn't do a good enough job apparently," commented Iona Head Coach Tim Cluess. 
Anticipating a high scoring, fast paced running game, Cluess added, "Funny thing is before the game I said we might score 90 points and they might score 100.  I think we were too busy celebrating some of our scores to defend."
The two transfers led Iona in scoring on the day with Lamont "Momo" Jones leading the Gaels with 17 points while junior college transfer Taaj Ridley had 16 points and 12 rebounds. 
Jones, a starting player on the Arizona team which reached the Elite Eight last year, was granted immediate playing privileges because his move was made based on being closer to his ailing grandmother who lives in Harlem.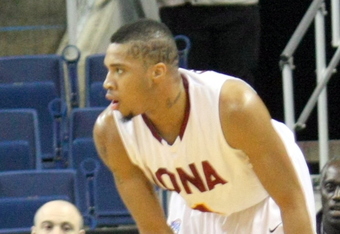 Jones commented that his Iona coaches and teammates have helped ease his transition from Arizona to the campus in New Rochelle, "It's been pretty easy.  Our coaching staff and my teammates, they look at me as a person, not just as a basketball player."
Senior point guard Scott Machado, who averaged 7.6 assists last season, in his first outing of the season produced eleven assists and fourteen points but fouled out. Another senior, Jermel Jenkins, who can play shooting guard or small forward had 13 points.
Machado, one of the best play-makers in all of college basketball, commented about his role, "I like to give my teammates open shots and play that point guard role."
It will be interesting to see how Head coach Tim Cluess works the back court combination of Machado and Jones.
MAAC Preseason "Player of the year" Mike Glover had 13 points and 12 rebounds, but did not reach his 18.4 scoring average from the Gaels 25-12 season last year.  Glover likes to work under the boards and score off rebounds, but this game was played at a fast tempo, up and down the court without much half court play.
All five Gael starters were in double figures scoring; both Ridley and Glover had twelve rebounds each. Off the bench, senior Randy Dezouvre had eight, and sophomore sharp-shooter Sean Armond had seven points. junior Kyle Smyth, who provides the Gaels a strong defensive presence, had two points.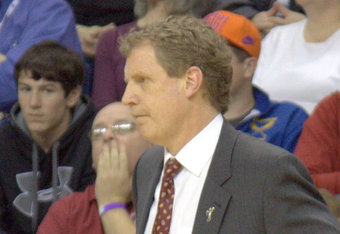 Coach Tim Cluess will be looking at tightening up the defense in the Gaels' second game in the San Juan tournament.  He expressed some displeasure with his teams' defensive focus at times, commenting,
"Funny thing is before the game I said we might score 90 points and they might score 100. We had mishaps; I think we were too busy celebrating some of our scores to defend."
The Gaels (0-1) will seek their first win of the season in the tournament second round Friday as they play Western Michigan (0-2) of the Mid-American Conference at 3:30 EST.  The final game will be on Sunday and will present an opportunity to play either Maryland or Colorado in the third round game.
Ken Kraetzer covers Iona College basketball and West Point Football for WVOX 1460 AM and WVOX.com located in New Rochelle, New York.
Unless otherwise noted, all quotes were obtained first-hand or through official interview materials.